Overview
With its interdisciplinary focus on Irish literature, culture and politics, Saint Joseph's University's Irish Studies minor is an exceptional platform from which to investigate issues of diversity, globalization and social justice.
What is Irish Studies?
Irish history and culture are infused with the Jesuit presence. The six required courses of the Irish Studies minor will help you understand Ireland's complex present and past through the multiple disciplinary perspectives of the English, Political Science, Theology, Music and Theater & Film departments. You will dive into the problems of immigration, migration and diaspora as they relate to Irish heritage and current issues. The program brings to our campus Irish writers, film-makers and scholars who introduce students to contemporary trends in Irish culture and society. 
Irish Studies at SJU
After registering with the program director, students earn the Irish Studies minor by completing any six approved courses. This minor is open to all students and can be paired with a variety of different majors to customize your education according to your interests and career path. This minor program is offered only on campus, though students can study abroad in Galway or Cork to enrich their Irish studies experience. Students who minor in Irish studies often major in the following areas:
Communication Studies
English
History
International Relations
International Business
Political Science
Sociology
What Can You Do With an Irish Studies minor?
The Irish Studies minor is a great option for students with interests in politics, history, sociology, the arts and literature. Faculty members provide support to those who wish to develop a portfolio for admission to graduate programs or other career objectives. Professions for Irish Studies minors include:
Community and Civil Service
Financial Analysis
International Economics
International Relations
Journalism
Law
Management Analysis
Media
Publishing
How Will Saint Joseph's University Prepare You for Your Career?
Philadelphia is at the heart of a significant Irish-American community and is home to prominent Irish-American organizations. This makes Saint Joseph's University's geographical and historical presence in the city an optimal starting point for students to explore Irish Studies.
Saint Joseph's offers students numerous opportunities to immerse themselves in their study of Irish culture and history during their academic career. Starting the second semester of your sophomore year, you can choose to study abroad in either Galway or Cork and enroll in some minor requirements while in Ireland. There are scholarships and fellowships available to current Saint Joseph's undergraduate students looking to expand their study in Ireland. Some include:
As you study the history and culture of Ireland and its citizens, you will gain a new cultural competency that distinguishes you from other applicants for employment or graduate studies. Irish-American organizations and businesses often prefer candidates who exhibit a deeper knowledge and interest in Irish culture and history. The Irish Studies minor allows Saint Joseph's students to partner with regional organizations in Philadelphia to increase access for participation in internships and co-ops.
Continue Your Education
Customizing your Saint Joseph's University education with a minor in Irish Studies opens various career paths. Saint Joseph's University's Irish Studies minor offers students the foundation to pursue their interests and career goals, and many students go on to graduate school to further develop their skills and advance their careers. 
There are scholarships and fellowships available to post-graduate students and SJU graduate student looking to continue their scholarly endeavors and expand cultural knowledge in Ireland.
the Mitchell Scholarship, available to graduates to connect future leaders while fostering the importance of public service.
the Fullbright Fellowships, available to all graduates after achieving their bachelor's degree. You can apply 
Faculty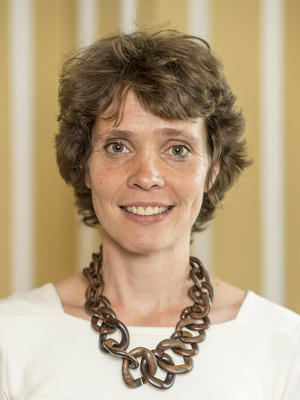 Kersti Tarien Powell, D.Phil.
Associate Professor and Program Director of Irish Studies