Overview
The Department of Biology features a wide range of courses for graduate students, including Advanced Cell Biology, Immunology, Biochemistry, Bacterial Pathogenesis, Microbiology, Neurobiology, Physiology, Histopathology, Comparative Anatomy, Animal Behavior and Bioinformatics.
As a master's student, you will have the opportunity to conduct research in cell biology, environmental and molecular microbiology, behavioral genetics, neuroscience, mycology, paleontology, ecology, evolutionary biology and animal behavior.
Work in one of our state-of-the-art labs alongside our brilliant faculty members. The department is well-equipped for research and includes major equipment such as transmission, scanning and confocal microscopes, tissue culture facilities, an extensive vivarium and sophisticated plant growth chambers as well as a rooftop greenhouse and experimental green roof.
Program Options
The M.S. program is a thesis-based, full time program and designed to be completed within two years.
The M.A. program accommodates both full and part time students.
Undergraduate students enrolled at Saint Joseph's University with majors in biology or environmental science may be able to complete a combined 5-year B.S./M.A. or B.S./M.S. degree.
Saint Joseph's biology grads were about twice as likely to be employed in STEM jobs compared to national averages*
Program Director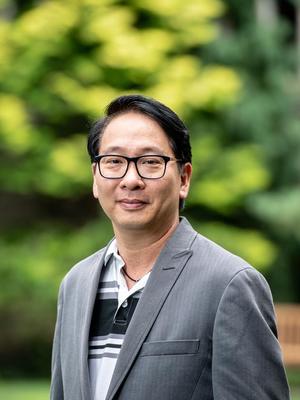 Edwin Li, Ph.D.
Associate Professor, Director of the Biology Graduate Program
At a Glance
Length
24 months
Start Terms
Fall, Spring, Summer
Format
On Campus
Credits and Fields of Study

M.S. -  30 credits (including 6-credit thesis)

M.A. - 32 credits

Fields of study: Molecular biology, Microbiology, Environmental biology, Anatomy, Behavior, Plant Biology, Physiology, Developmental Biology, Computer Modeling, Mycology

GRE

GRE is a requirement of this program and must be taken within the last seven years. The GRE test score submission code  is 2801
GRE requirement may be waived in exchange for MCAT scores or more that 1 year of work in a biology research lab.

Full-time

9 credits per semester

Part-time
6 credits per semester
Tuition

$905 per credit (2020-2021); $250 lab fee (per course)

Average Class Size
10 students
Work Experience
Not required for admission
Housing
While most graduate students commute, we do offer on and off-campus housing options for adult and graduate students. 
Graduate Biology Department Features
Learn more about the biology department's graduate program, testimonials and fields of study.
Opportunities in Biology

PhD and medical programs

STEM professions

Science education

Graduate assistantships

Graduate assistantships are offered on a limited basis. Full-time M.S. students are eligible for graduate teaching assistantships that provide a stipend and a scholarship for tuition. Qualified students may find employment as assistants in introductory undergraduate laboratories. Please contact the program director for availability.

International Students

This program accepts candidates from across the globe and qualifies international students for Optional Practical Training (OPT).

Discount Eligibility

Alumni of Saint Joseph's are eligible to receive 10% off the cost of this program through our 

alumni discount

.
Completed a year or more of service with a recognized service organization? You may be eligible for our mission discount. 

Check with your employer to see if they are an Edcor or a Bright Horizons EdAssist member, which may entitle you to a discount on graduate programs. 

*note - discounts cannot be combined. 

Veterans

Saint Joseph's is a yellow ribbon school that accepts GI education benefits. Our Office of Veterans Services can help you access and understand your benefits.