Overview
A master's in cybersecurity from Saint Joseph's University will provide you with an understanding of latest technologies, techniques and issues in digital security. Available fully online, this 30-credit program can be completed in as little as 16 months.
Demand for cybersecurity experts is higher than ever. Analysts are needed to come up with innovative solutions to prevent hackers from stealing critical information or creating problems for computer networks. The Cybersecurity M.S. program will prepare you to understand and face the cybersecurity challenges of today and anticipate the threats of tomorrow, opening new opportunities for advancement in your industry.
You'll be exposed to the most recent IT technologies and methodologies that strengthen the security and resilience of cyberspace. You'll gain a deeper understanding of various types of system and network vulnerabilities, digital forensics, cyber-attacks, cyber law and issues of ethics, risk management and evidence collection.
Fully Online Cybersecurity Program — No Experience Required
Intended for professionals who are interested in improving their knowledge in cybersecurity issues and techniques, this program is offered entirely online and a background in computer science is not required.

Cybersecurity Experts: Rising Industry Demand
Today there are more computing jobs than qualified people to fill them in the United States. The US Bureau of Labor Statistics projects that employment prospects for experts such as information security analysts will grow 28 percent from 2016 to 2026, much faster than the average of 7 percent for all occupations.
Scholarships Available
Merit-based scholarships are available the first semester of study to eligible students accepted into the program. For questions regarding the requirements to qualify for the scholarship, please contact the graduate admissions office.
What Can I do with a Cybersecurity Degree?
With continued need for cybersecurity professionals, earning your degree can help you take advantage of the large number of open positions in roles such as:
Cybersecurity specialist
Application Security Administrator
Cloud Security Architect
Data Privacy Officer
Data Security Analyst
 Information Assurance Analyst
Build to the Degree: Apply Certificate Credits
The Cybersecurity degree is a stackable program, meaning if you successfully complete the Cybersecurity Certificate program with a GPA of 3.0 or higher, you can take just five additional courses to receive a master's degree in cybersecurity. You must submit an application to matriculate into the Cybersecurity M.S. program.
Program Director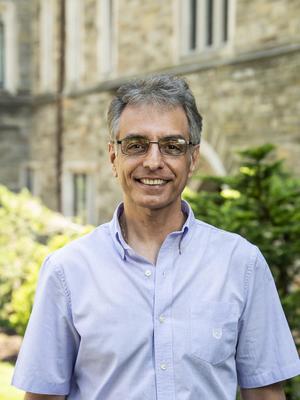 At a Glance
| | |
| --- | --- |
| Degree | Master of Science |
| Length | 12-24 Months |
| Start Terms | Fall, Spring |
| Format | Online |
| Credits & Concentrations | General track (no concentration) - 30 credits |
| Full-time | 9 credits per semester |
| Part-time | 6 credits or less per semester |
| Tuition | $991 per credit (2020-2021); $50 fee (per course) |
| Scholarships | Merit-based scholarships are available in the first semester of study to eligible students accepted into the program this fall. For questions regarding the requirements to qualify for the scholarship, please contact the graduate admissions office. |
| Average Class Size | 10-15 students |
| Average Work-Experience | Work experience varies. A background in cybersecurity or computer science is not required to apply, though prerequisites may be needed. |
| Housing | While most of our graduate students commute, there are resources available for those interested in living on-campus, or in near-by off-campus housing.  |
| Graduate Assistantships | The department offers a limited number of teaching assistantships to qualifying students beyond their first semester. For more information, please contact the Computer Science Department. |
| Support for Veterans | Saint Joseph's is a yellow ribbon school that accepts GI education benefits. Our Office of Veterans Services can help you access and understand your benefits. |