Our Health and
Safety Plan
Our
Plan
Click below to learn about Saint Joseph's health and safety measures.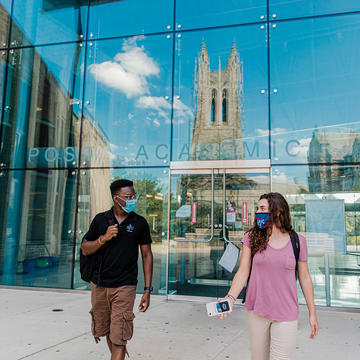 ICARE
Pledge
As a community that stands with and for others, we:
I

nvite all to demonstrate character and caring in the Ignatian tradition of cura personalis: prioritize self-care and wellness, seek out support and programming, and refer others to helpful resources.

C

ommit to washing and disinfecting our hands, work areas and living spaces frequently.

A

ccept the responsibility to participate in University testing programs; physically distance on and off campus; wear masks; limit gatherings; and self-disclose symptoms, exposure and positive test results.

R

ecognize and remind each other that following public health guidelines, including masking up, shows our care for one another and our broader communities.

E

xpect our entire Saint Joseph's community to do the same.
Individuals who repeatedly disregard simple actions that protect our community will be barred from the physical campus and could face disciplinary sanctions including suspension. Community members are encouraged to report non-compliance with COVID-related requirements through sju.edu/incidentreportingform.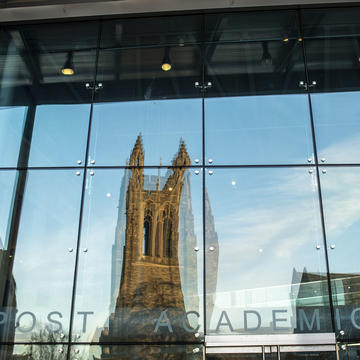 Stigma and

Non-Discrimination
We lend our sincere support to all of our community members who have been impacted by COVID-19 and the continued health crisis. We extend our care and concern for all members of the SJU community experiencing distress while we all navigate these challenging times together.
As a community, Saint Joseph's University is committed to being diverse and inclusive, supporting all its members. We must not allow fear or our shared concerns to threaten our commitment to embracing diversity on our campus. Bias-based conduct, targeting people based on perceptions about identity or beliefs creates barriers to inclusion, access and trust. It affects not only the targeted individual or group, but adversely affects our entire University community. Biased behaviors, stereotyping and discrimination are not tolerated at Saint Joseph's University. As a Jesuit university, we set a high bar: to educate and care for the whole person, across all diversity and aspects of identity. Anyone who experiences harassment, discrimination or biased-based conduct on campus or virtually in a University-sponsored activity can report it here through the Bias Activity Review Intake Portal.
ADDITIONAL
MEASURES
Travel
Area vice presidents or deans will determine when travel is necessary.
A decision on the status of sstudy abroad programs will be made on a rolling and individual basis.
All international travelers, regardless of passport, should consult the CDC's website on international travel and quarantine guidance.
The Office of International Students and Scholars is available to work with international students regarding their travel plans.
Cleaning and Disinfection
No cleaning or disinfecting measures will completely eliminate the risk of COVID-19 exposure or infection, but University providers and community members can work together to increase cleaning and disinfecting of work and living spaces.
Cleaning and disinfection is prioritized based on risk of transmission and guided by the latest scientific evidence and recommendations. Cleaning and disinfecting procedures follow current CDC, OSHA and other industry guidelines, and are updated according to the latest available public health information.
Housekeeping services cleans and disinfects certain areas two or more times per day, including high traffic areas including hallways, stairs, elevators, public restrooms, residence hall bathrooms, classrooms, common areas and dining areas. Surfaces will first be cleaned with a standard cleanser, then disinfected by misting with a virucide and allowed to remain wet for 10 minutes before wiping, or allowed to air dry when possible. To minimize the disruption to occupants, the majority of this work occurs at night.
High-touch surfaces such as door handles, elevator buttons and stair rails in busy public areas will be cleaned more frequently, sometimes several times per hour. These areas will be sprayed with a virucide and wiped.
Housekeeping exclusively uses products that are on the EPA list of approved disinfectants for COVID-19.
Workplace Safety & Personal Protective Equipment (PPE)
Risk levels in workplace settings are assessed on an on-going basis and adjusted as needed for employee tasks to minimize exposures. Safe work procedures, PPE assignments and other appropriate control measures are based on OSHA and CDC guidance documents.
Specialized equipment, such as N95 respirators, have been assigned to designated employees whose occupations may require close contact with individuals who become ill. Departments coordinate with the Office of Environmental Health and Safety for the required OSHA training, ft-testing, PPE assessments and selection of designated employees.
Public Safety's Customer Service Center has been designated as the University's supply center for COVID-19 PPE supplies, which are available to employees.
Ventilation
Increased ventilation will not eliminate the risk of COVID-19 exposure or infection, but will be used with other measures to help reduce the risk.
Weather permitting, some events, gatherings and classes will be held outdoors.
In alignment with public health guidelines, the circulation of outside air is increased whenever possible by opening windows in buildings with or without centralized systems.
Facilities improved ventilation in accordance with CDC guidelines, ASHRAE standards, and industry best practices where practicable. There are many different types of ventilation systems in use, and different approaches are needed to optimize system performance.
Facilities maximized airflow in all buildings by increasing the ventilation rate and mixing as much outside air as possible and as weather conditions permit.
Mechanical ventilation systems use improved filtration wherever possible.
Facilities installed indoor portable HEPA filter units in isolation rooms, the Student Health Center and select locations, as needed. Portable air cleaners are used along with other best practices in this plan to improve infection control.
In buildings that do not have re-circulating air systems, natural ventilation like opening windows, where it is possible and safe to do so, can be done to increase outdoor air dilution, weather permitting. Opening windows for long periods of time can have a negative impact on comfort and the effective operation of systems in buildings with centralized mechanical ventilation systems when the weather is very hot and humid, or in extreme cold.
For suspected or confirmed cases, ventilation is considered a critical component in mitigating exposure, and the Office of Facilities Management implements plans to increase ventilation in buildings as needed. Community members are expected to cooperate with any configuration or other changes needed to increase ventilation.
Visitors
As noted above, guests/visitors are prohibited from visiting campus housing and dining facilities. Outside visitors should be limited to essential business operations whenever possible.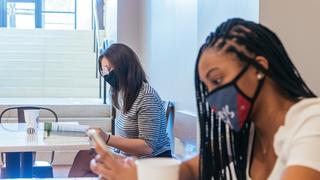 UPDATES AND
COMMUNICATION
Guidelines change frequently as more is learned about coronavirus and conditions evolve quickly. Therefore, the University's approach adapts to those changes. All aspects of this plan, including but not limited to schedules and all class, residence and dining arrangements, are subject to change by the University.
Community members will be kept informed through this website and official University email, which serves as the primary source of information. In addition, faculty and staff receive "Hawk Hill This Week," a weekly e-newsletter, and undergraduate students receive "Hawk Hill Happenings." A number of other communication mechanisms are leveraged including but not limited to social media, campus signage, town halls and webinars.
If immediate communication becomes necessary, the University will use the SJU Safe mobile application and emergency notification system.