OVERVIEW
Saint Joseph's University continues to fulfill its mission of educating students in the Jesuit tradition of excellence while keeping the community as safe as possible. While much of our campus experience looks different, some things haven't changed – our care for one another, our formation of students with and for others, and our dedication to our students' rich and deep educational experience.
Saint Joseph's has the ingenuity and agility to meet today's unique challenges. These are extraordinary times, and we are preparing for many scenarios that the pandemic may present. In fact, when we first returned to campus in the fall of 2020, we called our approach and mindset Hawk Hill Ready. Now, as we optimize that experience, we are forging Hawk Hill Ahead. Our preference – and that of our students – is to be on campus and in person as much as possible. We believe that a full campus experience enhances the education of the whole person – mind, body and spirit – and accentuates the student-faculty relationship while advancing research, scholarship and creative expression.
With this in mind, we implemented a phased and measured return to campus in the fall of 2020 and continued on ground, as planned, through Thanksgiving. We will continue in-person instruction throughout the spring 2021 semester and will adopt a similar approach for our students' return to campus.
This document overlays evolving health and safety guidance, with the latest government and agency recommendations, guidance and requirements, and specifies the University's approach to a modified in-person campus experience. General health and safety guidance is followed as a normal course of business while additional measures may be needed, should there be times of significant community spread.
The Health and Safety Plan includes information from nearly every corner of the University. Many departments, offices and interested parties have provided input and/or reviewed the information specific to their areas of responsibility.
All community members are required to familiarize themselves with the plan and monitor communication from the University for updates.
Although we can't eliminate all risk of COVID-19 exposure and infection, the Saint Joseph's community can work together to help reduce the risk by staying informed, following all signs and guidelines, and supporting others in following safer hygiene and distancing practices.
Health and Safety Plan, Athletics Plan, Campus Signage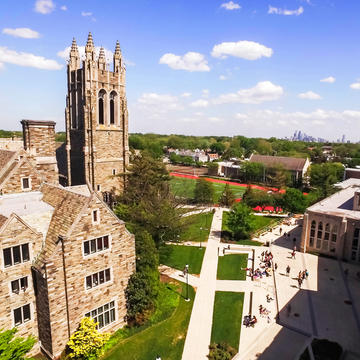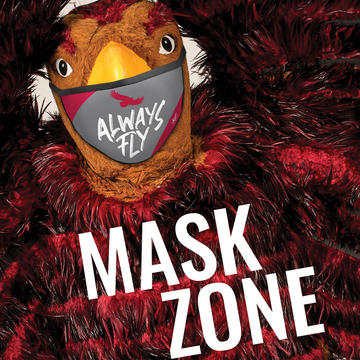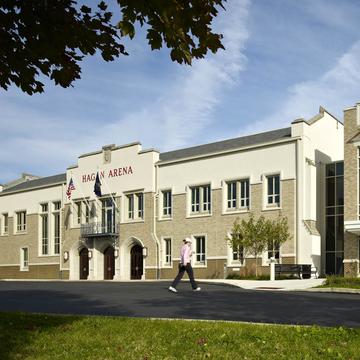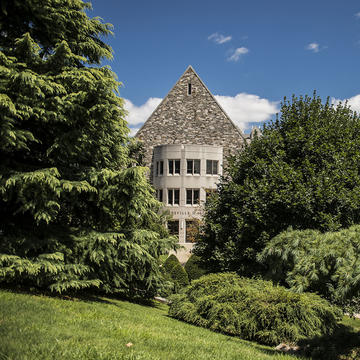 Our Guiding Principles
The Saint Joseph's community embraces our educational mission and a culture of care and wellness for self and others, designed for a safer campus.
Our approach and commitment to physical distancing, face coverings and other safety measures are grounded in the Jesuit values of care for the individual, care for the community and care for the institution, particularly those who are most vulnerable to severe illness from coronavirus.
Our mitigation strategy is informed by the latest science and applies to all areas of campus life including dining, living, teaching, learning, working, gathering and practicing spirituality.
Our faculty and staff are ready to respond to changing conditions, continuing to deliver high-quality instruction, advising, student life and support services. We will continue to learn, gather feedback and optimize our campus experience.
Because the University educational experience extends beyond the campus, with students and other community members living, studying, dining and commuting in the surrounding community, Saint Joseph's requires all community members to extend all face covering, physical distancing and other hygiene practices to areas outside of campus.
Scope
This guide provides a general health and safety plan for mitigating COVID-19. More specific procedures are developed when needed, communicated to applicable employees and students, and updated as necessary.
In addition to University-wide plans, all departments and divisions created plans specific to their work areas and communicated these plans to employees. Operational plans may include the following elements:
Staggered work shifts and lunch breaks
Telework
Distancing and shared spaces
Expert Guidance
Saint Joseph's plan is and will continue to be informed by the evolving scientific evidence and guidance from government and higher education industry resources including:
Philadelphia Department of Public Health
Montgomery County Health Department (PDPH)
The Centers for Disease Control and Prevention
Pennsylvania Departments of Education and Health
NCAA and A-10 Conference
American College Health Association
Association of Independent Colleges and Universities of Pennsylvania
Our Plan
Click below to learn about what Saint Joseph's University is doing to prepare.
ADDITIONAL MEASURES
Travel
Non-essential, University-sponsored travel remains suspended until further notice. Area vice presidents or deans will determine when travel is necessary.
A decision on the status of summer programs will be made on an individual basis. The Greece study program has been canceled and a decision regarding the status of the Rome Summer Program will be made by March 15 and for the South Africa Program by April 5.
All international travelers, regardless of passport, should consult the CDC's website on international travel and quarantine guidance.
The Office of International Students and Scholars is available to work with international students on their travel plans.
Cleaning and Disinfection
No cleaning or disinfecting measures will completely eliminate the risk of COVID-19 exposure or infection, but University providers and community members can work together to increase cleaning and disinfecting of work and living spaces.
Cleaning and disinfection is prioritized based on risk of transmission and guided by the latest scientific evidence and recommendations. Cleaning and disinfecting procedures follow current CDC, OSHA and other industry guidelines, and are updated according to the latest available public health information.
Housekeeping services cleans and disinfects certain areas two or more times per day, including high traffic areas including hallways, stairs, elevators, public restrooms, residence hall bathrooms, classrooms, common areas and dining areas. Surfaces will first be cleaned with a standard cleanser, then disinfected by misting with a virucide and allowed to remain wet for 10 minutes before wiping, or allowed to air dry when possible. To minimize the disruption to occupants, the majority of this work occurs at night.
High-touch surfaces such as door handles, elevator buttons and stair rails in busy public areas will be cleaned more frequently, sometimes several times per hour. These areas will be sprayed with a virucide and wiped.
Housekeeping exclusively uses products that are on the EPA list of approved disinfectants for COVID-19.
Workplace Safety & Personal Protective Equipment (PPE)
Risk levels in workplace settings are assessed on an on-going basis and adjusted as needed for employee tasks to minimize exposures. Safe work procedures, PPE assignments and other appropriate control measures are based on OSHA and CDC guidance documents.
Specialized equipment, such as N95 respirators, have been assigned to designated employees whose occupations may require close contact with individuals who become ill. Departments coordinate with the Office of Environmental Health and Safety for the required OSHA training, ft-testing, PPE assessments and selection of designated employees.
Public Safety's Customer Service Center has been designated as the University's supply center for COVID-19 PPE supplies, which are available to employees.
Ventilation
Increased ventilation will not eliminate the risk of COVID-19 exposure or infection, but will be used with other measures to help reduce the risk.
Weather permitting, some events, gatherings and classes will be held outdoors.
In alignment with public health guidelines, the circulation of outside air is increased whenever possible by opening windows in buildings with or without centralized systems.
Facilities improved ventilation in accordance with CDC guidelines, ASHRAE standards, and industry best practices where practicable. There are many different types of ventilation systems in use, and different approaches are needed to optimize system performance.
Facilities maximized airflow in all buildings by increasing the ventilation rate and mixing as much outside air as possible and as weather conditions permit.
Mechanical ventilation systems use improved filtration wherever possible.
Facilities installed indoor portable HEPA filter units in isolation rooms, the Student Health Center and select locations, as needed. Portable air cleaners are used along with other best practices in this plan to improve infection control.
In buildings that do not have re-circulating air systems, natural ventilation like opening windows, where it is possible and safe to do so, can be done to increase outdoor air dilution, weather permitting. Opening windows for long periods of time can have a negative impact on comfort and the effective operation of systems in buildings with centralized mechanical ventilation systems when the weather is very hot and humid, or in extreme cold.
For suspected or confirmed cases, ventilation is considered a critical component in mitigating exposure, and the Office of Facilities Management implements plans to increase ventilation in buildings as needed. Community members are expected to cooperate with any configuration or other changes needed to increase ventilation.
Visitors
As noted above, guests/visitors are prohibited from visiting campus housing and dining facilities. Outside visitors should be limited to essential business operations whenever possible.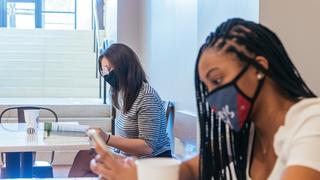 UPDATES AND COMMUNICATION
Guidelines change frequently as more is learned about coronavirus and conditions evolve quickly.
Therefore, the University's approach adapts to those changes. All aspects of this plan, including but
not limited to schedules and all class, residence and dining arrangements, are subject to change
by the University.
Community members will be kept informed through this website, which serves as the primary
source of information. In addition, faculty, students and staff will receive regular updates. Faculty and staff receive "Hawk Hill This Week," a weekly e-newsletter, and undergraduate students receive "Hawk Hill Happenings." A public dashboard detailing the number of cases among certain populations, cumulative counts and active cases is available under the Latest Info tab.
If immediate communication becomes necessary, the University will use the SJU Safe mobile application and emergency notification system. Additionally, the University has launched a communications campaign and posted signage to inform and remind the community of best practices and expectations.
Questions and Resources
Community members may have questions based on their unique circumstances. After reviewing this guide, please consult the following resources to address specific questions.
Faculty and Staff
Supervisors, deans and area vice presidents