Overview
Scientific evidence and local guidance on mask requirements changes frequently. Pay attention to University email for the latest campus requirements.
Face coverings are required for all community members and guests when indoors and while outside in large crowds where physical distancing is not possible.
N-95 or KN-95 masks work best against the highly contagious Omicron variant. The University will be distributing these for the Spring 2022 semester. Students will be expected to wear the KN-95 masks upon entry to any academic space. For individuals unable to wear KN-95 masks, double masking is expected, achieved by using a disposable mask under a cloth mask.
All masks are required to cover the nose and mouth at all times. This is mandatory except in designated eating and drinking areas.
Bandanas, buffs, gaiters and masks with valves are insufficient to prevent the spread of droplets from a sneeze or cough. These are not permitted on campus.
Student-athletes should refer to the Department of Athletics for specific guidance.
The University will provide necessary personal protective equipment to those whose duties require it.
CARE AND MAINTENANCE OF KN95 AND N95 MASKS
(As summarized by Michael McCann, Ph.D. professor of biology)
Manufacturers of KN95 and N95 (and similar) masks recommend the following steps to help ensure that the mask remains an effective barrier against airborne viruses. Similar procedures are being used in healthcare settings for these masks, and have been since early in the pandemic, so there is a lot of empirical evidence to support these as safe and effective.
Do NOT wash or spray an N95, KN95, surgical mask, or any similar mask, with soapy water or alcohol. This damages the filter material and greatly reduces the effectiveness of the mask.
An N95 or KN95 (or similar) mask can be worn multiple times and retain its effectiveness. It is best, and easiest, when possible, to use three or four different masks, and rotate them on a daily basis. Many viruses, including the one that causes Covid-19, become inactivated (unable to cause infection) on materials like the mask is made out of, over the course of two to three days. This means that a mask that has been left at room temperature and moderate humidity for three days will no longer have infectious virus on it.
You can use brown paper bags to store the masks in during this "waiting period". If you have three masks, use three bags, labeled 1, 2 and 3. After wearing your mask the first day, put it in bag 1. Wear mask #2 the second day, then, put it in bag 2, same for mask 3. On day four, reuse mask #1. The bag doesn't do anything other than keep the mask from getting dusty and allowing you to keep track of which mask is which. Do NOT use plastic bags or put the masks in a sealed container. You want the mask to dry out during this time. 
When properly cared for, these masks should retain nearly 100% of their filtering ability over the course of weeks or even months, but they will not last forever. If a mask becomes stained, if it no longer fits well on your face, if the elastic bands are stretched out, or if the mask just looks like it's getting old and tired, probably a good time to replace it in the line up with a new mask. 
References: 
https://www.ncbi.nlm.nih.gov/pmc/articles/PMC7161499/
Additional general information about the efficacy of using face masks in preventing the spread of the SARS-CoV-2 virus (and other respiratory pathogens) is available here: 
https://www.pnas.org/content/118/4/e2014564118
Time To Transmit An Infectious Dose of COVID-19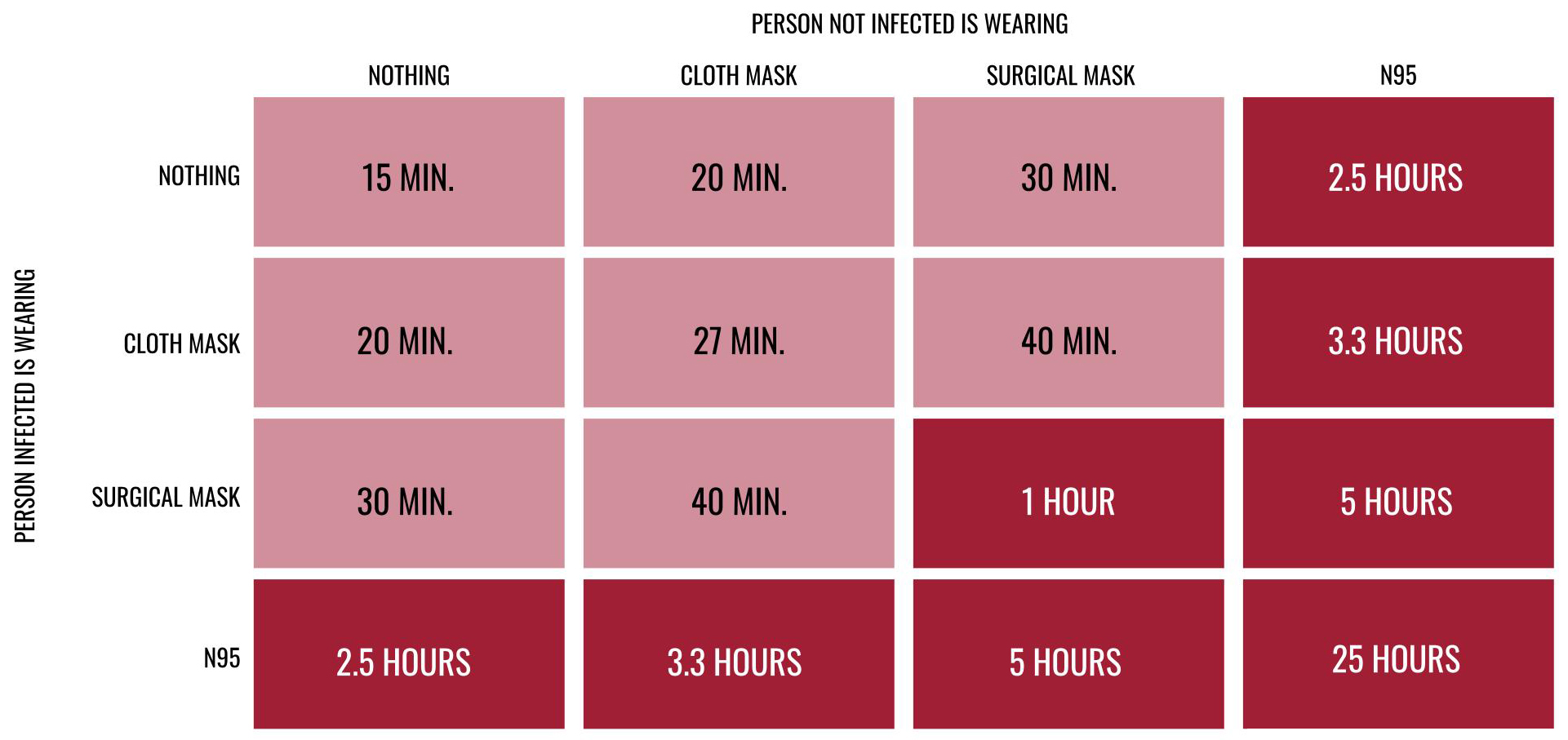 It will take 25 hours for an infectious dose of COVID-19 to transmit between people wearing non-fit-tested N95 respirators. If they're using tightly sealed N95s–where only 1% of particles enter the facepiece–they will have 2,500 hours of protection.
Note: Results published in Spring 2021. The CDC expects the Omicron variant to spread more easily.
Source: ACGIH'S Pandemic Response Task Force