Each of us plays a critical role in helping our whole community reduce the risk of COVID-19 exposure and infection. The risk of exposure and infection, however, can't be completely eliminated due to the contagious nature of COVID-19, and certain factors can increase the risk of severe infection. Each of us will therefore accept the responsibility to stay informed about the risks and to take the measures necessary to protect our own health as well as the health of others.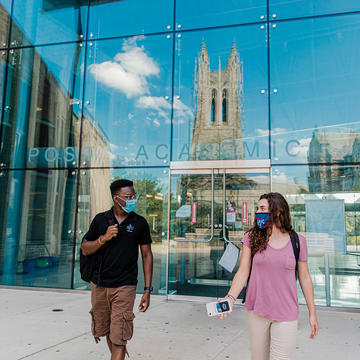 ICARE Pledge
As a community that stands with and for others, we:
I

nvite all to demonstrate character and caring in the Ignatian tradition of cura personalis: prioritize self-care and wellness, seek out support and programming, and refer others to helpful resources.

C

ommit to washing and disinfecting our hands, work areas and living spaces frequently.

A

ccept the responsibility to participate in University testing programs; physically distance on and off campus; wear masks; limit gatherings; and self-disclose symptoms, exposure and positive test results.

R

ecognize and remind each other that following public health guidelines, including masking up, shows our care for one another and our broader communities.

E

xpect our entire Saint Joseph's community to do the same.
Individuals who repeatedly disregard simple actions that protect our community will be barred from the physical campus and could face disciplinary sanctions including suspension. Community members are encouraged to report non-compliance with COVID-related requirements through sju.edu/incidentreportingform.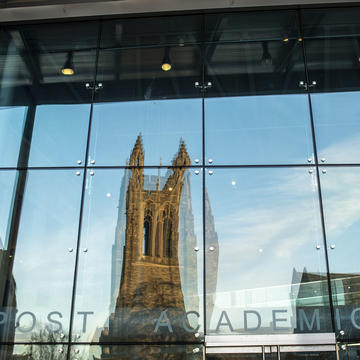 Stigma and Non-Discrimination
We lend our sincere support to all of our community members who have been impacted by COVID-19 and the continued health crisis. We extend our care and concern for all members of the SJU community experiencing distress while we all navigate these challenging times together.
As a community, Saint Joseph's University is committed to being diverse and inclusive, supporting all its members. We must not allow fear or our shared concerns to threaten our commitment to embracing diversity on our campus. Bias-based conduct, targeting people based on perceptions about identity or beliefs creates barriers to inclusion, access and trust. It affects not only the targeted individual or group, but adversely affects our entire University community. Biased behaviors, stereotyping and discrimination are not tolerated at Saint Joseph's University. As a Jesuit university, we set a high bar: to educate and care for the whole person, across all diversity and aspects of identity. Anyone who experiences harassment, discrimination or biased-based conduct on campus or virtually in a University-sponsored activity can report it here through the Bias Activity Review Intake Portal.