All members of the Saint Joseph's community — from our students, faculty and staff, to our neighbors and loved ones — are impacted by the ongoing public health crisis. That's why it's vital that each and every one of us work together and embrace the Jesuit ideals of care for self and others.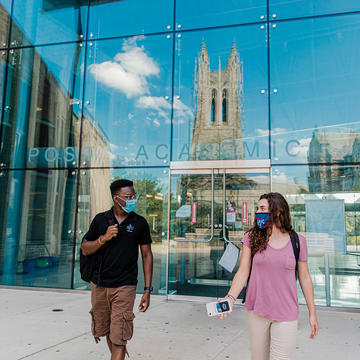 iCARE Pledge
All students, faculty and staff will take the iCARE pledge and vow to do their part in upholding the University's Health and Safety Plan by following guidelines informed by the latest science. The pledge will be available through The Nest and will be mandatory beginning Thursday, August 20.
As a member of the Saint Joseph's University community, which stands with and for others, I pledge to:
i

nvite all to demonstrate character and caring in the Ignatian tradition of cura personalis.

C

lean and disinfect my hands, work area and living spaces frequently.

A

ccept the responsibility to physically distance on and off campus.

R

emind myself and others to mask up for the protection of our community.

E

xpect my Saint Joseph's community to do the same for me.
Each of us plays a critical role in helping our whole community reduce the risk of COVID-19 exposure and infection. The risk of exposure and infection, however, can't be completely eliminated due to the contagious nature of COVID-19, and certain factors can increase the risk of severe infection. Each of us will therefore accept the responsibility to stay informed about the risks and to take the measures necessary to protect our own health as well as the health of others.
iCARE Ambassadors
We also invite the members of our community to become iCARE ambassadors and share why it's important to them to act with and for others. To become an ambassador, email social@sju.edu with a photo of yourself in your mask along with a statement of why you care. Please be sure to include your name along with your major and graduation year (students) or title (faculty and staff). Photos and statements may be shared on social media.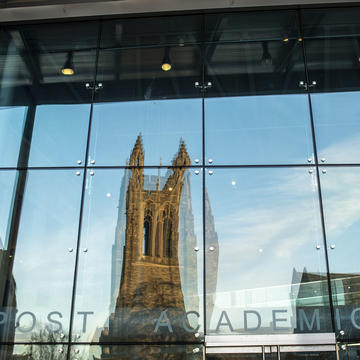 Stigma and Non-Discrimination
We lend our sincere support to all of our community members who have been impacted by COVID-19 and the continued health crisis. We extend our care and concern for all members of the SJU community experiencing distress while we navigate these challenging times together.
As a community, Saint Joseph's University is committed to being diverse and inclusive, supporting all its members. We must not allow fear or our shared concerns to threaten our commitment to embracing diversity on our campus. Bias-based conduct, targeting people based on perceptions about identity or beliefs creates barriers to inclusion, access and trust. It affects not only the targeted individual or group, but adversely affects our entire University community. Biased behaviors, stereotyping and discrimination are not tolerated at Saint Joseph's University. As a Jesuit university, we set a high bar: to educate and care for the whole person, across all diversity and aspects of identity. Anyone who experiences harassment, discrimination or biased-based conduct on campus or virtually in a University-sponsored activity can report it here through the Bias Activity Review Intake Portal.
Disclaimer 
The novel coronavirus, COVID-19, is a highly infectious, life-threatening disease declared by the World Health Organization to be a global pandemic. There is no current vaccine for COVID-19. The virus's highly contagious nature means that contact with others, or contact with surfaces that have been exposed to the virus, can lead to infection. Given the unknown nature of COVID-19, it is not possible to fully list all risks of COVID-19 exposure and infection.
The University has put in place many measures in order to mitigate the spread of COVID-19, which may be updated at any time. These measures may or may not be effective in mitigating the spread of COVID-19, but the University will hold all community members responsible for diligently familiarizing themselves with and following all such requirements.
By accessing and using Saint Joseph's University campus and facilities, you: (1) acknowledge the contagious nature of COVID-19, the fact that infections can be difficult to identify, and the inherent risks of exposure at the University, (2) acknowledge that the University's private property is an open campus, which limits the University's ability to control factors that may increase the risk of COVID-19 exposure and infection; and (3) voluntarily assume the risk that you may be exposed to or infected by COVID-19 and that such exposure or infection may result in personal injury, illness, permanent disability, and/or even death. You must rely on your own judgment and the advice of your health care providers to decide whether to undertake the risks.