Building Community in a Time of Crisis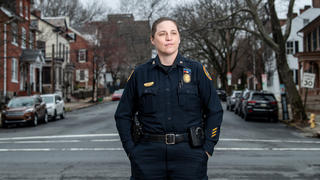 Less than a year ago, when the Bethlehem Police Department received a domestic call, two officers would arrive on the scene to resolve the situation. But if they noticed troubling signs — poor living conditions, food insecurity or domestic conflict — the officers had no standard procedures to follow short of calling child services or reading someone their rights. Often, the department would repeatedly receive calls from the same households, and officers would continue to show up, then leave, until in many cases a crime finally did occur.
That approach didn't address the underlying cause of the domestic call, says Michelle Kott, D.J.C. '10 (M.S.). Kott, who holds a master's degree from Saint Joseph's and a doctorate in criminal justice, was selected as the city's first female police chief in October 2020. In just a few months during an incredibly difficult year, she's taken a traditional force and integrated forward-thinking ideas at the center of the national conversation on police reform, from partnering with public health agencies to community policing.
Under Kott's leadership, for example, the department retains a social worker with whom officers can connect individuals who are better suited for treatment than prosecution. "One agency alone is not going to solve complex social issues," Kott says. "We're hoping to show that repeat calls for service at an individual's house are going to decline if individuals are put into contact with county services or programming that can help address their needs."
We can't keep going down the same path that we have been for years where nothing changes. We have to utilize these partnerships and relationships to try to help people because, at the end of the day, that's what we're supposed to do."
That partnership is part of a larger vision, what Kott calls a hybrid approach to policing. Kott has managed to rapidly build a culture of community policing, where officers seek to support the communities they serve, and the community in turn has greater trust in the police to resolve issues and handle crimes. It's taken hold within her department to the point where internal applications for community policing roles have nearly doubled under Kott's leadership.
To understand how Kott managed to make change, it's necessary to understand where Kott's coming from. She joined the Bethlehem Police Department in 2004 after receiving her bachelor's in criminal justice from DeSales University. She worked her way up, first going undercover in drug operations whenever a female officer was needed (she was the only woman in the department), then, after 17 years, becoming detective lieutenant of criminal investigations.
Eligible for retirement in her forties, Kott pursued her master's degree to prepare for a second life as a teacher. At St. Joe's, she learned about community policing and the benefits of constructive dialogue. "You have individuals from all different backgrounds," Kott says. "It was incredible because you could sit and talk about these incredibly hard topics."
When Kott became police chief in 2020, the police department was, overnight, being led by someone who had an unusually deep knowledge of modern theory in community policing combined with years of on-the-ground experience. But enacting change required one more ingredient. "It comes down to your credibility, who you are as a person," Kott says. "Just being someone who is different helps you see things from someone else's perspective."
From an early age, Kott, who grew up in conservative Schuylkill County, understood the importance of empathy in the face of opposition, even intolerance. A gay woman, she had to grapple with being raised Catholic, a religion she and her wife and their two kids, ages 3 and 6, continue to practice. "People kind of shake their head at me, and they're like 'What is wrong with you? They don't like you.' I tell them ... it takes time," Kott says. "It's comparable to what [the police are] going through now. It takes time. There are going to be people in the community who don't like the cops, and there are going to be police officers who don't think that we should be going to soup kitchens and feeding individuals and helping out. But we have to break that mindset."
It's that understanding of how to work with an imperfect system that helps Kott navigate the thorny issues of modern policing and reform. It's an attitude she teaches her officers, to listen without taking it personally. It's also what inspired Kott to redirect officers from less vital tasks to activities that build relationships with the community — something she says is important for both the community and for police work. "We can't keep going down the same path we have been for years where nothing changes," she says. "We have to utilize these partnerships and relationships to try to help people because, at the end of the day, that's what we're supposed to do."