5 Questions with Angela Rowe McDonald, Ph.D.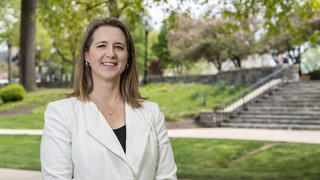 The new academic year brings with it the first official day of classes for students in the new School of Health Studies and Education. Announced last year and formed from existing programs and faculty, the school launches at a time of increased demand for health care professionals and educators equipped to tackle the complexities of the world with critical thinking and ethical behavior.
Leading the way for the new school is Dean Angela Rowe McDonald, Ph.D., a licensed professional counselor and experienced educator who joined Saint Joseph's in July after more than 10 years at the University of North Carolina at Pembroke, serving in leadership roles in both its School of Education and College of Health Sciences.
The SJU News team asked McDonald about her first impressions of Saint Joseph's and her goals for the new school.
What strengths did you see when you first arrived that you want to capitalize on?
We have strong, foundational offerings and a world-class faculty. I can already see so many directions that we could take this school because of the rich expertise that exists.
I'm particularly impressed by the work that is being done in the Kinney Center for Autism Education and Support and the Institute for Clinical Bioethics. Each is a leader in its field, conducting cutting-edge research and expert-level consultation to professional organizations.
We should be building on these successes and looking to expand our offerings or curriculum in the area of "helping professions" who have specialized training to work with a variety of populations that have specific educational or health needs.
What are your early priorities for each side of the new school?
Preparing students for success in their life beyond Saint Joseph's is our greatest priority. To that end, we are developing a plan to pursue national accreditation in educator preparation. This will allow us to be more competitive in the market and give our students an advantage that will help them to be more mobile.
On the health side, we need to expand the opportunities for undergraduates to earn necessary clinical hours on campus or through partnership arrangements. Saint Joseph's will be plugged into the network of health schools around the country. Accreditation for our master's program in health adminstration is also in progress.
What is your approach to expanding on the already strong programs that the new school can offer?
I want to move the school forward, but to be strategic in our approach. We will be digging into data and leveraging market research to decide which growth opportunities to pursue. I will also be relying on the industry expertise of our faculty to inform our decisions about how our students can learn what they need to succeed right away and to develop the mental rigor that will help them adapt as their future jobs change.
How does your background as a counselor inform your approach to education?
Every person has a story, but it's the job of a counselor to appreciate the complexity of the human spirit and to explore beyond the surface. That's very similar to the way that the Jesuits approach education: we teach specialized skills, yes, but with the broader context that students need to put those skills to use in the best way possible.
How else do you hope to infuse Jesuit values into the new school?
I want to find ways to fulfill our social responsibility by aiding the community around us or serving to improve health and education for communities in need. For all the technological advances in both fields, the one thing that tech can never replace is empathy. Human compassion is needed as an educator, as a health care professional and as an administrator. All of these professional roles are about listening to people and helping them achieve their goals.
Programs like ACESJU are already doing a great job of incorporating our values into a curriculum that will prepare our graduates for success. ACESJU teaches our students to educate with discernment and compassion while allowing them to gain real teaching experience in urban centers. We should make this kind of dual-purpose training a key component of each student's journey.