Alumnus Returns to Hawk Hill with a Biotech Startup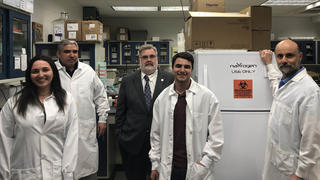 When Shaily Menon, Ph.D., joined Saint Joseph's as dean of the College of Arts and Sciences (CAS) nearly two years ago, she started developing strategies to push the college to be more innovative and engaging.
When Nicholas Nicolaides '87 and Luigi Grasso co-founded Navrogen, a local biotech startup, they needed a lab space to conduct the fledgling company's molecular and cellular biology work.
With the help of Michael McCann, Ph.D., professor of biology and one of Nicolaides' former classmates, SJU and Navrogen found a match in each other.
This partnership is fulfilling a growing need in Philadelphia: affordable incubator space for start-ups and innovators. The campus location is an added benefit to companies just starting out, providing easy access to central Philadelphia, the Main Line and other suburbs. Most importantly, the collaboration provides internship and mentorship opportunities for students in the science field.
"Students are always our first priority," says Menon, a biologist herself. "A great component of this partnership is that participating students don't have to travel off campus for high-level research and entrepreneurship experience. Not only are they able to learn basic methodology in translational medicine, but Navrogen's work allows students to impact real-life solutions and assist in improving cancer treatment outcomes."
The interns work alongside Nicolaides and Grasso for a minimum of 10 hours a week throughout the semester. At the end of the internship, the students have learned new methodologies applied to research and development and absorbed high-level biological drug development concepts.
Navrogen aims to be an industry leader in the area of humoral immune oncology (HIO) by developing cancer treatments that will improve anti-cancer outcomes. The unique start-up incubator program also provides an experiential learning opportunity for selected students in CAS. Navrogen has worked with nine student interns to date and looks forward to welcoming two new students to their team this summer.
"The model we developed with Navrogen is incredibly beneficial to both parties, but most importantly our students," says McCann. "Many biology students' schedules don't allow for internship opportunities during the academic year because of the major's rigorous courses. Navrogen is committed to providing our students with a hands-on experience with two accomplished scientists."
"I have a lot of passion being back at Saint Joseph's. My experiences there are some of my most amazing memories," explains Nicolaides. "We're able to conduct industry research, while teaching students about translational medicine and provide mentorship all simultaneously. This experience has been greater than expected and we look forward to continuing our partnership."
Due to the success of the partnership, leadership anticipates expanding the opportunities for collaboration with the Haub School of Business and the new School of Health Studies and Education, opening in the fall.