Bloomberg Names Haub School Experiential Learning Partner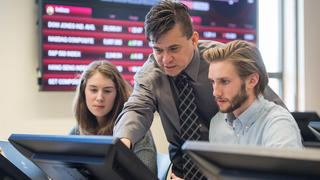 Bloomberg for Education has recognized the Erivan K. Haub School of Business at Saint Joseph's University as an Experiential Learning Partner (ELP). The Bloomberg ELP program provides students exclusive and innovative experiential learning through Bloomberg Professional Terminals. Bloomberg has more than 900 university clients internationally, only 35 of which are currently recognized as ELP members. SJU's Haub School is one of only three business schools in Pennsylvania to achieve this elite status.
"We are excited to achieve the status of Experiential Learning Partner by Bloomberg for Education and for our students to take advantage of this program," says Matthew Kelly, visiting instructor of finance and director of Haub's Wall Street Trading Room (WSTR), where students gain hands on experience through the use of real-time investment data, analytical tools and trading simulations. "Being recognized as an ELP partner shows how faculty and students at Saint Joseph's are continuously working hard to bridge the gap between education and industry through the use of Bloomberg."
Institutions must fulfill certain teaching and curriculum requirements from Bloomberg to be considered for the program, including the use and integration of Bloomberg Professional Terminals. The ELP program aims to increase students' financial market awareness and strengthen career readiness. Students advance their knowledge of the areas and become familiar with industry terminology by pairing industry level research with academic classwork. Students have the ability to post their resumes to search for potential internships and jobs.
"Becoming familiar with the programs Bloomberg offers is an important resume builder," explains Kelly. "One of the most commonly asked questions in interviews for our field is if an individual has experience with Bloomberg. Our students now have the opportunity to not only be certified, but can discuss the ELP program. This status can really separate them from other candidates."
The Wall Street Trading Room is used by students and faculty for open lab, research and financial software training. Hardware features include Bloomberg Professional Terminals, RISE Ticker Board, NEC Display Boards (powered by Rise) and 34 workstations with large flat screen monitors along with software for various departments throughout Haub.
The Haub School has been a partner with the global financial leader for more than a decade. The partnership evolved from having Bloomberg Terminals in the WSTR to participating in the Bloomberg Market Concepts (BMC). Several hundred SJU students take the rigorous BMC test each year and professors use the BMC digital courseware as a course companion.