Celebrating Saint Joseph's Commencement Ceremonies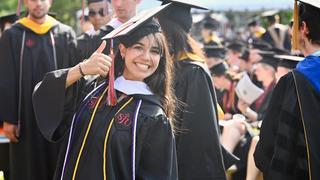 It was a hot day on Hawk Hill on May 21, but that didn't stop graduates and loved ones from celebrating their accomplishments at Saturday's Commencement ceremonies. Nearly 1,800 degrees were conferred for the Class of 2022, including 1,014 undergraduate degrees and 772 graduate and doctoral degrees.
Graduates from the Class of 2020 were also invited back to Hawk Hill to walk across the Commencement stage after their ceremony was moved to a virtual format during the height of the pandemic.
The morning's remarks given by undergraduate student speaker Abigail Varker '22 echoed across all three ceremonies.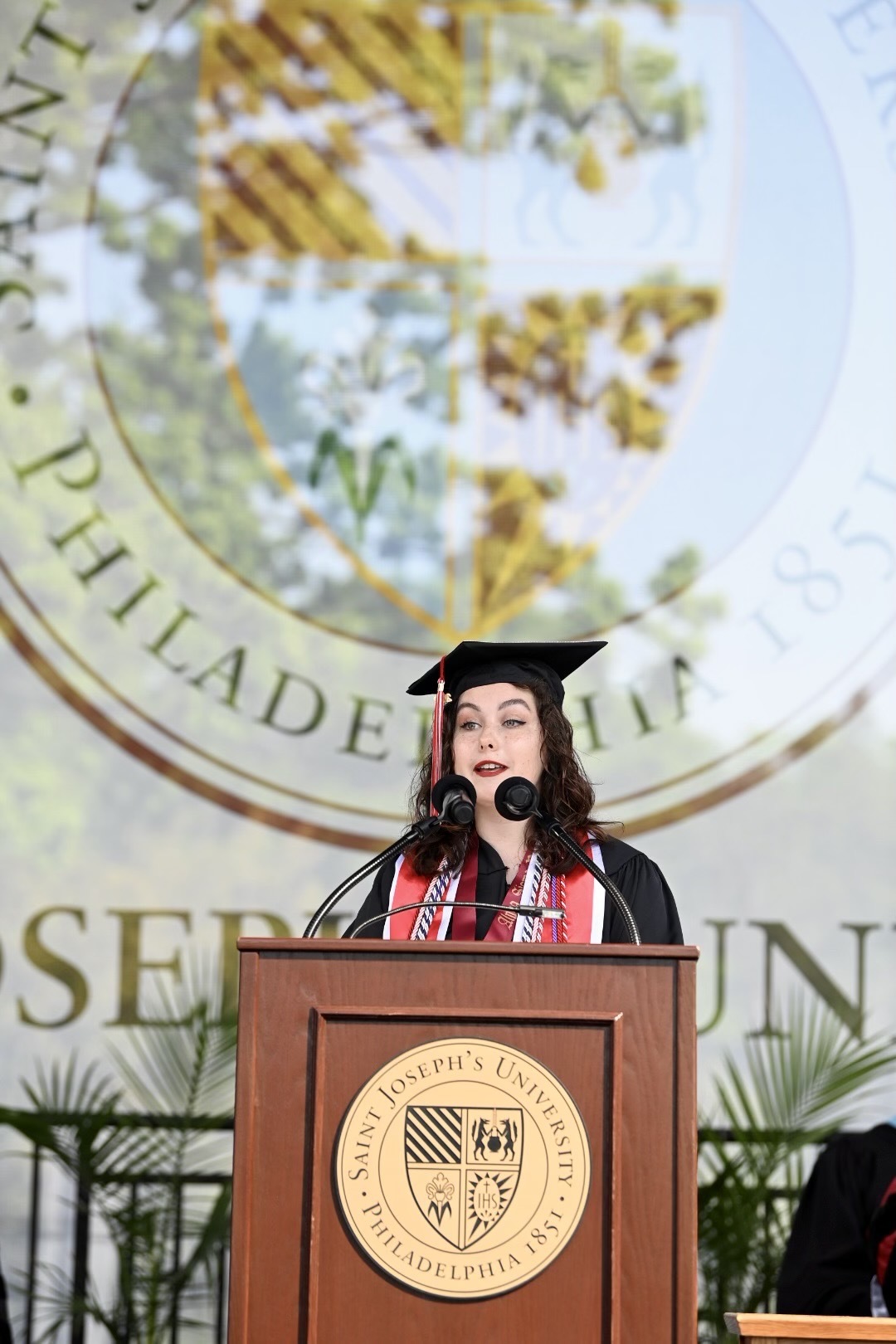 "While there is much to tackle in the world, remind yourself of what you have accomplished," implored the psychology major and health care ethics minor. "You are prepared, so open yourself up to what is happening in the moment. Experience things as they come. Don't anticipate, participate."
Also present at the undergraduate ceremony were members of the University's Golden Hawks from the Class of 1972, as well as honorary degree recipients Martie Gillin, founder of the nonprofit organization SpeakUp!; Roberto Lugo, artist, activist and educator; and Rabbi Abraham Skorka, Ph.D., a distinguished religious scholar and former University Professor at SJU.
Honorary degree recipient Brother Guy J. Consolmagno, S.J., lifelong scientist and astronomer, and director of the Vatican Observatory, addressed the Class of 2022 by talking about the idea of perfection.
"You are all graduating today. … I bet it wasn't always easy. I bet it was pretty messy at times. That's the point," he said. "Our heavenly Father's perfection is different. It grows and changes and never stands still. Like your education here, it never ends. That's what makes the Good possible. The Good is a doing, not a thing. The mess you encounter every day is your chance to do good; it's your place to find God."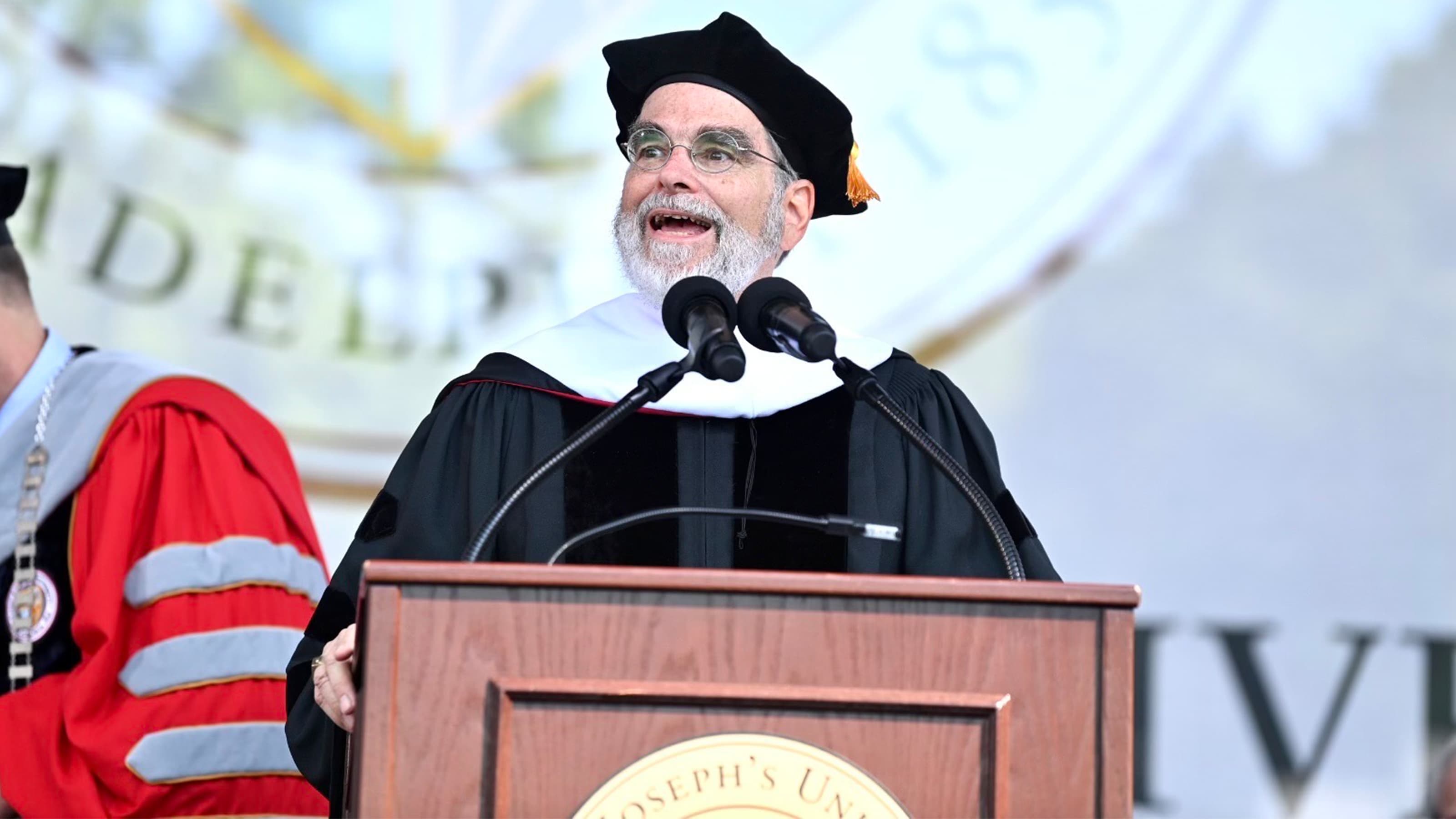 Addressing Saint Joseph's graduates for his last year, President Mark. C. Reed, Ed.D., bestowed his wisdom upon the Class of 2022.
Dr. Reed was honored with a banner thanking him for his seven years at Saint Joseph's, which was unveiled at the close of the undergraduate ceremony, complete with confetti and appearance from the Hawk.
Afternoon Ceremonies
In the afternoon, Harold Bias '22 (M.S.), who earned his degree in educational leadership and administration, offered his remarks to the Class of 2022's graduate and doctoral students. A former student of the University's neighboring Gompers School, Bias reflected on how far Saint Joseph's graduates have come.
"Before you on this stage are future educators, future engineers, future nurses, but most importantly, future leaders. One of my favorite quotes is 'success is a journey, not a destination.' Today marks a checkpoint on that journey. For some, the journey is just beginning; for others the journey began many moons ago. I stand here today as a testament of what discipline, dedication and determination looks like," said Bias.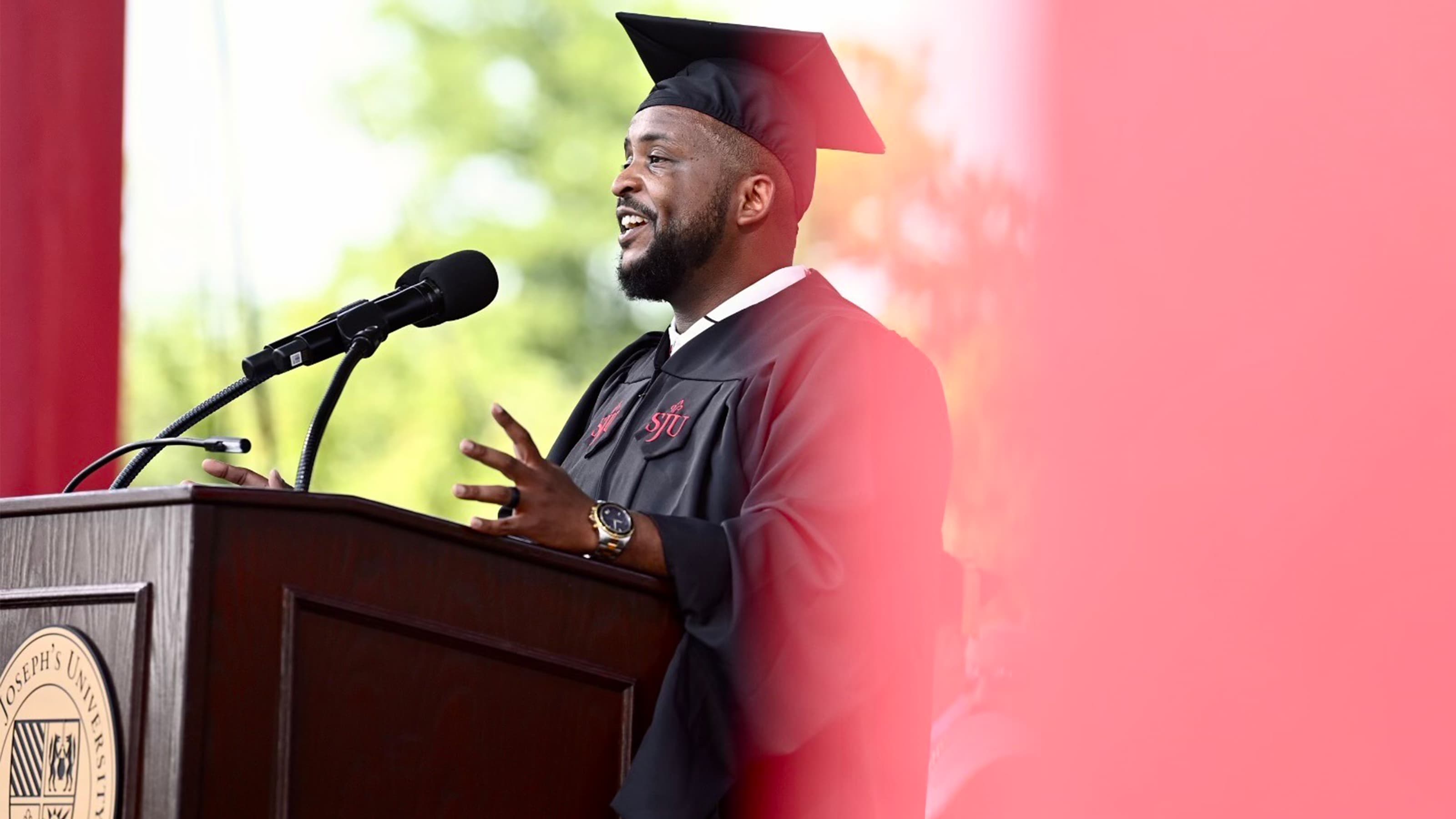 Later in the ceremony, John A. DiAngelo '74, former CEO of Inspira Health, and A. Bruce Crawley '67, president of marketing and communications firm Millennium 3 Management, were each awarded honorary degrees for their remarkable accomplishments and careers.
Crawley, the keynote speaker, spoke to the graduates of the pursuit of lifelong learning: "Lifelong learning is not necessarily credit- or degree-based," he said. "Lifelong learning has also been described as being 'voluntary,' with the purpose of achieving personal fulfillment. And, if done correctly, it is certainly a commitment that extends throughout everything we do, everywhere we go, and everyone we meet, any interview for which we sit, for as long as we might live."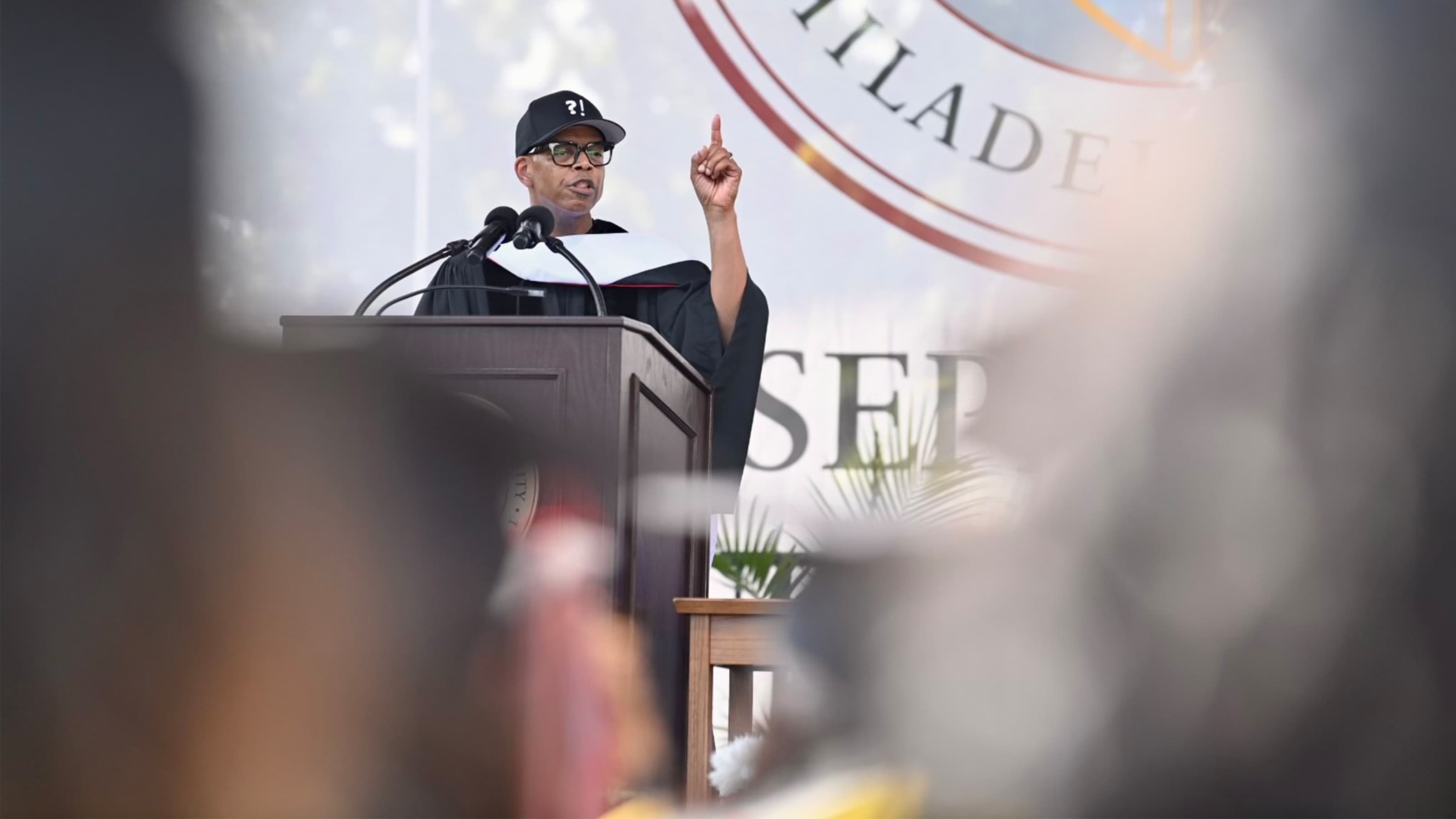 For the last ceremony of the day, Saint Joseph's welcomed the Class of 2020 back to campus, alongside C. Kevin Carroll '97, author, creator, public speaker and the former head athletic trainer at Saint Joseph's and the Philadelphia 76ers.
After leading graduates and guests through an empowering and interactive interactive speech, Carroll ended with this:
"Work for a cause, not for applause. Live life to express, not to impress. Don't strive to get your presence noticed, just make your absence felt. Leave that legacy, that powerful force for good," said Carroll.