Class Registration Opens with Dozens of New Offerings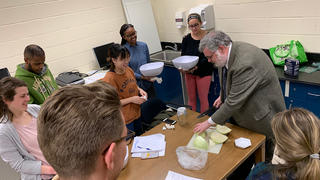 This week, students will begin to register for the Spring 2020 semester, and as they search for classes that will expand their minds and enrich their lives, they will find new options in disciplines across Saint Joseph's offerings.
Some two dozen new and newly redesigned courses have been added to the academic catalogue in advance of the upcoming semester. Students can study legendary writers (ENG 420 American Authors: Toni Morrison ), portfolio management ( FIN 770 Graduate Managed Investments), the causes and impact of domestic abuse (SOC 470 Family Violence), and the future of machine learning (DSS 720 Analytics with Machine Learning and MAT 470 Machine Learning and Data Science), among many other special topics.
"Our priority as an academic institution is to offer students opportunities to engage with material that will challenge them, connect with issues in the greater world, and prepare them for success both after graduation and throughout their careers and lives," Cheryl A. McConnell, provost and vice president for academic affairs, says. "We will continue to seek out and develop new and interesting courses to meet that goal."
Returning after its debut as a graduate-only course in Spring 2019, BI0 470/770 Fermentation Science is now also open to undergraduate students who have taken certain prerequisite courses in biology and chemistry. Michael McCann, Ph.D., professor of biology, shows students the steps to making popular fermented foods, including beer, yogurt and sourdough bread. Each project, along with accompanying lectures, reveals more about the science of fermentation. Participants will travel to Italy during spring break for an immersive learning experience.
Graduate biology students with an interest in the inner workings of the brain will find plenty to study in BIO 770 Neurobiological Mechanisms of Disease. This graduate level course, taught by Jennifer Tudor, Ph.D., assistant professor of biology, explores the causes of nervous system disorders, including various developmental, psychiatric, traumatic and degenerative diseases, including autism, schizophrenia, spinal cord injury, addiction, stroke and Alzheimer's disease. Students will learn how the nervous system works on a molecular and cellular level and what happens when the system goes awry.
As the first course in Saint Joseph's new real estate track within its master's degree in finance, FIN 770 Fundamentals of Commercial Real Estate Valuation introduces the basic concepts, methods, and tools used in the valuation of commercial real estate. Daniel Jubinski, Ph.D., assistant professor of finance, will teach students the most common forms of real estate finance, including fully amortized constant payment loans, price-level adjusted mortgages, bullet loans, and participating mortgages.
Also on the graduate level in the Haub School of Business, FMK 785 Wines of the World will lead food marketing master's degree candidates through the world of wines, focusing on the fundamental concepts of viticulture, grape varieties and the world's major wine regions. Michael J. Alleruzzo, visiting professor of food marketing, will guide participants as they systematically taste a number of significant wines and explore concepts of wine and food pairings. The course will also prepare students to take the Certified Specialist of Wine exam as offered by the Society of Wine Educators (SWE).
Offered in both online and on-campus format, DSS 670 Data Visualization and Performance Analytics will teach graduate students the value of creating meaningful performance measures and communicating those measures through data visualization. Adjunct professors Javier Leon and Matthew Warner will teach best practices for visual design of performance dashboards so students can clearly communicate, rather than dazzle, and leverage modern tools to discover stories within the data. By the end of the course, students will also be prepared to take the Tableau certification exam and the Qlik Sense certification exam.
Students in SJU's doctoral program in educational leadership will tie the Jesuit social mission to their classwork in EDL 600 Leadership for Justice. This course, led by experts in the new School of Health Studies and Education, will teach the history and theory needed to critically analyze schools and school leadership practices. It is an important opportunity for reflection, dialogue and analysis intended to produce leaders who are critically conscious and focused on making their schools and communities more just.
On the undergraduate side, first-year students who are passionate about the long-term health of the Earth will learn how to express their fervor in ENG 150 Climate Change Stories (First Year Seminar). Taught by Jo Alyson Parker, Ph.D., professor of English, the course examines both fictional and nonfictional accounts of climate change as means of understanding what has led us to this point, where we are now and what we might expect in our future. Concurrently, students will explore what, if anything, we might do in light of this existential threat to humanity and to our planet.
Political science students will also have the chance to interact with topical issues in POL 370 Law, Medicine and Public Policy. This course, taught by SJU experts, will examine legal and public policy issues in medicine. Students confront a complex medical problem — treatment for infants at the margins of viability, end-of-life care, cost containment and more — and gain the knowledge to take a position on the issue based on reason. Through respectful in-class debate, students will learn to recognize the gaps in current practices and to formulate policies for developing issues.
Students with an artistic side may find themselves stimulated by ART 105 Arts of East Asia. Led by Martha Easton, Ph.D., assistant professor of art history, the course introduces students to East Asian art, architecture, history and culture. Lectures and discussions are supplemented by opportunities to see relevant works in the Philadelphia region.
Art will also interact with the world at large in MTF 143 Music in Film. Catherine Hughes, Ph.D., visiting assistant professor of music, theatre and film, will introduce students to the interlocking studies of film, music, literature, politics and culture in the 20th century. Focusing primarily on narrative film, students will consider music's functions in cinema, including the use of pre-composed music, stock film music, purpose-written scores, and popular songs. The course includes in-depth study of music for The Jazz Singer, Sunset Boulevard, Psycho, A Star Is Born (1954 and 2018), and Guardians of the Galaxy.
To explore more of the courses available to Saint Joseph's students, visit the academic catalog online.