The Facts and Faces of the Class of 2025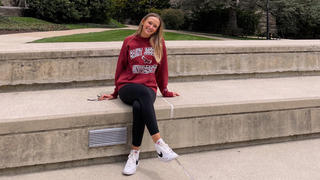 On August 23, departments across Saint Joseph's University welcomed students back to campus for the first day of classes. For many in the incoming Class of 2025, the fall semester will be a dramatic shift from a virtual high school senior year to an in-person college freshman experience.
Who are the students that make up the Class of 2025?
Students in the entering class come from 25 states and 10 foreign countries, as well as from Washington D.C. and Puerto Rico. In fact, the University will welcome a record number of students from Puerto Rico this year, nearly twice as many as in 2020.
The number of transfer students saw a large increase, as well, to 79, and the percentage of students of color remains consistent with past years at approximately a quarter of the student body. Overall, Pennsylvania and New Jersey continue to be the top home states, with other students coming from Florida, Texas, California and Illinois.
Members of the Class of 2025 were highly engaged throughout the summer and they arrived on campus ready to take advantage of all St. Joe's has to offer."
Let's take a look beyond the data and meet some new students.
Sol Borensztein
she/her/hers
Pilar, Buenos Aires, Argentina
Food marketing major
"One of the main reasons I chose St. Joe's is because, as a foreign student, it's a place that respects diversity and instills a deep sense of belonging. I've also always wanted to play D1 field hockey and being part of this team is amazing."
Ryan Farley
he/him/his
Tannersville, Pennsylvania
Computer science major with a potential Political science minor
"I'm an incoming cadet with the Air Force ROTC detachment and fell in love with the campus when I did a tour with one of the ROTC cadets. The small class sizes were really appealing, and I received a scholarship from our ROTC detachment. I met a lot of students on the class Facebook group, including my roommate, and really clicked with a lot of people."
 
Lisa Lam
she/her/hers
Cheltenham, Pennsylvania
Computer science major
"I'm in the McNulty Scholars Program, with one summer guaranteed for Summer Scholars research, and I'm thinking about doing something related to cybersecurity since I enjoy ethical hacking competitions. When I applied to St. Joe's, the counselor helping me with my application reached out to me immediately and connected me with professors. No other school did that."
 
Manny Martorell
he/him/his
San Juan, Puerto Rico
Finance and Risk management and insurance double major
"I chose St. Joe's because of its beautiful campus, its great location, its excellent risk management and insurance program, and because of the diversity in the students and faculty."
Ally Snyder
she/her/hers
Plymouth Meeting, Pennsylvania
Pharmaceutical marketing major with potential minors in Psychology and Business analytics
"I will be the third person in my family attending Saint Joseph's. I felt an immediate sense of connection every time I visited campus. You know that feeling you get when you are somewhere that feels like a second home? That's how St. Joe's makes me feel. The students are enthusiastic and welcoming."
 
Teagan Twum-Ampofo
she/her/hers
Landsdale, Pennsylvania. Originally from Ghana, West Africa
Psychology major
"I lived in Ghana for 16 years and can speak Twi, a Ghanaian language. I also learned American Sign Language during quarantine. Everyone at Saint Joseph's is so welcoming and inclusive. I look forward to joining Campus Ministry and working with the Center for Inclusion and Diversity." 
Interested in learning more? Read about the University's early arrival programs for first-year students and the start of the fall semester.