Hawk Hill Springs Ahead with Enhanced On-Campus Experience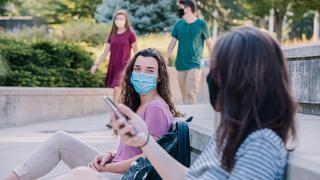 Keys to the Article
In preparation of the Spring 2021 semester, five working groups enhanced on-campus offerings and updated the University's health and safety protocols in accordance with evolving guidelines.
As one of only three Philadelphia universities on ground in the fall, Saint Joseph's is positioned to extend and provide a more robust and fulfilling experience for students in the spring.
Highlights include the addition of health and wellness days, Food Trucks on Thursdays, additional study spaces and outdoor recreational spaces.
Visit sju.edu/hawkhillahead for more information on the University's ongoing response and safety measures for COVID-19.
As one of only three universities in Philadelphia to offer an on-ground experience in the fall of 2020, Saint Joseph's is ahead of the curve in giving students an optimized campus experience this spring. Student feedback was reviewed by five working groups led by Provost Cheryl McConnell, Ph.D., each charged with a particular area: testing, student experience, case management and experience, physical environment and academics. 
While some COVID-19 protocols are a given (masks and distance), faculty and staff have worked hard to identify creative solutions for a robust on-campus experience this semester. Here is what our students can expect:
Health and Wellness Days. Whether you decide to binge watch your favorite show or take advantage of numerous University-sponsored programs, it's your day for self-care. Visit the

academic calendar

for dates.

Trucks on Thursday. A rotating selection of regional food trucks, with a focus on women- and minority-owned businesses, will be available for students to enjoy in a physically distanced, outdoor environment. Catch the trucks from 5 p.m. to 7 p.m. most Thursdays near the Wolfington-Maguire Welcome Center Lawn Tent. 

Additional Study Spaces. As you explore campus again, you'll notice that some classrooms and lounges have been designated as study spaces. Some you will need to reserve and others you can pop in to as needed. Thirty-two spaces across six buildings have been identified. 

Enhanced Outdoor Spaces. Lighting and outdoor seating has been added to Villiger Lawn and Barbelin Beach. These locations are ideal for outdoor, physically distanced activities. 

Expanded Testing Protocols. As the science and technology for COVID-19 testing has evolved, so has the

University's testing strategy

. Additional testing programs have been added this spring including a

pre-arrival test

for residential students. Keep an eye out for emails regarding testing, as the surveillance program will continue this semester.

ICARE Pledge Updates. The

ICARE Pledge

was updated to include an emphasis on self-care and to encourage help-seeking behaviors. The University offers many personal, professional and health

resources

, which are available to all students, undergraduate, graduate and doctoral. 

Dining Optimizations. Students who are keeping others safe by isolating or quarantining will have new dining options to choose from. And each meal will feature larger labels with colors indicating allergies and dietary preferences. A Hawk Hill-branded blanket greets students as they check in and Quarantine Angels will continue to deliver homemade baked goods and items to keep students busy.

Instructional Flexibility. In the fall semester, all students were given the option to build a class schedule that best meets their needs.

Instructional methods

include hybrid, online, HyFlex and face-to-face options. From registration trends, we know that many of our students value the on-campus experience and are looking forward to seeing faculty and friends in person, even if from six feet away. 

Upgraded Classrooms. Thirteen classrooms have been upgraded with integrated AV systems to support HyFlex instruction. This promotes student engagement and benefits students and faculty in the classroom, as well as those learning remotely. 

Zoom Assistants. A program that will provide assistance to faculty on Zoom is being piloted. Students who are eligible for work-study employment can apply to be a Zoom Assistant (the teaching assistant of the COVID era). Faculty who are interested in implementing an assistant in the classroom can contact their department chair.
Be sure to check the University Events Calendar and social media channels for the latest happenings. We're looking forward to a great semester on Hawk Hill!