Hawks Choose to 'Be in That Number' and Near Goal of 1,000 Donors for Crowdfunding Initiative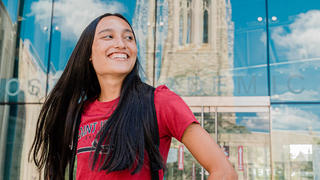 KEYS TO THE ARTICLE
The University's crowdfunding campaign, Be in That Number, is raising money for five separate projects on campus, one of which has surpassed its goal twice over.
Some fundraising highlights are the Students in Need Fund continuously surpassing its fundraising goal, and more than 1,700 seats being purchased for the Hagan Arena Virtual Sellout project.
Once 1,000 donors are reached, a gift of $50,000 will be unlocked, courtesy of Board Chair Jim Norris '85 and his wife Dinae '87.
With Giving Tuesday – the official finish line for the University's latest crowdfunding initiative – a little more than a week away, Saint Joseph's is only 98 donors away from reaching its goal of 1,000 donors by December 1. In the last month, gifts have been made to all five projects that are currently being funded in this campaign, and one project has already surpassed its original goal two times over.
The Saint Joseph's Fund – which is raising money toward scholarships and financial aid for students in need – has raised $85,649 from 390 donors.

More than 1,700 seats have been purchased in the Hagan Arena Virtual Sellout, a project that is raising funds to support the men's and women's basketball teams. To date, 261 donors have raised $87,412.

52 donors have raised $3,901 for the Kinney Bridge Programming project, which is raising money to provide a year-long scholarship to a high schooler with autism.

The SJU Mural Arts Project has raised $1,355 from 23 donors towards partnering with the Samuel Gompers School to paint a mural on campus to promote the United Nations' Sustainable Development Goals.

The Students in Need Fund – which is organized by the senior class gift committee – surpassed its original goal of $5,000, and flew past its second goal of $10,000 just this week. So far, 94 donors have raised $11,444 to aid students with financial shortcomings who need help paying for things such as textbooks or professional clothing for interviews.
Giving Tuesday is December 1, and on that day all gifts will be matched, dollar for dollar, with matching donations going towards the Saint Joseph's Fund for scholarships financial aid. Once the campaign reaches 1,000 donors, a gift of $50,000 in scholarships and financial aid will be released. All matching gifts come from Board Chair Jim Norris '85 and his wife Dinae '87.
"The fundraising successes of the 'Be in that Number' campaign have shown how strong the Saint Joseph's community is," says Michael Rath, director of the Saint Joseph's Fund. "Students, faculty, staff, alumni, parents – you name it – have all been involved in one way or another. I am so proud to be a part of a community that supports each other."
To learn more about any of our five projects, or if you would like to Be In That Number as the Hawks go flying in, visit our crowdfunding website. Help us hit our goal of 1,000 by December 1, or donate any time through December 31!