Hawks Women's Basketball Looks to Prove Itself in 2020-21 Season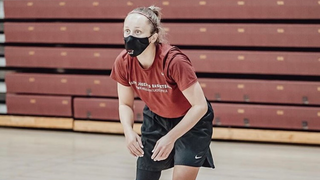 Keys to the Article
The Women's Hawks have put in the time preparing for season play and meshing as a team.
The addition of three grad-transfers makes the team a wild card in the A-10, a position that Coach Cindy Griffin loves.
Despite an anything-but-traditional off-season and new team additions, team chemistry and communication underpin a promising outlook to the season.
The Saint Joseph's University women's basketball program is looking to move back up the ranks of the Atlantic 10. The Hawks will rely on the progression of their sophomore class, the return of a couple of their most reliable veterans, and a group of three new grad transfers to power the team.
From head coach Cindy Griffin's view inside the gym, she sees a team with great potential. 
"They don't know what's in our gym," Griffin says. "You see it on paper, but until you play again, you really don't know. We have a lot of unknowns to a lot of people, so we'll be the underdogs and I love it. I think we're playing with a little bit of a chip on our shoulder and we've got to prove it first and foremost to ourselves, and I think that's really what our team is embracing."
Last season, the program brought on a group of six freshmen. One of those freshmen was Kaliah Henderson, who's back for a second season and ready to contribute more. With a year of college basketball under her belt, she's been able to improve her basketball IQ.
"I understand the game a little bit more. I know what coaches want from me. So now, it's just putting that all together and continuing to keep up my intensity and effort defensively and offensively," Henderson says.
One of this year's captains, Katie Jekot, led the team in scoring last season with an average of 10.6 points per game. With the maturity of younger student-athletes and the grad transfers, she's working to support her teammates so they can excel as a group. For Jekot, communication and chemistry have been key for this team, which meshes together young student-athletes and grad transfers as well as veterans like herself and Mary Sheehan.
"There's a balance on the team where everyone has a voice and we're all listening to each other," Jekot says. "I wouldn't be afraid to hear what a freshman or sophomore has to say or what a fifth year has to say. We're all on the same playing level, so it's just nice to get help from your teammates."
The three grad transfers, Alexis Santarelli from Lafayette College, Alayna Gribble from the University of Pittsburgh, and Olivia Ramil from Binghamton University, bring diverse experience in college basketball.
"I think the newcomers add a lot of depth to our team, a lot of scoring threats, more scoring threats and just putting a little bit less pressure on the returning student-athletes to have to be making all the plays all the time," Griffin says. "So I think we have a lot of talent in our gym."
With any team, especially one made up of student-athletes coming from different programs, cohesiveness can be a challenge. And like the rest of the sports world, the leadup to this season has been anything but usual. With a cancelled summer session, student-athletes have had to get creative with their training. They've been up for the challenge.
"I had to hold myself accountable during that time," Jekot says. "Luckily I have an older sister who plays at Penn State and then my younger sister's going to La Salle, so we did workouts together and pushed ourselves just to get better."
When they finally got on campus, they trained one-on-one with coaches, then in small "pods," until eventually coming together as a full team just a few short months ago. Jekot says the team chemistry has been great and Coach Griffin thinks the adversity has helped create a more mentally prepared team.
"We have to go out there on the court and show that we appreciate [the support] and that we're going to start winning," says Henderson.
Who to watch?
Katie Jekot — Returning leading scorer, who's "playing at a really high level right now."
Alayna Gribble — Transfer from Pittsburgh who can "flat out shoot the long ball with a high rate of consistency."
Olivia Ramil — Transfer from Binghamton where she has "experience winning."
The Sophomore Class — Kaliah Henderson, Gabby Smalls, Jaden Walker