Health Administration Students Find Sanctuary in Capstone Class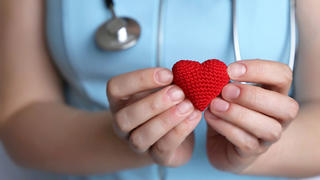 Students enrolled in the online graduate health administration program anticipate that their time at Saint Joseph's University will culminate in the Integrated Capstone course, where they are challenged to reflect on their journey at Saint Joseph's and envision their future in health care. But this January, as Erin Barron '20 (M.S.) started in on the final trial of her degree program, there was a global pandemic on the horizon. 
Barron is currently the clinical services manager at the Allentown Health Bureau in the Lehigh Valley. Since 2018, she has been juggling school, family and a full-time career in health care.
"I've been enrolled in a class every eight weeks for many years now," she recalls. "The stay-at-home order almost makes me feel like I have some free time."
Barron works with a large team that handles public health issues of all kinds – including elevated lead cases in the city, viral outbreaks among certain populations, and trending maternal and pediatric health problems. Currently, the majority of her time is spent reviewing positive cases of COVID-19 and handing them off to case workers who then get in touch with the infected to offer reassurance and guidance.
 "It's hard to step away from my work to focus on anything else. If I leave it alone for too long, I can come back to find 300 new cases in the database," she says. "That not only puts [my team] behind, it jeopardizes the health of the general population. It's our job to make sure these individuals are following quarantine and staying safe."
With the health of the general public weighing on her, Barron was relieved to call into her Integrated Capstone class via Zoom each week, where she and her classmates spent a good portion of their time comparing notes about their work on the front lines of the pandemic.
At the onset of the semester, adjunct faculty member Barbara Cliff, Ph.D., RN, FACHE, who leads one of several Integrated Capstone cohorts, quickly realized that while no two students in her class had similar roles in their health care organizations, all seven were professionally involved in the coronavirus crisis.
"I proposed we devote time to discussing health care leadership's role in a public health emergency and the students unanimously supported it," Cliff says. "I was incredibly impressed with how they applied themselves. It was such a profound learning experience for all of us."
Kelsey Troutman '20 (M.S.), currently a marketing strategist at Penn Medicine, recalls how appreciative she was that Cliff chose to incorporate the pandemic into their course.
"Obviously, you never want [a global pandemic] like this to happen," says Troutman. "But this was such a unique situation for our class to be in. [Not only was it] a great way for us to explore leadership in health care together ... it became an outlet for us to express our frustrations and concerns without judgement."
Barron agrees, recalling the Zoom classes as a cathartic way to check in with each other. "It was a really small class, which definitely benefited us," says Barron. "We were all struggling with the same things in different ways, which gave each of us a better perspective on how COVID-19 is affecting all aspects of health care."
We were all struggling with the same things in different ways, which gave each of us a better perspective on how COVID-19 is affecting all aspects of health care."
It can be difficult for students to forge real connections with classmates via online learning. Andrea Mattie '20 (M.S.), who is currently a physician practice manager at the Children's Hospital of Philadelphia, recalls classmates in her other online courses feeling very distant.
 "I've been working on my master's degree for 5 years now and I know that online learning is very self-driven ... I'm used to my classmates feeling very far away. They'd be Zooming in from Idaho or California once a week maybe," says Mattie. "[In Professor Cliff's Capstone course], we were all in the same general area, we were all working under the same state-level restrictions."
Mattie, who worked to roll out CHOP's telemedicine program within her divisions in just a few days, was under extreme pressure to balance her career and school with the needs of her immunocompromised family.
"We were really reaching out to each other to hold on," Mattie says of her classmates. "We were leaning on each other for ideas and solutions to use in our professional lives and we would follow up with each other regarding the outcomes. I don't know if other Capstones are like that."
As the graduates go out to flex their new degrees, they feel more prepared than ever to be leaders in health care.
"I've changed so much, professionally and personally, throughout this [M.S.] program. The capstone really pulls all that together," says Troutman. "I now find myself using the experiences shared by my classmates to inform some of the decisions I'm making with my team at work."
"I was an ER nurse before this," says Barron. "I'm used to taking on a lot all at once. Talking through how these issues were being handled as a class and posing theoretical solutions made me see myself there, making tough calls. I'm ready to lead this kind of charge."