Kinney's Favorite Things 2020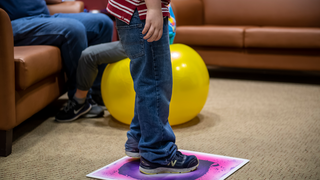 Ready or not … it's that time of year. This week marks the official start to the holiday shopping season with Black Friday, Small Business Saturday, Cyber Monday, Giving Tuesday and the list goes on. Each year, our experts at Saint Joseph's Kinney Center for Autism Education and Support provide their picks for sensory-friendly gifts. These can be a great fit for those on your list with autism, but many sensory items have gone mainstream in recent years and can be a good fit for your neurotypical friends and family (hello, weighted blankets!). Each person with autism is just as unique as those without, so your loved one's applied behavioral analyst or primary caregiver is a great resource in understanding their specific sensory needs. 
1. Pinch Me Therapy Dough
Pinch Me Therapy Dough is something students and I both enjoy working with during meetings. This moldable, aromatherapeutic dough provides stress relief while talking about difficult topics and it also serves as a fidget tool. There are many fun colors and scents to choose from.
Theresa McFalls, LSW, Director of College Support
2. Zen Garden
One item I always keep in my office is a zen garden. This miniature sand tray provides a relaxing break, as well as a range of sensory feedback (visual, tactile). It is a quick way to connect with elements from nature (stones, wood, sand) and can be a calming and therapeutic exercise. My students enjoy bringing their own miniature world to life using a variety of rakes and small figurines. Zen gardens are an easy way to provide a soothing break during these uncertain times for both older children and adults. 
Mary Ann Newell, M.S., Assistant Director of College Support
3. Tabletop Waterfall 
A tabletop waterfall is a nice addition to your home, especially while we are spending more time at home for school and work. The waterfall creates a calm and relaxing environment, giving you the feeling of a being in a spa. Many people benefit from the sound of water, such as ocean, river and rain. 
Alli Gatta, M.S., LPC, NCC, Assistant Director of College Support
4. Tactile Cushion
In the age of COVID-19 and virtual learning it is very difficult to actively engage individuals on the autism spectrum with tabletop and virtual activities. The tactile cushion has been a huge assistance with a number of individuals that I work with. It goes on top of a standard chair and allows the participant to sit while also gaining access to their sensory needs. It also engages their core and improves posture. The cushion allows individuals to choose between two sides and they can shift their weight and maintain body awareness while working towards sitting for longer periods of time.
Hannah Tomkovicz, BCBA, Associate Director of Programs
5. Fidget Cube
A sensory item that I recommend is fidgets. Fidgets are a great way to get sensory relief and can be used discreetly. Clients are able to use fidgets under the table for more appropriate use. Anyone can use fidgets to maintain focus and productivity. Fidgets are a quick and easy thing to use and are very travel-friendly. Fidgets can be used across ages as well. 
Nikki Fioravanti, BCBA, Associate Director of Programs
6. Weighted Sand
I recommend weighted sand. Clients are able to play with this weighted sand to work on their fine motor skills. In addition to working on fine motor skills, the sand is easy to clean up and does not stick to objects such as the table or hands. The item can be transported and used in the container. 
Cassandra Wilson, BCBA, Senior Associate Director of Programs
7. Galaxy Light Projector
I am recommending the galaxy light projector. This device can assist with making any space a calm and relaxing sensory-friendly environment. It's easily portable, which makes it suitable for travel and can facilitate comfort and familiarity in new settings. It can also be controlled by a timer and is bluetooth compatible to allow sound or music, which can also be incorporated into a night time routine. 
Alyssa Hernandez, BCaBA, Associate Director of Programs
8. Sensory Stretchy Body Sock
One of my favorite items is the sensory stretchy body sock. This body sock in particular has a snap closure to keep it in place and really assists participants to be aware of their body while in use. It assists with boundaries, body awareness, self-expression and exploration. Caregivers have reported that they like the idea that it provides a safe space for their child to actively explore their environment.
Jessica Joseph, Ph.D., BCBA, Director of Programs
9. Exercise Mats
I have found that multi-color exercise mats provide a number of children with autism with the opportunity to combine calming cause-effect impacts of stepping on the mats with a controlled stimulating and engaging sensory experience of observing colors blend and spread in complex visual patterns. A solid percentage of children gravitate to this sensory option, when presented with multiple options in a sensory room designed to give children a space in which to escape the uncontrolled stimulation of a sporting event. 
Joseph McCleery, Ph.D., Academic Director
10. Fidget Spinner
I really enjoy fidget spinners. I really enjoy the feeling of the device spinning in my hands. I have even seen them with lights on each of the three ends in different colors, which makes for a pretty cool light show. This gives me something to help hold my attention at the end of a long day but I can still concentrate on the task at hand. The best part is it fits right into your pocket, so you can take it anywhere.
Angus Murray, Executive Director
Bonus Items
Looking for more? Kinney's favorite sensory-friendly things is an annual tradition. Check out our lists from 2019 and 2018.