Mother And Daughter MBA Students to Soar Across Commencement Stage Together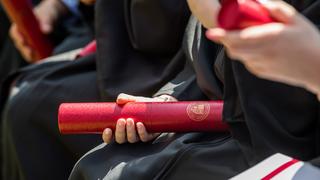 "Go forth and set the world on fire." - St. Ignatius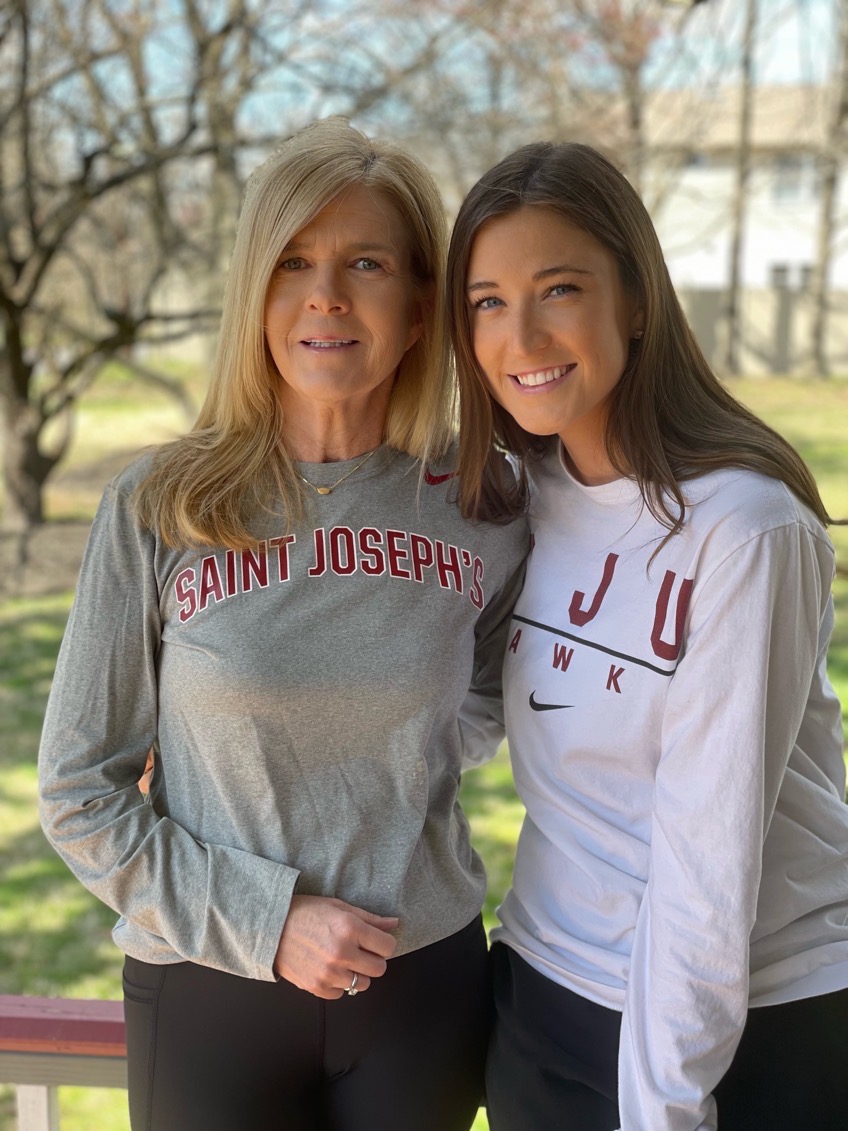 Patricia Monaghan '22 and her daughter Casey Monaghan '22 will be walking the Commencement stage together as they complete their masters' degrees in business and administration with concentrations in leading organizations from the Haub School of Business this May. 
The conversation about a return to higher education for the pair began in the fall of 2018 after Casey had finished her undergraduate degree from West Chester University. Casey's internship at SAP Software Solutions blossomed into a full-time job offer upon graduation, which included tuition remission benefits.
"I was looking to do more with my career," says Casey. "Part of me was reluctant to go back to school so soon — I felt like I had just finished! But I knew I needed to build on the foundation that I had as a young professional at a large company."
Naturally, Casey floated the idea by her mom, which ignited a life-changing conversation for both Monaghans.
"It was a typical kitchen table conversation," remembers Patricia. "I was pointing out little things — it was a great time to get an MBA because she didn't have little kids, tuition would be free and she loves to learn." 
When Casey astutely pointed out that her mother also had all these benefits, they suddenly found themselves applying for admission to Haub's MBA program together. 
"Choosing Saint Joseph's was an easy choice because the school's values aligned with what I was looking to get out of an MBA program," recalls Casey. "Aside from just getting an education, I wanted to build on myself — become a more well-rounded professional and individual."
Aside from just getting an education, I wanted to build on myself — become a more well-rounded professional and individual.
Patricia proudly graduated from the University of the Sciences in 1989 with a degree in biology and went on to become a perfusionist, operating a heart-lung bypass machine for patients undergoing cardiopulmonary surgeries. After the birth of her children, she transitioned to the business world and currently works as an account executive at LivaNova, a medical device company specializing in perfusion products.  
"I wanted to earn an MBA so that I could develop a better understanding of how to make business decisions that consider the perspectives of all the company's stakeholders," says Patricia. "I also dream of one day running a nonprofit that teaches people how to prepare inexpensive, nutritious meals with foods that are accessible to them."
Starting at Saint Joseph's was nerve-wracking for Patricia — she hadn't sat in a classroom for many years. 
"It scared me a little but it's been one of the best things for me," says Patricia. "I just had to let myself be open to it."
She felt excited but anxious to learn and eventually found herself attending her senior capstone class with Casey, who was surprised and delighted to watch her mother become a student. 
"I've always heard growing up that she was a good student in school and of course I know she's very intelligent, but this was the first time I was seeing her in an academic setting," says Casey.  "It opened my eyes — she works so hard and really sacrifices for our family. I've always appreciated my mom but now I think she's superhuman. Being alongside her on this journey made me appreciate her that much more."
In class, Patricia found herself impressing her professors as well.
"Once, Patricia explained to me that she wanted a graduate degree that balanced the formation of heart and mind while building intellect," remembers George Lutzow, M.S., adjunct professor of management, who taught both Patricia and Casey's capstone course. "So before even understanding the depth of our Jesuit-Ignatian educational principles, Patricia was using our values and beliefs to guide her own life."
Patricia enrolled her children in Catholic school beginning at a very young age. She felt like a faith-based environment promoted the same philosophy that she had internally. 
"I wanted my children to be taught by people who are going to push them to do a little more," says Patricia. "I thought that a Catholic school's values were just in keeping with what I always wanted for my children."
Patricia and Casey worked side by side for the last two years, in and out of the same classes, on their way to earning their MBAs while managing full-time jobs. Now that they're graduating, all their hard work is coming to fruition. 
"Looking back now, I can't believe I even hesitated to enroll," says Casey. "But I'm so glad I did. Because otherwise, I wouldn't have been able to convince my mom to join me."
Their advice to others who are considering higher education can be summed up in one word: start.
"As my mom has clearly proven with a million things going on, you can make it work," says Casey. "It's just taking that first step and starting that journey. Don't let how big and how long the program is overwhelm you. You can do this." 
Patricia wholeheartedly agrees with her daughter, thinking back to that first, inspiring kitchen table conversation they had together.
 "Get started," urges Patricia. "Put one foot in front of the other. If I can do it, anyone can do it."
Learn more about Saint Joseph's MBA program.