New Crowdfunding Initiative Invites Supporters to 'Be In That Number'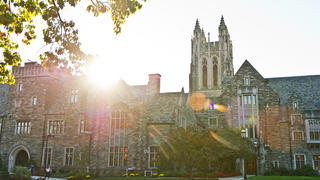 KEYS TO THE ARTICLE
As part of a total fundraising strategy, crowdfunding is an important way to engage donors in giving to the projects that hold special meaning for them.
The new crowdfunding website is an easy way to donate to five different Hawk Hill projects, including a virtual Hagan Arena sellout.
From now through December 1, 1,000 donors are needed to unlock a $50,000 gift from Board Chairman Jim Norris '85 and his wife Dinae '87.
On October 13, Saint Joseph's launched its new crowdfunding initiative and website, Be In That Number (a reference to the University's fight song), to start off this fall's fundraising campaign. The goal is to secure 1,000 donors supporting five different projects in need of funding on Hawk Hill between now and December 1. 
"This year, we're trying to come together as a community – students, faculty, staff, alumni – to support students currently on campus, and those who will be coming to campus in the future," explains Michael Rath, director of the Saint Joseph's Fund. "Every little bit counts, now more than ever." 
As an extra incentive, once the campaign reaches 1,000 donors, St. Joe's alumnus and Board of Trustees Chairman Jim Norris '85 and wife Dinae '87 will make a gift of $50,000 to the University.
"It's not about the amount of the gift; it's about rallying 1,000 donors to this cause," says Joseph Kender, vice president for University Relations. "The St. Joe's community has always been generous and we know they will continue to be. And we thank the Norrises for their leadership and generosity."
Each of the five projects has its own individual goals: 
The Saint Joseph's Fund is raising money to go toward scholarships and financial aid for students in need.

The Hagan Arena Virtual Sellout offers donors the option to purchase a seat, row, or section in lieu of attendance at games. All funds raised will support the men's and women's basketball teams.

The Kinney Bridge Programming is raising money to provide a year-long scholarship for one of its bridge students – high schoolers with autism who undergo rigorous assessments and programming at the Kinney Center for Autism Education and Support.

The SJU Mural Arts Project is a partnership with the Samuel Gompers School – a neighboring elementary school – to promote the United Nations' Sustainable Development Goals by painting a mural on campus.

The Students In Need Fund, organized by the senior class gift committee, is raising money toward the goal of helping students with financial shortcomings who need help paying for things such as textbooks, or professional clothing for interviews.
Donors are encouraged to show their support for the projects that matter most and gifts of any size have impact. 
"The only way this will be successful is if we all come together," says Rath. "There are a lot of good things happening on Hawk Hill, and we need to spread the positivity."