From Sand Snub to Sand Snob: Marc Schaffer '98 Builds Award-Winning Hobby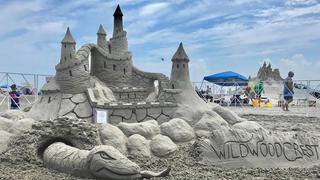 KEYS TO THE ARTICLE
Former Hawks lacrosse defenseman, Marc Schaffer '98 was not a fan of the beach or sand until four years ago.
After attending a sand sculpting competition in Wildwood, New Jersey, and meeting several professional sand sculptors, he decided to try it himself.
Schaffer, who was a sixth round draft pick for the Philadelphia Wings and played lacrosse in adult leagues for 16 years, has since won several sculpting competitions.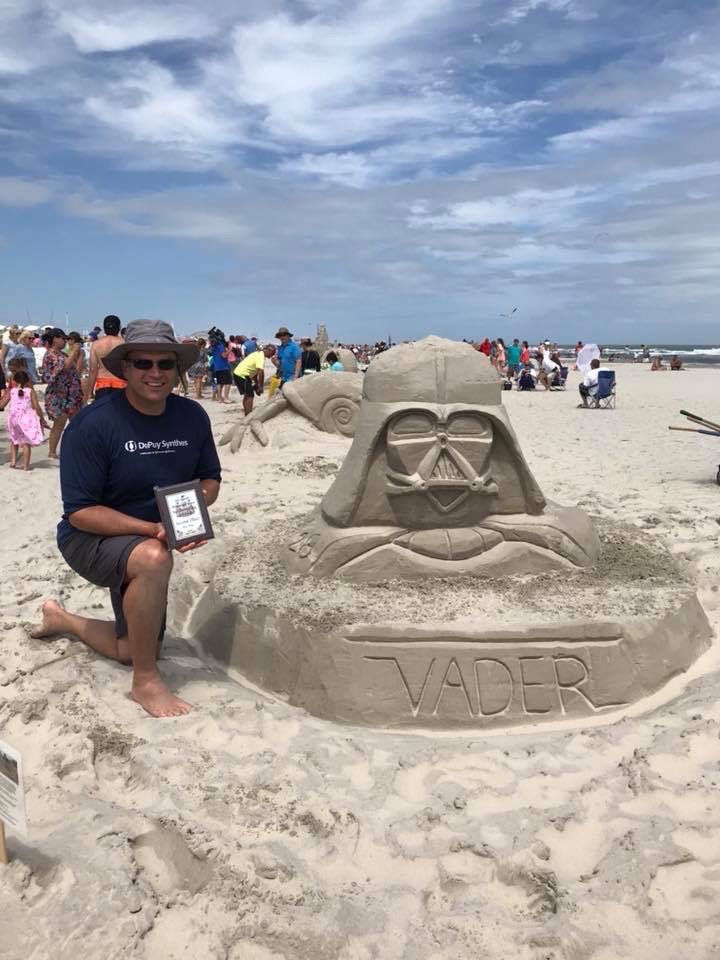 Not very long ago, Marc Schaffer '98 was not a fan of the beach. He especially didn't like sand.
So he had absolutely no interest in accompanying his family to a sand sculpting competition during a vacation in Wildwood Crest, New Jersey, four years ago. But once he arrived, he was surprised.
"It was very cool," says Schaffer, a former Hawks' lacrosse standout. "A professional sand sculptor – Matt Long from Staten Island, New York – had built a huge 13-foot display castle in the days leading up to the competition. My family and I walked around and I just thought: This is fun!" While on vacation, he and his family ended up building a turtle in the sand. "We named it Shelly," Schaffer says. "Rylie – my then-5 year-old-daughter – cried when we left it on the beach at the end of the day."
Schaffer was so impressed by what he'd seen that, while still on vacation, he researched some of the sculptors he had met during the competition. He bought Matt Long's instructional DVDs and tools, and the next weekend he and his family went back down the shore to practice building sand castles.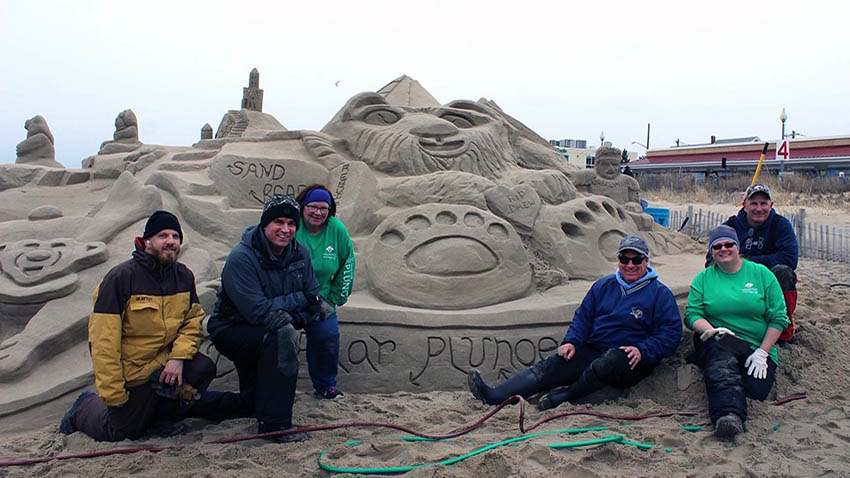 "While I was building my first castle, people were coming up to me, taking my picture, and watching," he says. "It made people smile, which was the coolest thing." At one point his oldest daughter, Logan, pointed out a man with a huge camera taking his picture. It was a photographer from South Jersey Magazine, and Schaffer's picture ended up in the magazine. "That started the fuel for this hobby," he explains.
The next year, Schaffer entered the amateur group in the Wildwood Crest Sand Sculpting Festival, and ended up placing second. The year after that, he competed in the pro-am group and placed second again, with his sand sculpture of Darth Vader. Last year, he wasn't so lucky. "I didn't place last year," he admits. "I was upset, because I'm competitive." 
Schaffer has always been competitive. A long-time lacrosse player, he was part of the second recruited class for men's lacrosse at Saint Joseph's, and was one of the first two Hawks lacrosse players inducted to the Saint Joseph's Athletics Hall of Fame. A defenseman, he was also the first player from St. Joe's selected for the North/South All-Star Game, and was the sixth round draft pick to the Philadelphia Wings. After graduating from St. Joe's, Schaffer continued to play lacrosse in adult leagues for the next 16 years.
He reluctantly stopped playing in 2016, and admits that sand sculpting has filled the void that lacrosse left behind. "This has given me something to work and improve on. I worked my tail off in lacrosse, and now I do when sculpting. It's not easy. You have to be in shape to haul 5-gallon buckets of water back from the ocean and you shovel a ton of sand!"
"I worked my tail off in lacrosse, and now I do when sculpting."
But the work is relaxing to him. "I get lost in it," he says. "I don't think of anything else." It's how he spends his days on the beach now. "I always carve on 32rd Street in Avalon, N.J. People see me building, and they reposition their chairs and watch." His favorite part of it is the community feel. "You meet so many people through this, and put a smile on so many faces," he explains. "They love to talk about it, to ask me how I do it. People like to take pictures for Christmas cards. They start to know you from previous years, and look forward to what you're building."
Schaffer has even created his own Facebook page, dedicated to his sand sculptures, and will occasionally hold "clinics" for the kids who watch him build and want to know the secrets to his sculptures.
Schaffer still competes two-three times a year. "There are big competitions in Texas and Florida where you have to be invited," he says. One festival, called Texas Sandfest, had to be postponed this year because of COVID-19, and ended up holding a virtual sand sculpting competition. "I can carve tabletop sand sculptures in my garage," Schaffer says, "so I signed up. We had one hour to sculpt in whatever medium. I placed first." He also placed first in the Pro-Amateur Division at the Wildwood Crest competition this year, and first in a Fourth of July competition in Cape May, N.J. "My goal is to make it to a big competition like the Siesta Key Crystal Classic International Sand Sculpting Festival in Siesta Key, Florida," he says.
Once a snubber of sand, Schaffer is now an admitted "sand snob."
"Sand is different everywhere," he says. "Wildwood and Avalon have the best sand to carve. It's different than the sand in Ocean City, N.J. And the sand in Cape May isn't great. Delaware sand is OK, but you can't get away with some things you can in Avalon … the sand just doesn't pack as well."
But no matter the sand and no matter the sculpture, Schaffer always carves the number 28 somewhere on his work. "That was my number when I played lacrosse," he says. "Now, it's my signature."