Senior Food Marketing Major Gains Industry Experience Through Co-op Program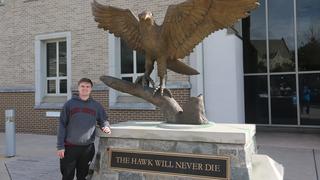 When Tom Kelly '22 applied to colleges five years ago, he knew Saint Joseph's University would be the perfect fit — an inviting campus not too far from home featuring a nationally renowned food marketing major and co-op program. The West Chester, Pennsylvania, native grew up working in restaurants and was eager to learn the business side of the food and retail industries.
"I was really interested in the co-op program," he says. "Being able to have three different opportunities to work during school and having that built into the major — that was a really big deciding factor for me."
Now, as Kelly prepares to graduate this spring, he'll be crossing the Commencement stage with 18 months of professional experience on his resume from BJ's Wholesale Club, the Dollar Tree and, most recently, Dietz & Watson.
"If I were to enter the job market in May just having worked at a restaurant in high school, I would be significantly less prepared," says Kelly. "It wasn't just the 'waking up early' part (which you do get a taste of). You get into a routine, learn to balance work and classes, build professional relationships and how to build your own brand."
At Dietz & Watson, Kelly primarily worked with the retail marketing team. He accompanied the employees on their vendor sales meetings (or "sales ride alongs," as they're called), meeting with a variety of clients, from small mom-and-pop shops to larger chains like Acme Markets.
"It was really cool to be able to see the relationships they had built, which were years in the making. It wasn't just about Dietz & Watson, it was like, 'we're supporting you and we want you to succeed as well,'" he says.
Kelly also took the lead developing a meat-and-cheese pairing guide for the 80-year-old delicatessen, suggesting wines, beers, nuts and fruits to couple with their extensive portfolio of products.
"It was a really large task and a lot of research," he says. "It's eventually going to be used for our retailers and within the company and it felt really good finishing with that and knowing it would benefit a lot of people down the road."
If I were to enter the job market in May just having worked at a restaurant in high school, I would be significantly less prepared.
Kelly wasn't the only Hawk employed by the Philadelphia-based food purveyor. He worked alongside two alumnae, Broghan Heron '18, retail marketing manager, and Taylor Grissinger '17, senior retail marketing major. Grissinger was Kelly's supervisor and watched him grow over the six months he was with the company.
"Tom was a valued team player while at Dietz & Watson. Not only was he actively engaged in daily meetings, projects and programs, but he also consistently acted with intention when seeking out opportunities to take on more responsibility and grow his skill set," says Grissinger.
Prior to Dietz & Watson, Kelly held co-op positions at the Dollar Tree and BJ's Wholesale Club. Both experiences provided him a unique lens into the retail industry. 
"I went from BJ's, which is this massive store, to the complete opposite end of the spectrum at the Dollar Tree, which operates at the finest of margins. It was really cool to have those two contrasting experiences." 
Back on campus, Kelly took courses like Food Chemistry, taught by Theresa Crossen, and Writing for Organizations, taught by Paula Riley. 
"Admittedly I took Writing for Organizations to fill a credit but it's been one of the most helpful classes I've taken," he says. 
The course teaches students how to communicate within businesses as well as how to build their own resumes and LinkedIn profiles — skills that have proven valuable as he prepares to enter the job market with a robust CV.
"I feel like I have a leg up with these co-op experiences," says Kelly. "To be able to graduate showing future employers that I can use the skills I've learned in the classroom is so invaluable."