Senior Spring-Season Student-Athletes to Return for an Extra Season of Eligibility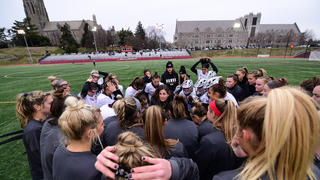 Spring-season athletes at colleges and universities across the country saw their seasons cut short by the COVID-19 pandemic. The NCAA decided in March to extend an additional year of eligibility to impacted senior student-athletes, meaning they could come back and play during the 2020-21 season. But it was up to each individual university to decide how much scholarship aid it could give to students who planned to return.
At Saint Joseph's, more than two dozen senior spring-season athletes in sports including baseball, lacrosse, rowing, softball, tennis, and track and field programs will return to Hawk Hill to take classes and to play their final seasons. According to Director of Athletics Jill Bodensteiner, bringing the students back was the result of a collaborative effort between multiple partners on campus: 
Can you describe the key decision-making factors that went into this process? 
Jill Bodensteiner: Overall, this process could not have been more collaborative across the University. There were four key decision-making factors that this process included. First, we had to wait for the NCAA Division I Council to make a decision regarding eligibility. After that announcement was made, we directed our focus on individualized academic plans for each senior, financial decisions and coaching decisions. 
How did the impacted seniors decide what academic option was best for their college experience and career aspirations? 
Bodensteiner: It was important to everyone who was involved in the process that our seniors chose the most meaningful and individualized academic path that would provide them additional value to their undergraduate degrees. We collaborated with the Office of Educational Support Services for Student-Athletes, the deans of each school and our Provost and her staff to evaluate academic options. Among our two dozen plus returning student-athletes, there are a variety of academic paths each is taking, from pursuing an MBA to adding an additional minor to prepare for a physician's assistant program.
How will athletic aid for the returning seniors be accommodated? 
Bodensteiner: Financially, our department worked closely with the President's Office, athletics compliance, enrollment and financial aid and head coaches to evaluate our options. By the end of the complex and collaborative process, we determined that the athletic aid for the returning seniors can be accommodated by reallocating existing athletics financial aid funds for 2020-21. This will not impact scholarship aid for freshman recruits or underclassman student-athletes. 
How did you and the seniors work with the head coaches during this process? 
Bodensteiner: I could not be more proud of our coaching staff from each affected sport. They were all outstanding to work with. Each coach had comprehensive conversations with their senior student-athletes to support and guide them through their decision-making process. The coaches could not have been more supportive of all of their senior student-athletes and the journey each of them decided to take. 
What is one of the most rewarding parts about having the super seniors back for an additional year? 
Bodensteiner: First, I hope that the seniors who made the decision to return have the opportunity to continue to chase their dreams and can hopefully have appropriate closure to their athletic careers. Also, the leadership of our seniors who are returning is remarkable. Difficult times require strong leaders and we will all benefit from their leadership on Hawk Hill as we continue to adapt through this time.
Scroll through the below photo slideshow to hear from a handful of head coaches and returning student-athletes about what it means to have an additional season of competition on Hawk Hill and academic plans for their fifth year.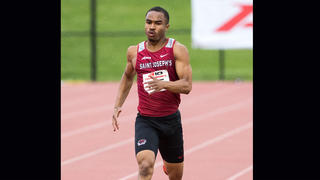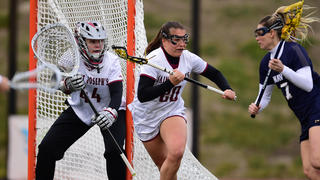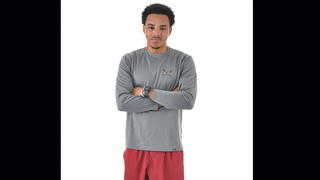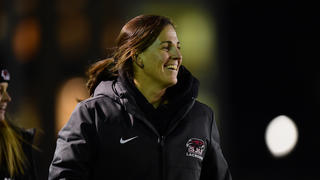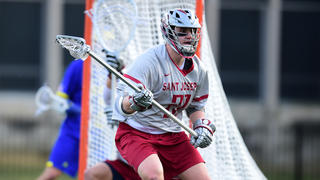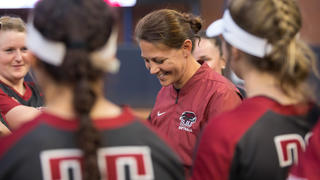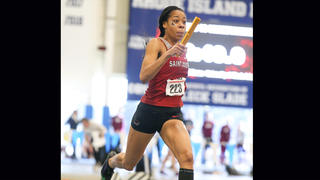 David Bryant '20
"It means the world to me that I am able to have one more season of competition after the way things unfolded this year. I can't express my gratitude enough on how everything worked out and I am extremely excited to get back on the track." Bryant, who runs short sprints for the team, plans to pursue his master's in business intelligence and analytics.
Julia Pash '20
"I am tremendously grateful for another opportunity to compete for St. Joe's women's lacrosse. Before the season ended so abruptly, we were beating teams we've never beaten before and we hadn't even met our full potential yet. Through all of the uncertainty, we've been left with an overwhelming sense of unfinished business and it is incredibly motivating to know that we will have another shot to finish what we started." Pash, a defensive player for the team, will pursue her MBA from the Haub School of Business.
Dumonde "Slam" Dunkley '20
"From my experience, Saint Joe's goes above and beyond when it comes to the needs of their athletes. The Athletic Department's response to the cancellation of spring season is just another example of their dedication to us. I am very appreciative and excited to be able to continue my education and athletic career on Hawk Hill." Dunkley plans to receive his master's in organization development and leadership and will have the opportunity to row with his brother, Air Dunkley, who just committed as a freshman.
Women's Lacrosse Head Coach Alex Kahoe
"I am heartbroken for all of our student-athletes who had their seasons cut short due to COVID-19. With that being said, it is great that the NCAA has granted student-athletes an extra year of eligibility. It's a huge opportunity that we are able to offer to our seniors. I first want to thank President Mark C. Reed, Ed.D. and Athletic Director Jill Bodensteiner for making this possible. We have seniors on the women's lacrosse team that have chosen to return, and I am so grateful to have them back competing on Hawk Hill. We are looking forward to being back together as a team on Sweeney Field and building off of the amazing momentum from our spring 2020 season."
Liam Hare '20
"To be able to have another year not only to play lacrosse, but to belong to a university and community that I cherish so deeply means the world to me. And one final year of competition on Hawk Hill will provide me with the opportunity to play the sport I love with some of my best friends in the world. I'd also love one more shot at an NEC Title, too." Hare, a long stick midfielder, will study to receive his master's in health administration.
Softball Head Coach Erin Brooks
"I am delighted to be welcoming back the returning senior student-athletes. I look forward to their heightened level of motivation and determination. It will be fun to watch them continue to create their legacy here on Hawk Hill."
Tamar Bourdeau '20
"Coming back for a fifth year is a blessing in disguise. This pandemic gave me the chance to sit back, reflect, and improve my mental health through self isolation. Although not having a spring season was heartbreaking, I feel confident that I will come back with more resilience and strength." Bourdeau, who competes in hurdles and long sprints for the team, is enrolled in the post-baccalaureate pre-health certificate program to help her prepare for a physician's assistant program.