Senior's Research on Voter Disenfranchisement Wins Prestigious Undergraduate Economics Award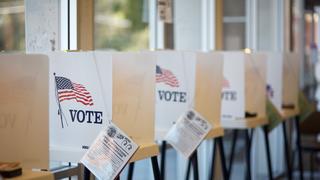 Voting rights in the United States have made headlines over the past year, most recently with hotly debated legislation blocked by the Senate that would reshape the country's voting landscape, and a Supreme Court ruling that could limit lower courts' ability to challenge potentially discriminatory redistricting practices.
This isn't the first time the 1965 Voting Rights Act — which aims to protect minority voters from discrimination — has been challenged. In the 2013 Supreme Court case Shelby County v. Holder, a section of the legislation that requires states to receive preclearance before making changes to voting laws was eliminated. 
Little research has been done to determine the effect of the ruling on voters, and one Saint Joseph's University student wanted to fill that gap. 
Salvatore De Rienzo '22, a philosophy and economics double major, channeled his interest in politics into scholarly research on the Voting Rights Act that earned him the 2021 Omicron Delta Epsilon award for undergraduate research in economics.
"I was curious to see how Shelby affected the likelihood of voting for the average voter, as well as differentially across race, ethnicity and nativity," he says. "Since voting is fundamental to democracy, if there is a negative association between Shelby and the likelihood of voting, then new policies may need to be implemented for the purpose of voter enfranchisement."
The paper started as an assignment in a research methods course taught by Laura Crispin, Ph.D., associate professor of economics, in which students use economic data analysis to substantiate claims and create research projects. For De Rienzo, the course was his first foray into writing an economics research paper, the preparation for which includes in-depth data analysis, literature review and findings. 
Ultimately, De Rienzo's research found that voter turnout is 0.9 percentage points lower in post-Shelby elections, with the strongest effects among Black voters, who are 5.4 percentage points less likely to vote following this landmark case.
"While the mechanisms through which Shelby affects voting behavior remain inconclusive, Shelby is significantly associated with widespread voter disenfranchisement," De Rienzo writes in his abstract. "These findings are relevant for policymakers in creating a revised preclearance formula to curb voter disenfranchisement."
De Rienzo didn't hear back from Omicron Delta Epsilon about his paper until mid-January, weeks after he anticipated, so he was surprised to receive an email congratulating him.
"I was really excited," he says. "It felt like the work on the paper really paid off and it felt really validating to know that an economist who doesn't know who I am read the paper and said, 'wow, this is good research.'"
The award, open to members of the international economics honor society, recognizes the best article submitted by an undergraduate. 
"It's such a competitive award," Crispin says. "There has not been any research on this topic, either at the undergrad or graduate level, which was surprising to me because it seems like the impact of that change was to close a lot of polling places. His paper was a great contribution to the literature."
De Rienzo worked on this paper throughout the spring semester last year and into the summer through an independent study course with Crispin. 
For De Rienzo, the experience of working with Crispin was vital to his research process, he says.
"Going into that class, I didn't know how to write an economics research paper," he says. "I didn't know how to formulate a research question; I didn't know how to extract data; I didn't know how to write a convincing argument through econometric research. She was there at every stage of the game."
Now, the paper is under consideration for publication in the American Economist, one of the country's premier peer-reviewed research journals, which aims to publish work by the next generation of economists. To have your research published — or even considered for publication — as an undergraduate is rare, Crispin says. And it's a valuable experience, having economists read De Rienzo's work and submit feedback on how to improve the paper.
"They recommended that he submit his paper for submission, which I think is even better," Crispin says. "It's a useful process to go through."
Eventually, De Rienzo wants to go to graduate school, so to go through the publication process — which Crispin acknowledged could be confusing — will be beneficial. 
In the future, De Rienzo says, he hopes to work at the intersection of data analysis and public policy. And in order to advocate for socially beneficial policies, he sees the importance in analyzing the effects of existing policies, which is what he sought to do in his research on Shelby. 
"Such an experience will aid me in my future career, where I hope to analyze data and recommend policies in the pursuit of advancing the common good," he says.