Sharp, Corso Elected to Lead National Alumni Board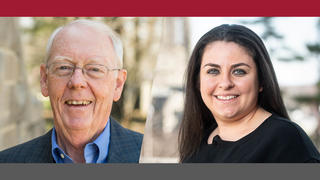 With voting now closed in the race for leadership of the National Alumni Board (NAB), the Saint Joseph's University Alumni Association announced the election of Frank Sharp '67 and Alessandra Corso '09, as president-elect and vice president-elect, respectively.
Sharp and Corso will replace outgoing President John Bradley '98 and Vice President Monique Kelly '94 effective June 1, 2020. This year's NAB election drew the highest-ever voter turnout. 
"Both the alumni community and the University have benefited and been blessed by the strong NAB leadership over the last few years," says Joseph Kender, vice president for University Relations. "John and Monique have improved the way the NAB operates and executes on strategic plans. In particular, we've seen a renewed level of engagement around the regional chapters."
Sharp graduated from St. Joe's in 1967 with an economics degree; he also holds an MBA from The Wharton School at the University of Pennsylvania. Prior to entering semi-retirement in 2006, Sharp's nearly four-decade-long career saw him in a number of human resources leadership and consulting roles for large companies such as Exxon and ABB. He spent the majority of his career outside the United States, primarily working in Europe, Asia and Latin America.
"First and foremost, I'd like to thank the entire alumni community for placing their faith in me to lead the NAB," says Sharp. "Since I got involved with the group about six years ago, I've had the chance to work with some of our largest regional chapters on overall strategic guidance. I find this work energizing, and I'm looking forward to partnering with fellow alumni to develop new, virtual events and programmatic initiatives to engage our members. We will also be working to establish an SJU alumni presence in some smaller cities around the country where a full-on regional chapter might not be the right approach."
Corso is a 2009 graduate of the Erivan K. Haub School of Business with a degree in finance; she is currently pursuing her MBA at St. Joe's. A resident of New Jersey, Corso has had a successful career in the commercial real estate industry.
"Having been involved with the Alumni Association for some time, I'm really excited and honored for this opportunity," says Corso. "The NAB is doing important work, and I'm looking forward to having a bigger role within the organization to keep moving St. Joe's forward. More than anything, I will measure success in this new position based on the level of alumni engagement and connectedness. I hope to grow and enhance an already strong alumni network of Hawks near and far."
Both Sharp and Corso have maintained longstanding ties to the University after their respective matriculations. Sharp, who met his wife at St. Joe's weeks before graduating, has volunteered with the Alumni Association for years with a specific emphasis on encouraging connectedness and engagement among University alumni in metro Washington, D.C. Corso has served as a member of the NAB's New York regional affinity group, where she has helped to organize and promote networking events.
Alongside the Office of Alumni Relations, the NAB is tasked with facilitating strong affiliations among alumni, students, staff and friends of the University.