SJU Doctoral Student Named PA's Outstanding Principal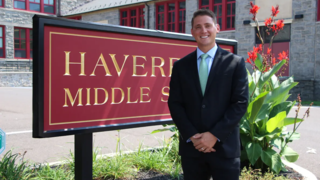 Matthew Crater '25 (Ed.D.) was in his late 20s when he became the sixth grade assistant principal at Haverford Middle School (HMS). 
"Haverford is a high-performing school district," says Crater, who was a sixth grade science teacher at HMS for two years before taking on the leadership role. "All of the sudden, I had 1,600 kids and a massive school building to help oversee. It was all a little daunting at first."
It's been five years since Crater became assistant principal and, in March, he was named Pennsylvania's Outstanding Principal through the National Association of Elementary Principals and the PA Principals Association — a recognition earned by his "willingness to go above and beyond for the school community." 
Crater has played a crucial role in the creation of programs at the middle school for students struggling with social-emotional wellness and those with special needs. One particular pride point for him is launching a peer-assistance program for students with special needs. 
"Recruiting the peer assistants starts in elementary school — students are chosen based on their leadership skills and interest in joining the program. Once they graduate to middle school, they're assigned to a peer with special needs," explains Crater. "We had to do a lot of work with scheduling but we felt it was important for the students with special needs to attend regular classes with their peer assistants."
The peer assistants advocate for and partner with their peer with special needs throughout the school day, helping them with their augmentative and alternative communication devices, sharing with teachers and other students how their peer prefers to be approached and forming a student-to-student bond that is typically challenging for special education students to forge in a traditional school setting where they are sequestered in their own academic track.
"The results have been incredible," says Crater. "It's been running for a year now and all our peer assistants have such a great mindset. They're really finding purpose and camaraderie in their assignment."
Crater has built his career around thinking 10 steps ahead, listening to and learning from the parents, students and colleagues around him. But it hadn't occurred to him to get a doctorate until just last year when his longtime mentor, Daniel J. Horan, the principal at HMS, began urging him to find the right program.
"This job is pretty intense, it's demanding and I have a 2-year-old at home," says Crater. "I wasn't sure I would have the time to enroll in a doctoral program."
He began researching different institutions and, at the suggestion of Horan, looked into Saint Joseph's. Eventually, Crater had a long conversation with Aimee LaPointe Terosky, Ed.D., professor of educational leadership and director of Saint Joseph's interdisciplinary doctor of education leadership (IDEPEL) program.
"She kind of put all my concerns at ease, just explaining what the time commitment looked like and what the expectations were," remembers Crater. "It was also really important to me to find an in-person program. Talking to Professor Terosky really made the decision a no-brainer."
Once he began the program, Crater was amazed by how often the curriculum crept into his day-to-day professional life.
"As soon as we discussed something in class, I would find myself in meetings or conversations with my colleagues where I'd be actively applying coursework to the present situation," recalls Crater. "When I think about the qualifications I even needed to win the Outstanding Principal award, I think a lot of it stemmed from my past year in the IDEPEL program."
One aspect of the program that Crater feels is most valuable is the breadth of experience he can find within his own IDEPEL cohort.
"A lot of my classmates don't even work in education," says Crater. "I hear so many different perspectives from people in the medical field, from consultants — it's so important to have that kind of variety of perspectives when you're in education."
The IDEPEL program, as Crater explains it, is not just the pathway to another degree but a refining tool for his skills.
"Every time I go to class, I think of myself kind of sharpening a blade," he says. "I'm refining and shaping what I'm already doing and it's important to me as a leader, but it's also important to the families I serve. It's going to help me better support them."
Interested in learning more about the IDEPEL program? Visit the program page.