Student Researches Delaware's Political Left Turn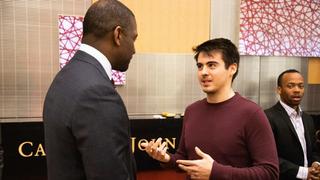 After spending the entirety of the 1980s solidly in the Republican camp, the last three decades have seen the state of Delaware turn blue. But because of its relatively small impact on the Electoral College — the first state carries only three votes — Delaware is rarely seen as a swing state, and the reasons behind its voting habits have largely been ignored.
Miguel Hurtado-Parra, a junior history major and political science minor, researched the state's political tendencies this past summer as part of a Summer Scholars Program project that he hopes will start a conversation.
"There was no real research as to why Delaware is reliably blue," explains Hurtado-Parra, who is a Delaware native. "The research I did had to start from scratch."
Hurtado-Parra used connections he made as an intern for the Lieutenant Governor of Delaware to begin his research process. He interviewed top state politicians, including the governor, lieutenant governor and former state senators. He also combed through newspaper coverage of politics from the past few decades.
What Hurtado-Parra found, he says, was that politics in the small state work differently than in more populous areas.
"You won't see political ads on TV in Delaware because our news sources are coming from Philadelphia," he explains. "Here, it's very person-to-person. You still see people knocking on doors."
The shift was strengthened in recent years, Hurtado-Parra explains, by the polarization of party politics.
"The rise of the Tea Party and the national Republican Party's shift to the right solidified the Democratic base in northern Delaware," he explained. "Meanwhile, moderate Republicans, particularly in the Brandywine area, abandoned the Republicans and began supporting moderate Democrats."
The research has given Hurtado-Parra a new appreciation for his state's politics, and he hopes to continue on a political path after graduation.
"I want to become a policy advisor," he says. "Delaware has become such a good place to live. Seeing how the state was able to work through a lot of political gridlocks similar to the type we see in Washington, it gives me hope that hopefully, things will change."
Hurtado-Parra has also gained an appreciation for academic research as a whole.
"My brother was a Summer Scholar and I first heard about the program from him," he says. "The ability to specifically choose something I wanted to learn is so cool and such a good opportunity to grow academically."
Randall Miller, Ph.D., professor of history and Hurtado-Parra's mentor for the project, agrees about the value of having worked on the project outside the confines of the semester.
"One thing people tend to forget is that professors have a lot of reasons to love teaching," Miller says. "We expect to always be learning. Students can teach us a lot about the subject, but we also learn from how they frame questions, discover new sources, and work with those sources. Working closely with a student is one of the most important things the University does."