University Recognized for Efforts to Further Culture of Wellness on Campus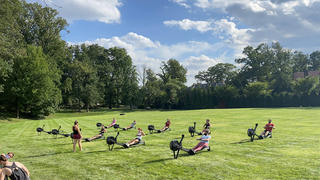 Saint Joseph's University continues to strive toward a culture of wellness on campus, most recently being honored as an Exercise is Medicine® Campus by the American College of Sports Medicine. Numerous health and wellness activities organized by the Department of Athletics and Recreation, Student Health Center, Counseling and Psychological Services (CAPS) and Student Life helped the University earn silver-level designation from the Exercise is Medicine® On Campus (EIM-OC) program. St. Joe's is one of only 153 universities and colleges around the world to receive this recognition.
"Our commitment to health and wellness is an important priority for us," says Eric Laudano, senior associate athletics director for high performance and campus recreation. "The recognition places us in an elite category and helps create relationships across campus that will help further promote exercise, wellness and social opportunities in new ways."
Eileen Bevilacqua, RN, BSN, director of the Student Health Center, explains that this effort was accomplished through the help of a team of people. The application process involved experts from various departments on campus including athletics, student health and select students from the School of Health Studies and Education. 
"One of the first steps we've taken since earning this recognition is adding exercise questions to the student health intake form," says Bevilacqua. 
Of the 153 campuses recognized this year, schools earned gold, silver or bronze status based on their activities. All recognized universities and colleges will be officially honored in June as part of the 2021 virtual Exercise is Medicine World Congress, held in conjunction with the American College of Sports Medicine's Annual Meeting. 
EIM-OC calls upon universities and colleges to promote physical activity as a vital sign of health and encourages faculty, staff and students to work together to improve the health and well-being of the campus community. EIM-OC launched its recognition program in 2014 to honor campuses for their efforts to create a culture of wellness. Silver campuses engage students, faculty and staff in education initiatives and make movement part of the daily campus culture. 
Learn more about the University's upcoming Health and Wellness Day on Wednesday, April 28.