A Year in Review: Top News Stories of 2020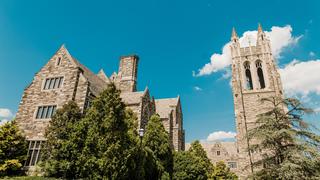 As 2020 draws to a close, we're counting down Saint Joseph's most-read news stories of the year as determined by you, our readers. From a look ahead at the men's basketball season, to stories about new programs and faculty publications, here's what caught your eye in 2020.
10. SJU, Thomas Jefferson University Develop Program to Train Autism Specialist Physicians
The first of its kind in the country, this program offers a pre-medical pathway for Saint Joseph's autism behavioral studies students to continue medical training.
9. Breaking Down the Men's Basketball Program and Lange's Vision for the Future
As the 2020-21 season kicks off, the Hawk squad is bringing Coach Lange's vision for the program to life.
8. Fall 2020 - By the Numbers
While most universities decided to offer courses exclusively online for the fall semester, Saint Joseph's knew that returning to on-ground operations was essential for the undergraduate Hawk Hill experience. Here's a look at what it took to pull it off, by the numbers. 
7. Saint Joseph's Offers Virtual Intersession for Current and Visiting Students
This year's all-virtual intersession offers 23 courses from 12 different academic departments.
6. Saint Joseph's Named Among the Region's Best in 'U.S. News & World Report' Category 
The University climbed two spots in its category and continues to make gains in other national rankings.
5. The Importance of Faith in Times of Crisis
Saint Joseph's religious leaders and experts reflect on how the quarantine can serve as an opportunity to connect virtually, contemplate God's will and strengthen our faith and humanity.
4. Saint Joseph's University Names New Board Chair and Vice Chair, Welcomes Six New Trustees
Distinguished alumni with global business experience stepped into new leadership roles this year.
3. Preserving the History of Ethiopia's Oromo People
A new book by Brian Yates, Ph.D., associate professor of history, explores the critical role that the Oromo people have played in the history of Ethiopia.
2. Teaching Grants Bring Innovative New Courses to Students
The recipients of this year's Teaching Innovation Grants covered topics including Ignatian pedagogy and Daoism in China and Taiwan, moral development in early childhood, Irish studies and the presidential election.
1. In Memoriam: Rev. Dennis McNally, S.J.
Longtime faculty member, gifted artist, inspiring mentor and devoted Jesuit priest, Rev. Dennis McNally, S.J., passed away unexpectedly but peacefully on May 6.
Top 5 Feel-Good Stories: Editor Picks
In a year that so drastically changed the way we live, learn and connect, there were also moments that brought us together and lifted our spirits. Here's a look back at some of 2020's bright spots.
1. Saint Joseph's Rises to the Occasion – on Hawk Hill and at Home
From donating vital food and supplies to developing innovative instructional strategies, the Saint Joseph's community was hard at work this year – on campus and at home – to ensure the Hawk spirit endured.
2. Celebrating Saint Joseph's Class of 2020
Though the circumstances were unprecedented, the more than 1,900 members of the Saint Joseph's University Class of 2020 graduated virtually, celebrating the culmination of years of hard work and cherished memories on Hawk Hill. 
3. Saint Joseph's Student Encourages Personal Growth with Instagram Account
Nathan Vrabel '20 found an innovative way to stay connected during a year of physical distancing: His Instagram account, @Candlelightconvos.
4. A Creative Recipe for Hands-on Learning During Physical Distancing
Theresa Crossan, adjunct professor of chemistry, moved her food chemistry lab online by inviting students into her home kitchen. Crossan's special assistant? Her 15-year old daughter.
5. Former Hawks Basketball Star Larry Kenney '41 Turns 100
Larry Kenney '41, thought to be Saint Joseph's oldest living athletic alumnus, credits his longevity in part to staying active. Kenney was born shortly after the Spanish flu of 1918.