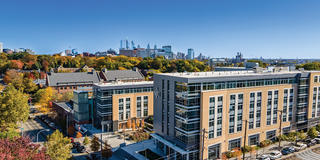 The Year in Review 2021-2022
On June 1, alumni, employees and distinguished guests gathered on Saint Joseph's newly acquired University City location for a press conference marking a historic merger with the University of the Sciences.
That day, the University acquired dozens of academic programs in health and science, grew its endowment to half a billion dollars, and combined two alumni networks totaling nearly 100,000 — the culmination of a year's worth of integration planning and an intentional growth strategy.
In addition to naming two new colleges, the School of Health Professions and the School of Education and Human Development, the University also acquired the Philadelphia College of Pharmacy, the oldest pharmacy college in North America.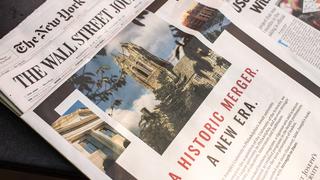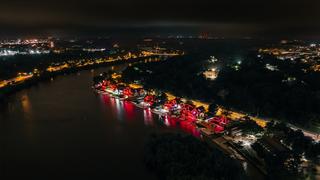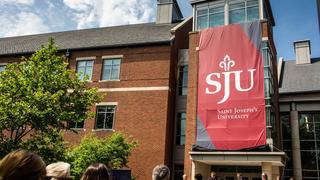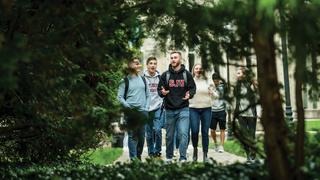 RECOGNITION NEAR AND FAR
The University made a splash across major media outlets, appearing in publications like The New York Times, The Washington Post, The Wall Street Journal and Forbes.
The city of Philadelphia also lit up in crimson to mark the occasion; skyscrapers and famous landmarks were adorned in the University's colors, from the iconic Boathouse Row along the Schuylkill River to Lincoln Financial Field in South Philadelphia
A MODEL FOR SUCCESS
A trailblazer in the mergers and acquisitions (M&A) space, the University hosted a webinar for nearly 100 college and university presidents later in the summer to discuss the role of M&A in the future of higher education. Moderated by Stephen Spinelli Jr., PhD, MBA, president of Babson College, the discussion featured Past President Mark C. Reed, EdD, and Interim President Cheryl A. McConnell, PhD (then provost).
TODAY,
Saint Joseph's enrolls nearly 8,000 undergraduate and graduate students in over 220 academic programs, from physical therapy, pharmacy and physician assistant studies, to special education and the highly ranked MBA program.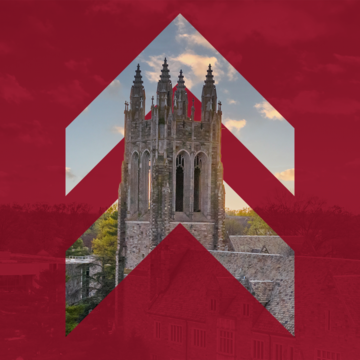 SOAR: The Largest Capital Campaign in Saint Joseph's History
"This is the time to seize the moment," said Chair of the Board of Trustees James M. Norris '85 at the May launch event for SOAR, a historic $300-million comprehensive campaign. To achieve this vision of a community, a University, a world that is better than before, the campaign will focus on three major priorities.
The Year Of
Kinney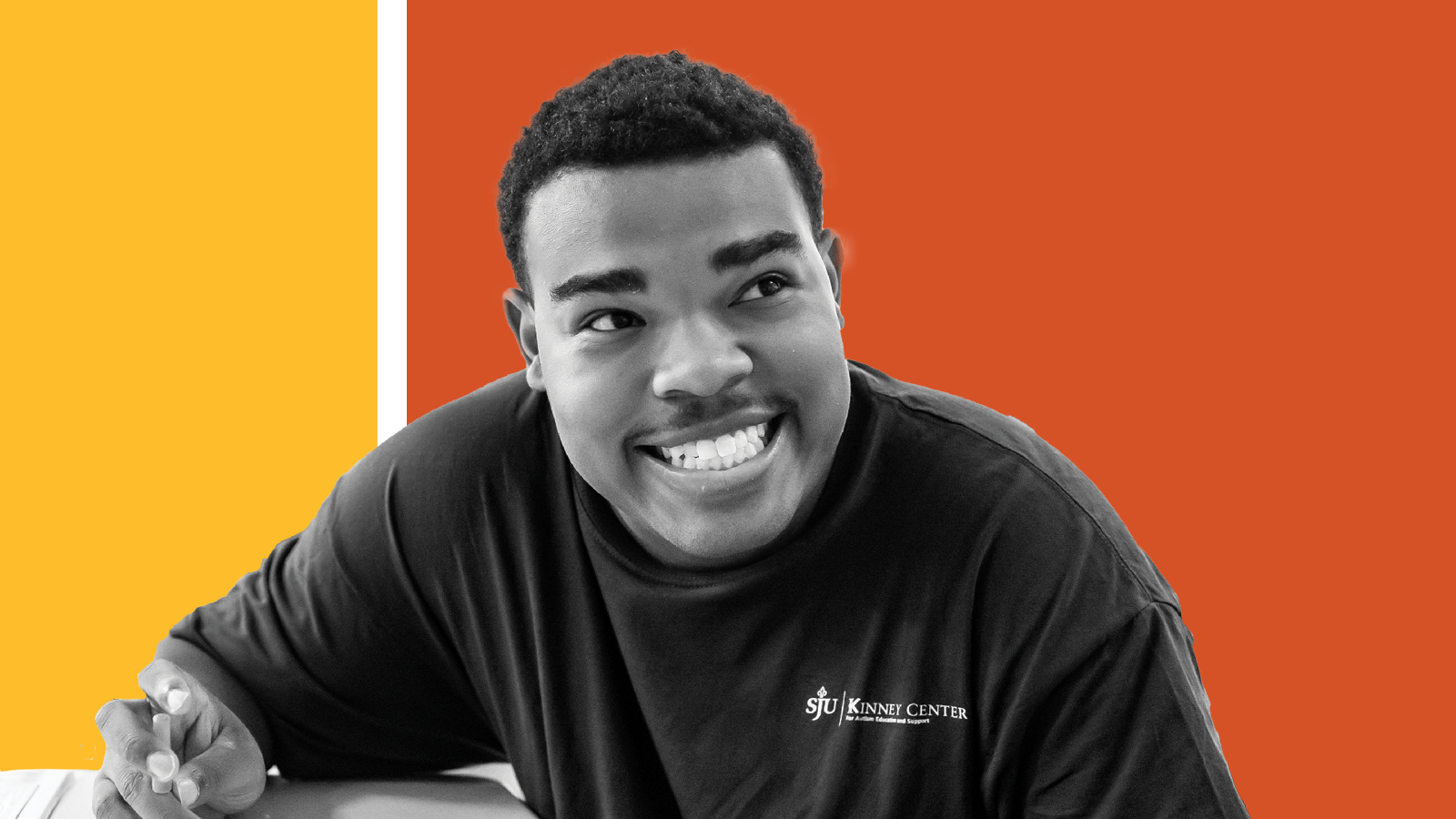 Now in its 13th year, the nationally renowned Kinney Center for Autism Education and Support has had one of its most innovative years yet, expanding its programs and cultivating forward-looking partnerships. With approximately one in 44 children diagnosed with autism spectrum disorder (ASD) in the U.S. according to the CDC, these initiatives further Kinney's mission of serving individuals with autism today while educating the autism professionals of tomorrow.
FIRST-OF-ITS-KIND ASD-SUPPORTED RESIDENCE HALL
An on-campus residential option opened in fall 2022 for undergraduate students with ASD. The supported residence hall allows students to build community with neurodiverse peers while getting acclimated to college through structured events and programming. The dormitory is a new frontier for autism and the first of its kind to be located on a traditional college campus.
NEW MINOR: MANAGING NEURODIVERSITY IN THE WORKPLACE
A new minor equips students with the skills necessary to successfully manage the unique needs of a neurodiverse workforce as future employers and management professionals. The interdisciplinary minor was developed in collaboration with the Haub School of Business, the College of Arts and Sciences, and the School of Education and Human Development. Over the next decade, 500,000 to 1 million young people with autism are expected to reach working age.
NEURODIVERSE WORKFORCE
Kinney has started an internship program that pairs one neurotypical student enrolled in the Managing Neurodiversity in the Workplace minor with two college students on the spectrum in Kinney's ASPIRE program. All students receive internship credit, and participating companies include Philadelphia Insurance Companies, Fiduciary Trust International and Independence Blue Cross. This new employment collaboration builds on the Center's work with adult clients to further develop the life skills needed to live independently.
FIRST-YEAR APPRENTICE PROGRAM
The Kinney Center relaunched its Apprentice Program for first-year, undergraduate students eager to get involved with Kinney and get a head start on a future career in autism. Participating students receive extensive training and hands-on experience working with individuals with ASD the summer before coming to campus.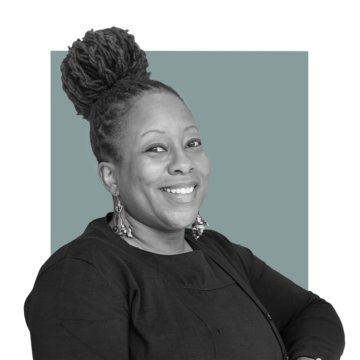 At the Helm of Diversity, Equity and Inclusion
Janée N. Burkhalter, PhD, was named associate provost for diversity, equity and inclusion (DEI) for the 2022-23 and 2023-24 academic years. In the role, Burkhalter plans to build on the Inclusive Excellence Blueprint that the president's council for inclusion and diversity drafted during her term as chair. Her work will focus on alumni engagement, student retention, and campus-wide training and resources designed to continue the University's focus on infusing DEI into its work.
This fall, Burkhalter introduced Ready to Launch, a program that builds internship, practicum and self-development skills for marginalized students as they navigate graduate school or enter the workforce after college.
Most recently, Burkhalter was associate dean for undergraduate programs in the Haub School of Business. She is a professor of marketing and co-chair of SJU's Day of Dialogue, a conference that attracts more than 1,700 community members annually, and builds on conversations about DEI by providing practical, participatory and action-oriented sessions.
Burkhalter received her MBA from Florida A&M University and her PhD from Georgia State University. Her current research focuses on entertainment marketing, social media and Black identity.
I am honored to lead the DEI efforts here at St. Joe's in a way that is collaborative, reflective and creative. DEI work is all of our responsibility and it will take unwavering community engagement to generate the systemic and long-term changes needed to create and sustain the inclusive and diverse community for which we strive."

- Janée N. Burkhalter, PhD, associate provost for diversity, equity and inclusion
Closing Out the Year of

St. Ignatius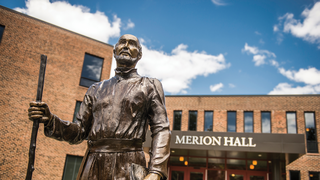 The University hosted its fifth annual Ignatian Spirituality and Leadership Conference as the Year of St. Ignatius drew to a close. The day-long event included keynote addresses from two notable alumni who returned to campus. Christine Marie Eberle '87, leader in higher education campus ministry and author on spirituality, spoke on Ignatian leaders, while John McCaul '88, Ignatian educator and principal of Archbishop Spalding High School in Maryland, spoke on Ignatian spirituality.
Breakout sessions on Catholic social teaching and its relationship with diversity, equity and inclusion; cura personalis; and governance gave attendees the opportunity to delve deeper into the teachings and influences of St. Ignatius. The conference concluded with a mass celebrating the Feast of St. Ignatius.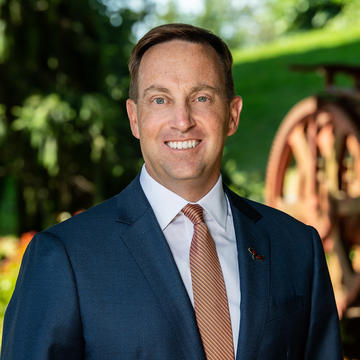 A Farewell Interview with Past President Mark C. Reed, EdD
by Kelly Welsh '05 (MA)
In 2016, I had the chance to sit down with the University's new president Mark C. Reed, EdD, for an interview that appeared in Saint Joseph's University Magazine. Just a few months into his presidency, we talked about his Philadelphia roots, his first impressions of the Hawk community and his vision for the University. During his final days on Hawk Hill, we had the chance to revisit that interview and reflect back on a tenure of monumental change and achievement at Saint Joseph's.