Overview
USciences and Saint Joseph's are engaging in a robust integration planning process throughout the 2021-2022 academic year. Integrating all aspects of our Universities is likely to take several years. Read more about the integration vision, structure and current projects here.
Integration Vision
To guide our work, our Universities have collaboratively drafted an integration vision, which will serve as our philosophy over the next year as we plan our integration and years into the future as we finalize all aspects of our combination.
USciences will integrate with and into Saint Joseph's University to evolve into one comprehensive academic community. In doing so, we will expand interdisciplinary, value-driven program offerings that meet the needs of today's student and tomorrow's world. One unified curriculum – with a liberal arts core and leading, in-demand professional programs – will challenge students to engage in novel program combinations, co-curriculars and high-impact educational experiences. 
Together, we will approach the business of higher education with confidence, innovation and adaptability. Our integration will become a model for partnerships in higher education with a commitment to students across generations; a focus on financial stewardship and building revenue; and an eye toward proactively preparing for an ever-changing future.
Structure
Most integration initiatives will take place under one of three program areas: academics; administration and support services; and the student lifecycle. The program areas are led by counterparts at each institution. For example, the provosts of USciences and SJU lead the academic program area. 
There are some elements that cut across some or all of the vertical program areas such as diversity, equity and inclusion; community building; and mission. To assure that those elements are managed and that communication is maintained between all areas, the program leaders and the embedded IT, communication and project management professionals comprise the Integration Coordinating Committee. This committee coordinates integration work and identifies areas that warrant discussion at the Integration Executive Council level, which is composed of University presidents and their designees.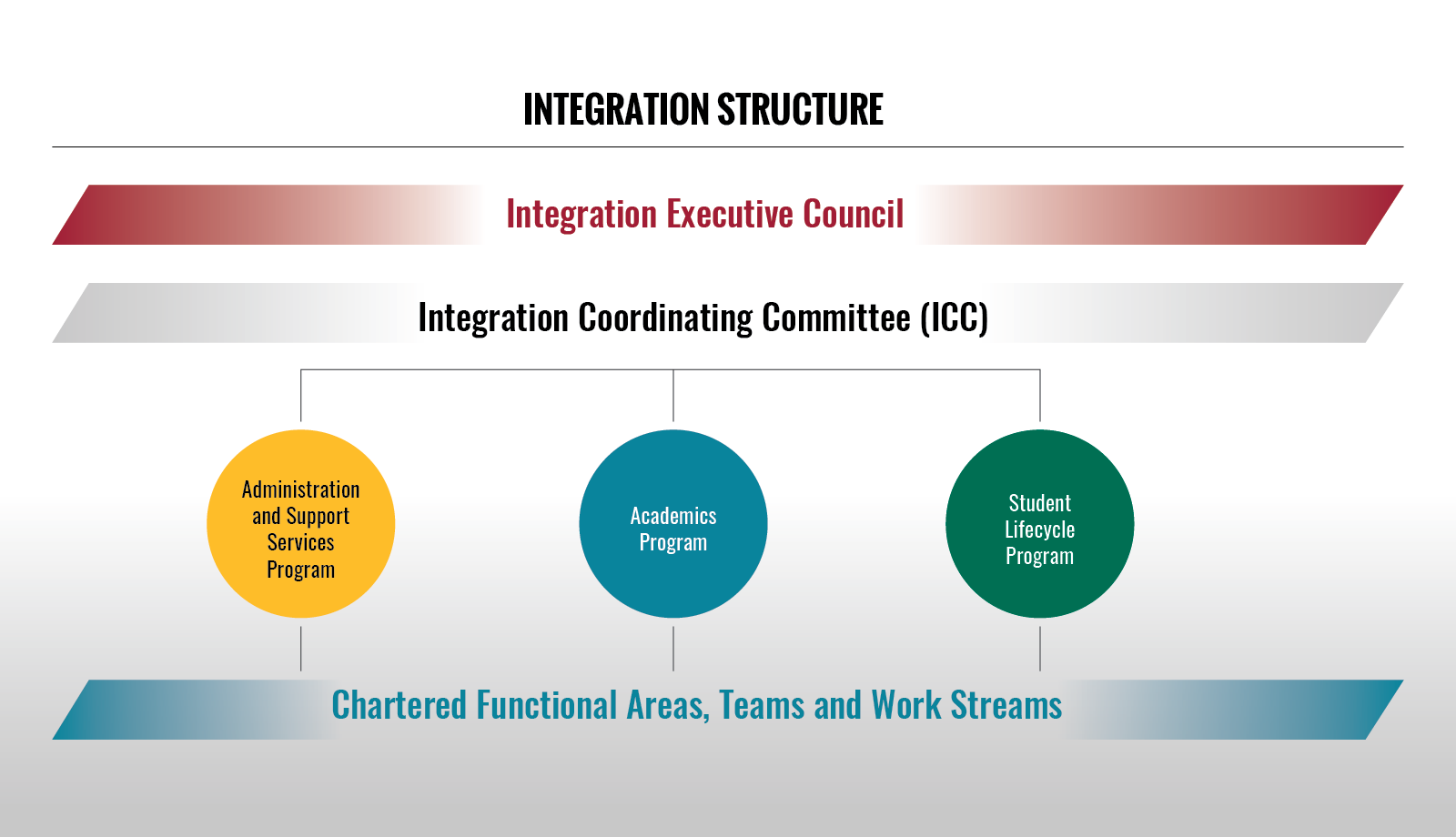 Academic Program Work
Middle States Complex Substantive Change Forms - The accreditation documents required from each University to explain and detail our plans to integrate, due in early October. A visit from the Middle States Commission on Higher Education (MSCHE) will occur in early 2022.
Curricula and Department Integration - Determining the equivalencies, substitutions and programs of study for all Saint Joseph's students (also known as teach-in/teach-out plans). Develop plans to integrate similar academic departments.
Legal Requirements - Determine and finalize all legal requirements in advance of closing. 
Faculty Handbook - Incorporate applicable and necessary elements from the USciences faculty handbook into Saint Joseph's faculty handbook.
Academic Calendar and Course Schedule Alignment - Align our course blocks and academic calendars to prepare for registration for the fall 2022 semester. 
Student Systems - Identify and create pathways, systems and support to ensure seamless process for academic advising and registration in the spring for the fall 2022 semester.
Plan for the strategic and operational integration of units and functions including research and grants; centers and institutes; library; registrar; honors program; institutional effectiveness; academic advising; and technology, teaching and learning. 
Review Academic Policies - Collate all policies at SJU and USciences and determine a timeline for reviewing essential policies needed for a combined institution.
Articulation and Affiliation Agreements - Modify USciences' existing articulation agreements and affiliation agreements with other institutions, such that Saint Joseph's University replaces University of the Sciences as the named party.
Academic Portfolio Review and Prioritization - Identify programs to be modified, combined, and/or reduced in the merged University. 
Academic Catalog - Integrate the existing SJU and USciences' academic catalogs such that the combined catalog is available for students registering for Fall 2022 classes.
Dual Enrollment Opportunities - Determine a plan for review of and possible recommitment to continuing USciences' current dual enrollment program.
Graduate Assistants, Student Instructors and Research Assistants - Determine the duties and responsibilities for Graduate Assistants in a combined university.
Administration and Support Services Program Work
Human Resources
IT
Finance (Budget, Controller, Purchasing)
Legal / Risk Management
Facilities, Master Planning and Auxiliary Services
Planning RFPs/RFQs for Large Contracts
Current Student Lifecycle Program Work
Service Delivery Mode
Student Handbook 
Admissions Messaging
Transportation Logistics
Athletics & Recreation
International Students and Scholars Compliance
Title IX
Advancement
Future Student Lifecycle Program Work
Marketing and Communications Operations Integration
Brand Integration