2023 Season Information
The application for Camp Kinney 2023 is CLOSED. Camp Kinney runs Monday - Thursday from 10:00 AM to 3:00 PM.
Week 1: June 26 - June 29
Week 2: July 3 - July 6
Week 3: July 10 - July 13
Week 4: July 17 - July 20
Week 5: July 24 - July 27
Week 6: July 31 - August 3
Director: Emily Haindl, BCBA
Phone: 610-660-2171
Email: ehaindl@sju.edu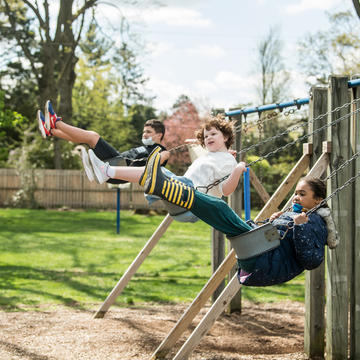 A Place for Fun and Learning
Parents of children on the autism spectrum are often faced with the worry of finding the perfect summer camp. Concerns frequently include - Will the staff know how to appropriately manage behaviors - will the other campers accept my child - and will my child continue making progress towards their goals in a less structured environment?
The Kinney Center has addressed these concerns through Camp Kinney. Our summer camp program provides an immersive and recreational based traditional summer camp experience specifically designed for individuals with autism. Our reverse inclusion model has been perfected over the past 9 years, and is accredited by the American Camp Association.
Your child will participate in a variety of activities similar to a traditional summer camp, while also receiving naturalistic application of Applied Behavior Analysis (ABA). Every week do wild and wacky science experiments and create works of art, all while working towards a personalized set of goals. Campers will be visited weekly by special guests including martial artists, petting zoos, scientists, sing-alongs and many more.
When learning feels fun, progress is made!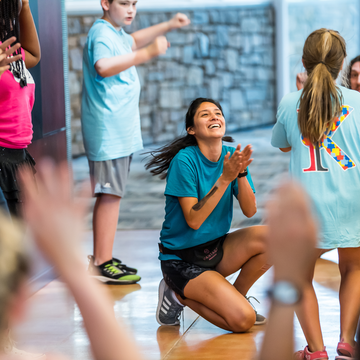 Dedicated Team of Professionals
What will truly put your mind at ease, is Camp Kinney's dedicated team of Autism professionals. Your child will receive 1-to-1 support from a direct care staff, known as Kinney SCHOLARS. Kinney SCHOLARS are current undergraduate students. Prior to Camp, each SCHOLAR receives 2 weeks of intensive training, including specific training on your child's behavior plan and/or IEP. SCHOLARS are supervised by aspiring behavior analysts and clinical professionals through our Graduate Assistant team, including Board Certified Assistant Behavior Analysts (BCaBAs). Additionally, each camp group is overseen by a program director from the Kinney Center's full time staff of BCBAs who will facilitate training, behavior management, and daily supervision of each camper's personalized goals. The level of support and attention your child will receive during their time at Camp Kinney is unparalleled all while having the time of their lives!
Camp Kinney runs from Monday - Thursday.

Week 1: June 26 - June 29
Week 2: July 3 - July 6
Week 3: July 10 - July 13
Week 4: July 17 - July 20
Week 5: July 24 - July 27
Week 6: July 31 - August 3

Camp Kinney is designed for children ages 5 to 21.

Camp Kinney promotes fun and learning by emphasizing the development of social skills through a naturalistic application of applied behavior analysis (ABA). Activities are both highly structured and fun-filled, utilizing a group lesson plan design format that combines philosophies of special education and ABA to promote effective engagement and learning. Each activity begins with motivational strategies to peak your child's interest, followed by an explicit model of how to engage in the activity. Your child will learn how to utilize visual supports, reinforcements, and alternative activities if needed. Every child receives a customized visual schedule and/or written lists of their daily schedule, and many opportunities for choices throughout the day.




Limited space is available. We encourage you to register early. A non-refundable $25.00 application fee is required at time of registration.

1 week at Camp Kinney is $700. If you register for all six weeks of camp, the sixth week is free.

1 week - $700

2 weeks - $1,400

3 weeks - $2,100

4 weeks- $2,800

5 weeks - $3,500

6 weeks - $3,500

A limited number of financial assistance scholarships are available to families with strong financial need, subject to administrative approval.

Participants will have the option of paying the camp fee in its entirety upfront, or the card on file will be automatically charged 1/3 of the program price on day 30 & 60 after the initial payment is completed.

Application Fee: $25 – Due at time of registration

Payment 1: 1/3 of total – Due 7 days after acceptance

Payment 2: 1/3 of total – Due 30 days after payment 1

Payment 3: 1/3 of total – Due 30 days after payment 2

The total camp fee will be paid in its entirety by June 1st. If you have secured ESY funding the Kinney Center will bill your district directly.




In the case of inclement weather that causes program cancellation, sessions will not be rescheduled due to time and space restrictions. Outdoor programs have an alternative indoor space available if needed. Make sure to update your profile with a valid email and cell phone number to ensure you receive up to the minute information.

Pick-up and drop off will take place at the Kinney Center. Campers should be dropped off at the Kinney Center at 10 a.m. and should be picked up at 3 p.m., promptly. Parents will be asked to stay in their cars. The Kinney team will facilitate the transition to and from camp.

Camp Kinney's direct care staff consists of undergraduates, known as SCHOLARS, who receive two weeks of intensive training upon acceptance into their role. Our 40 hour training provides content across research based interventions for autism, including the Registered Behavioral Technician (RBT) Task List. SCHOLARS receive instruction from Board Certified Behavior Analysts, Special Education Teachers, and licensed social workers. Assigned behavioral consultants, known as Graduate Assistants, include Board Certified Assistant Behavior Analysts (BCaBAs), and all receive supervision from a Board Certified Behavior Analyst (BCBA). All of our staff is background checked and certified in CPR and CPI.

If you are interested and able to exchange Extended School Year (ESY) services for your child's participation in Camp Kinney, please contact your school district coordinator directly. The Kinney Center will provide a written proposal to communicate the details of the Camp Kinney program. Data analysis of past progress made in Kinney Center programs can also be included.


If your child's district has approved payment of ESY toward Camp Kinney, please send appropriate documentation and billing contact information to kinneyautism@sju.edu.

Due to the educational component of the Kinney Center, at various times, students enrolled in the autism major, minor or certificate program will be observing as part of their coursework.

All programs at the Kinney Center share a dual mission: to serve families and individuals with autism while training and educating undergraduate students. Due to the training element of our programs, individuals may not be accommodated if intensive behavioral support is required, such as severe aggressive behaviors or intensive self-injury. If you are unsure if your application will qualify, it is recommended to submit your child's most recent behavior intervention plan and up to date behavioral data for review. Families may be requested to come in for an observational visit per behavioral review.
During the summer, she gets out of the car, and she just flies. She's just excited to be here."

Ros Greene