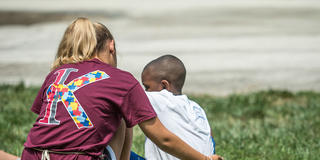 Kinney Center for Autism Education and Support
Students from all majors develop the professional skills needed to find career success in a neuro-diverse world. Our approach is twofold: educate and train the autism professionals of tomorrow while supporting and serving individuals and families affected by autism today.
Percent of Kinney SCHOLAR graduates are employed or in graduate school (2018).
Percent average pass rate for the Board Certified Assistant Behavior Analyst (BCaBA) exam*
Percent matriculation rate for participants in the ASPIRE program.
Years of service in autism education and support.
*among those who undergo supervision at the center; compare with a national average of 65%
Since 2009, the Kinney Center for Autism Education and Support has been a pioneer in the autism field.
Undergraduate and graduate programs in autism studies

On-campus ASPIRE program in support of students with autism

First-of-its-kind autism break room in Hagan Arena to support families attending Saint Joseph's Hawks basketball games. 
We found the Kinney Center when Caleb was 4, and he's been here ever since. Kinney has helped him with coping skills and flexibility and is a place where he's formed and maintained friendships."

Shalom Stratford

Kinney parent
Degrees & Certification
As diagnoses of autism spectrum disorder continue to rise, so does the demand for skilled support of this growing population. From master's degrees to education endorsements, the Kinney Center offers a full range of educational offerings that combine classroom teaching with hands-on, practical experience. 
Non-Degree Autism Training
From high school students to graduate assistants, the Kinney Center offers professional, high-quality training for almost anyone who wishes to support people with autism.
Serve as a peer mentor for participants in Kinney Center youth and sports programming. You'll act as a role model, helping students with autism to develop essential communication and social skills so that they can improve relationships with family members, teachers, therapists and peers.

Interested in becoming a Kinney High School Volunteer? Check out the full position requirements online.

Whether you're an organization looking to become more autism-friendly or a school trying to better accommodate your students on the spectrum, the experts at the Kinney Center will create a training or consulting plan tailored to your needs. Previous clients include Chestnut Hill College, Alvernia University and the Philadelphia Zoo.

Interested in more than just a work-study job? Kinney SCHOLARS provide one-on-one support to the individuals with autism who participate in our youth, transitional and adult programs. Undergraduates of all majors, from Saint Joseph's and other area schools, are welcome.

Incoming Students Apprentice Program

Get involved with the Kinney Center before the school year begins. Jump-start your future career in autism-related fields with extensive training and hands-on experience working with individuals with autism via participation in Camp Kinney. Learn more on our FAQ page.

Pursuing BACB certification? Enrolled in an approved course sequence? Apply for a competitive internship to gain supervision and experience in center-based programming. You will get experience with diverse learner needs as you support youth, transitional, adult and recreation programming. Students who are supervised at Kinney have the highest pass rates in the country. This opportunity to be supervised is free for Saint Joseph's undergrads, while students from other institutions must pay a fee.

Our supervision model also provides the opportunity to complete skill assessments, build data collections, analyze client progress and behaviors, and participate in the training and management of direct care staff. We can also tailor your experience toward desired outcomes within the skill set of the BACB Fourth Edition Task List.

For details and deadlines, see the BACB Supervised Fieldwork and Practicum Internships page.

Maintain and grow quality programming at the Kinney Center. Mentor and advise Kinney SCHOLARS. In return for their service, graduate assistants receive financial support toward a Saint Joseph's University master's degree. Please read the full position requirements.
Upcoming Events
See upcoming programs, community events and more.