The Kinney Center's ASPIRE Residence Hall opened in the Fall of 2022. If you are academically ready for college, but unsure about starting in a fully integrated residence hall, consider easing onto campus with this supported community option.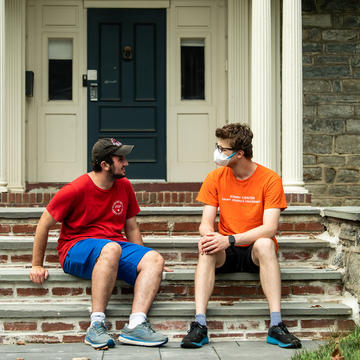 Supported On Campus Living
Live in a community of individuals with autism and be supported by a Resident Assistant and Graduate Assistant trained in supporting college students on the spectrum. The Residence Hall will provide you with practical applications of lessons learned in your ASPIRE skills courses; including topics like personal care, problem solving and communal living. You will have the opportunity to attend weekly structured social events to help you make new friends, take advantage of exciting student life activities and get acclimated to campus.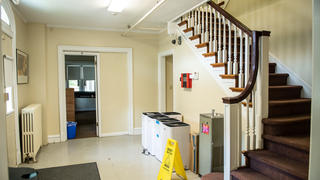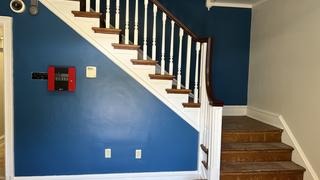 Before: Entrance to St. Albert's Hall
During Renovations: New paint in the entrance to St. Albert's Hall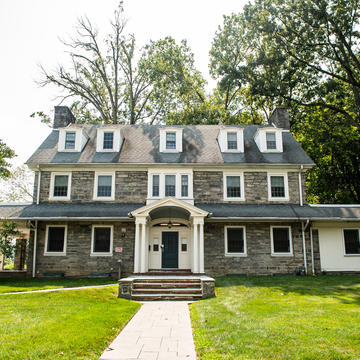 Residence Hall Overhaul
In the year leading up to the new residence hall opening, the Kinney Center has partnered with the Interior Design Program, College of Architecture, and the Build Environment at Thomas Jefferson University design program to create a comfortable and functional space that suits the unique needs of individuals on the spectrum. Eight teams will compete to have their design chosen, and YOU can help choose the winner.
$12,000 per year.

Pricing includes specialized supports and social activities within the Residence Hall.

Pricing does NOT include room, board, ASPIRE program fee, tuition or academic fees.

Costs for the ASPIRE Program and the Residence Hall can be included in FAFSA and loan applications.

The co-ed residence hall, with floors separated by gender, will be staffed by Resident Assistants and a Graduate Assistant trained to support individuals on the spectrum. Space is limited and first year students will be given preference, though this is an open opportunity for students at all levels of their college journey. Placement in the dorm is contingent upon acceptance to Saint Joseph's University and the ASPIRE program as well as the discretion of the Kinney Center professional team.