If you are pursuing a master's degree at Saint Joseph's University in an autism related field, consider building your resume with an immersive graduate assistantship at the Kinney Center. As a graduate assistant you will help maintain and grow our quality autism programming, as well as mentor and advise Kinney SCHOLARS. In return for your service, Kinney will provide financial support towards your Saint Joseph's University master's degree and hourly pay. Graduate assistants are required to work 20 hours per week, and can choose to receive supervision hours from our team of Behavior Analysts.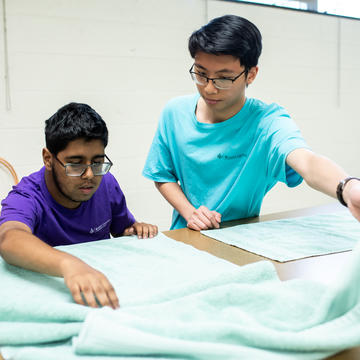 In-Home and Community Support Day Program
Are you a quick thinker with the ability to multitask, problem solve, think on your feet and manage behavioral concerns of our adult learners within the Kinney Center? If so, the In-Home and Community Supports Day Program Graduate Assistantship is for you. The average amount of time within our Day Program is 20 paid and 15 supervision hours weekly totaling 35 hours per week. The hours of operation within this program are Monday-Friday, 9-4 PM. We have a number of participants in the program with varying abilities, interests, communication styles, and community outings (i.e. activities and employment) making no two days within the Kinney Center alike. We are currently looking for innovative leaders to enhance programming and take adult services to new heights.
Youth Programs and Camp Kinney GA
Our Youth and Camp Kinney Program at Kinney is a unique opportunity to serve as a leader for undergraduate SCHOLARS. This position's focus is on social skills development, problem-solving and crisis management, while building daily living skills throughout the lifespan. The goal is to collaborate by way of consultation with the caregivers in order to assist in meeting their goals in order to integrate the participants into our additional Kinney Center program options. We hope to expand this program to a broader set of participants with varying developmental levels in order to assist learners and their families during a very difficult time of transition. If seeking BACB supervision, this position is a total of 35 hours (20 paid, and 15 supervision hours). Please note that the active program hours are Wednesday evenings 4:30-8:30 PM. This position also has additional responsibility within our day services within Kinney as we work together to support individuals through the continuum of care.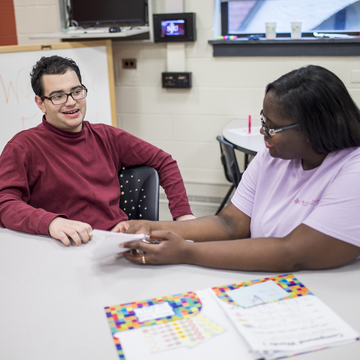 Transitional Day Program
This position works with transitional aged youth that assist with navigation of future directions with schooling, vocational training, and/or daily living skills. The Transitional Day Program GA will have the ability to be versed in assessment and programming as well as work with transitional aged individuals within the PAES lab. In addition, this position allots for time in the community where clients will be supported with on and off campus work locations.
Adult Skills and College Bridge GA
Transitioning from adolescence to adulthood can be a scary time for anyone. The Kinney Center for Autism Education and Support is currently looking for an innovative mind to build partnerships and relationships with school districts and community partners. The adult skills class runs Tuesday evenings from 4:30-8:30 PM. The outline of the program is to provide cooking, transitional, and life skills to assist participants with increasing daily living skills. In addition, the Bridge Program is one of our newest programs that focuses on assisting learners with the tools they need to prepare for life following a traditional school bound experience. The program will allow participants to be an active member in campus life by way of volunteering and utilizing our campus partners, while still having the support of a SCHOLAR within the center.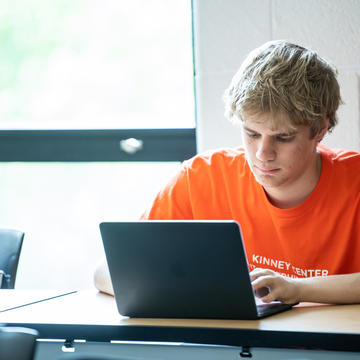 ASPIRE
This individual will support weekly skills classes related to college success and career readiness, oversee the peer mentoring program, and provide supervision to undergraduate students serving as peer mentors. The ASPIRE Graduate Assistant may also support other ASPIRE/College Autism Support programs when needed. Desired candidates will be enrolled in Psychology, Education, or Special Education Programs, but individuals from any program are encouraged to apply.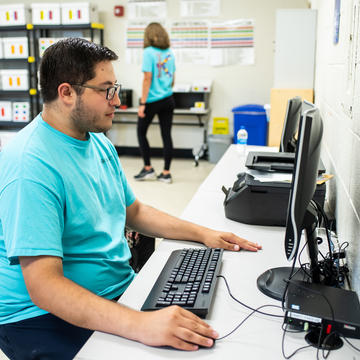 Vocational and Employment GA
Do you have a passion for our vocational-bound learners and individuals preparing for transitional activities? If so, the Vocational and Employment Graduate Assistantship is for you. Program responsibilities include assisting the Associate Director with programming, goal setting, data tracking, as well as information sessions for our newest Kinney Center participants as well as supporting employment as well as work within our PAES lab. If seeking supervision, this position is a total of 35 hours (20 paid with 15 supervision hours. The active program hours are Tuesday evenings from 4:30-8:30 PM. The vocational and employment GA also plays a huge part in building relationships with community stakeholders and families in order to assist during the year and Camp Kinney.
The extensive amount of hands-on experience prepared me for the BCBA exam and provided many options post-graduation."