College Student Support Services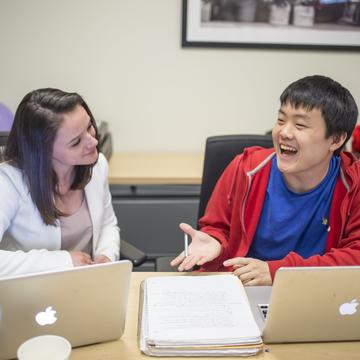 ASPIRE Program
As a college student with ASD, you're likely facing a lot of unknowns and challenges as you move into this exciting new phase of life. The Kinney Center is here to provide answers and help you achieve success as you pursue your college degree through our Autism Support Promoting Inclusive and Responsive Education (ASPIRE) Program.
Developed and directed by Kinney's team of seasoned professionals, this immersive program provides you with wide-range ongoing personal support services and caring assistance to ease your transition and help you fully embrace life as a college student.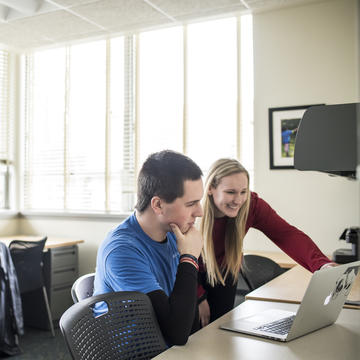 Set Up for Success
As a Saint Joseph's ASPIRE student, you can count on our staff to help you communicate with parents, faculty and University support offices, help you stay on top of your study schedule and hold weekly skill sessions to make sure you're mastering the campus tasks you need for independent college living, like getting involved with campus activities, doing laundry, managing money and catching the shuttle for class.
You'll have the opportunity to build your resume by working as a Kinney SCHOLAR or at an internship with a company that supports a neurodiverse workforce, and best of all, you'll enjoy weekly social gatherings with a built-in group of friends and peer support — starting from the moment you arrive on Hawk Hill.
For ASPIRE students attending other universities, we have expanded our program to serve you virtually with a successful model of support that can be disseminated at any college campus nationwide.
Getting Started
ASPIRE is currently accepting applications for Fall 2021. Acceptances will be issued on a first come, first served basis and at the discretion of our staff. Before applying, please review our pricing structure and details on financial aid.
While we strive to meet the needs of all students on the spectrum, ASPIRE is designed for individuals who have been accepted (part-time or full-time) to a university and have the intellectual, academic and organizational capabilities to succeed as a matriculated student, but require additional social support services in order to fully thrive.
While Saint Joseph's, the Kinney Center and the ASPIRE program try their best to meet the needs of all students on the spectrum, due to the health and safety concerns of all involved the following criteria must be met before acceptance into the ASPIRE program.

Student must be able to behave appropriately in a community setting
Those attending Saint Joseph's University must be able to follow all the policies and procedures as set forth in the SJU Student Handbook. Saint Joseph's will make accommodations in accordance with the Americans with Disabilities Act.
On campus students must be able to perform daily living skills independently
On campus students must not have exhibited physically aggressive behavior towards others within the last two years.
I want to help out people with my own disability eventually. I want to show them that I did it too, so can you."
Kinney has helped me learn not only skills that are important for life, but it also helped me learn more about myself and how autism makes me unique."
David adjusted well and I think a majority of that was being in the ASPIRE program. Getting him the skills he needs, study groups, and connections for group activities was something he never had before."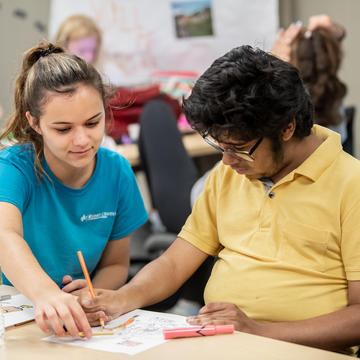 What's Included
Our proven model for college support includes a blend of case management, skills courses, peer mentorship and faculty training facilitated by our team of licensed social workers and clinical counselors.
Weekly, hour-long case management, adaptive functioning classes and peer mentoring (individual or group)
Monthly, two-hour large group event
Weekly, group dinner led by upperclassmen ASPIRE students
College Success Classes (recommended for freshmen)
Job-Readiness Classes (recommended for sophomores, juniors and seniors)
Referral information for employers committed to Autism at Work Initiatives
Regular communication with family of student, as needed
Training sessions for interested faculty
Accompanying the student during self-advocacy with faculty and other relevant stakeholders, as appropriate
Access to the Kinney Center Employment Specialist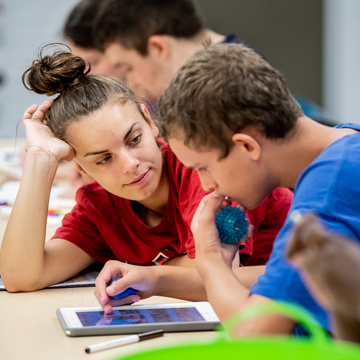 College Bound Retreat
Are you currently a high school student with ASD who is considering attending Saint Joseph's, or an incoming ASPIRE student who wants to hit the ground running? Get acquainted with the ASPIRE program and learn about general college success and support services by attending one of our interactive webinars.
You'll get on the right path to reaching your educational goals by learning about advocacy and autism support at the university level, and you'll receive valuable real-world advice on topics like choosing a major, meeting friends, building relationships and other strategies for success.

Next session: July 26 - 27, 2021
Time: 1 PM - 3 PM EST (Via Zoom)
86% of ASPIRE graduates report that they found a job or enrolled in graduate school within 6 months.
83% success rate for ASPIRE program participants vs. 70% national average.
Participants come from 15+ states and locations worldwide.
ASPIRE students are 4x more likely than other adults with ASD to find employment within 6 months of graduation.
Director of College Support
Supported Internships
Successful partnerships with local organizations provide supported internship opportunities beginning the summer after sophomore year.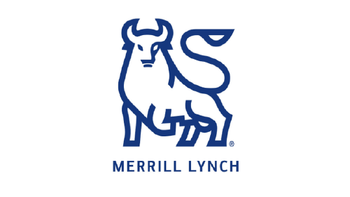 Merrill Lynch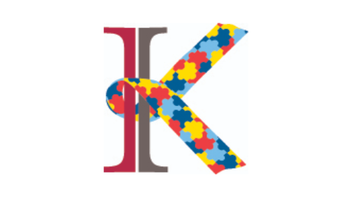 Kinney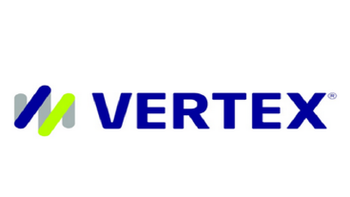 Vertex