Children and adults with autism can take a break from structured skill building and lessons, and spend Friday nights hanging out with their Kinney friends. Parents get a free evening too. That's a total win-win!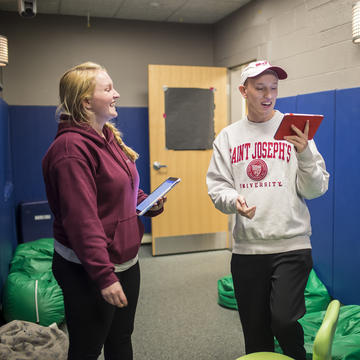 Adults Night Out
Teens and adults ages 16 are invited to spend one Thursday per month at a seasonally themed Adults Night Out. Each session includes dinner, crafts, games, and a family-friendly movie. Everyone leaves with prizes and goodie bags.
Date: Thursday, October 28
Time: 5:00 PM - 8:00 PM
Cost: $75
The Kinney Center offers programming for all ages and ability levels. Due to our training model, individuals may not be accommodated if intensive behavioral support is required. This includes but is not limited to severe aggressive behaviors or intensive self-injury. If you are unsure if your child will qualify, it is recommended to submit your most recent behavior intervention plan and up to date behavioral data for review. Families may be requested to come in for an observational visit per behavioral review. For additional questions regarding eligibility, please contact kinneyautism@sju.edu.

Nights Out are held in the Kinney Center, which is located in Connelly Hall, Room 250 (#85 on the Campus Map). Parking is available in Quinn Lot off of Latches Lane (#78 on the Campus Map) & Upper Duperreault Lot off of Latches Lane (between #82 and #88 on the Campus Map)

In the case of inclement weather that causes program cancellation, sessions will not be rescheduled due to time and space restrictions. Outdoor programs have an alternative indoor space available if needed. Make sure to update your profile with a valid email and cell phone number to ensure you receive up to the minute information.

Due to the educational component of the Kinney Center, at various times, students enrolled in the autism major, minor or certificate program will be observing programs as part of their coursework.
My favorite part is when we learn about our autistic siblings, so we can help them."

Avery Maguire