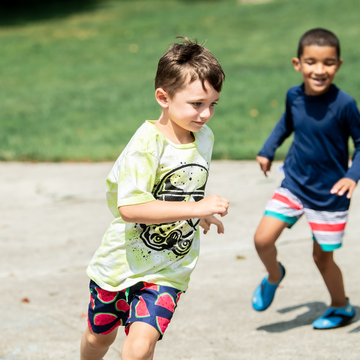 Get Active and Have Fun
Back by popular demand our Recreational and Swimming program is back! We have heard your recommendations; as a result, we will be offering a variety of recreational activities throughout this eight-week program instead of one set sport related activity. Participants will have the opportunity to not only sample extra sports related activities they can also gain skills to build confidence and improve skill building and retention. This is why our Saturday Sports programming is not only a great way for your child to stay healthy, improve dexterity and access new activities safely, it is also the perfect setting to build sportsmanship and socialization skills. Staff members will collect data on gross motor skill development and self-management of behavior skills. These skills may include greeting peers, following directions, asking for help, taking turns, and eye contact. Sports offerings change both seasonally and annually and include, but not limited to, swimming, basketball, yoga, karate, dance, theater and cooking. Cultivate courage and develop physical and mental health on Saturdays at the Kinney Center.
Saturdays | September 17 - November 19
No session on October 8 or October 15
Cost: $900 per program

Swimming: 10:00 AM - 12:00 PM
Recreational Sports Program: 12:30 PM - 2:30 PM
Director: Emily Haindl, BCBA
Register Now
Saturday Recreational Program and Skills Swimming are on Waitlist Only.
The Kinney Center offers programming for all ages and ability levels. Due to our training model, individuals may not be accommodated if intensive behavioral support is required. This includes but is not limited to severe aggressive behaviors or intensive self-injury. If you are unsure if your child will qualify, it is recommended to submit your most recent behavior intervention plan and up to date behavioral data for review. Families may be requested to come in for an observational visit per behavioral review. For additional requisitions regarding eligibility, please contact Cassandra Wilson at 610-660-2171 or cwilson@sju.edu .

Each program requires athletes to come prepared with appropriate athletic clothing, a water bottle and small healthy snack. For swimming, we ask that your athlete also brings two towels and a change of warm dry clothes.

The Kinney Center's unique staffing model is inspired by our two-fold mission to serve individuals affected by autism while training students studying to work in the field. Most programs are staffed 1-to-1 by our undergraduate students, known as Kinney SCHOLARS. SCHOLARS receive two weeks of intensive training upon acceptance into their role, have all relevant clearances from the state, and are both CPR and CPI certified. In addition, Graduate Assistants within related fields manage the team of SCHOLARS, meeting on a weekly basis to discuss skill progress and suggested teaching activities. Ultimately the program is overseen by a Board Certified Behavior Analyst (BCBA) from our full time staff. The BCBA's roles include training and supervising SCHOLARS in skill teaching procedures and behavioral interventions. The program manager is available to complete functional behavior assessments and behavior intervention plans for students that present behavioral concerns during the program.

Sports Programming is held in a variety of locations. Please check your email for updates and instructions from the program director.

In the case of inclement weather that causes program cancellation, sessions will not be rescheduled due to time and space restrictions. Outdoor programs have an alternative indoor space available if needed. Make sure to update your profile with a valid email and cell phone number to ensure you receive up to the minute information.

Due to the educational component of the Kinney Center, at various times, students enrolled in the autism major, minor or certificate program will be observing programs as part of their coursework.