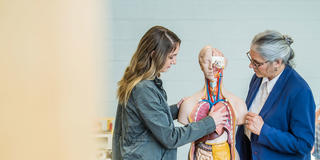 Department of Health Studies
The Department of Health Studies provides a comprehensive foundation in natural sciences, public health, the health care system and social sciences to prepare students for successful careers in health services. Students will be introduced to a broad spectrum of health issues including sociocultural influences on health, health behavior and management, the systems of health care, legal and ethical concerns, health promotion, environmental influences on health, nutrition, mental health, life cycle health, alternative/complementary medicine, epidemiology and more.
Health care is one of the most rapidly growing and cost-intensive fields in the U.S. Rapid changes in demographics, medical advances in technology and medical science, along with tremendous pressures to assure regulatory compliance and quality care, have increased the need for more educated, more committed and more compassionate people to enter this field.
The Department of Health Studies prepares students for a wide range of health care positions in hospitals, health departments, health agencies, research facilities, schools and industry. A health studies major provides students with the flexibility to design an individual program of study based upon interests and career goals, and there is considerable flexibility within the program to complete prerequisites needed for graduate programs in health-related fields and to minor in biology, chemistry, psychology, sociology or business. The majority of our graduates proceed to clinical or graduate school to study allied health fields such as nursing, physical therapy, occupational therapy, speech therapy, physician assistants, pharmacy and public health.
Of graduates seek employment in the fields of health/medicine/biotechnology
Of graduates seek employment in human and community services
Of graduates seek work in insurance
Of graduates seek work in education or government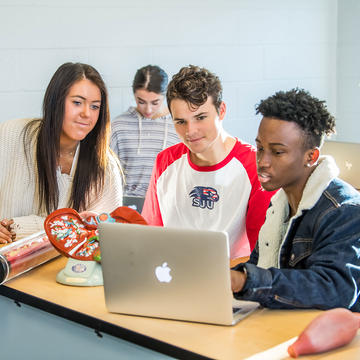 Health Studies Degree Programs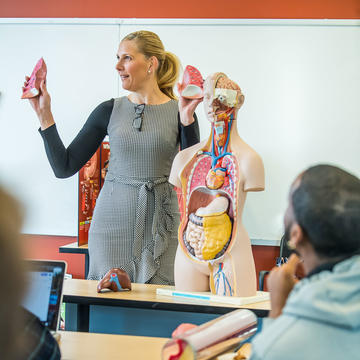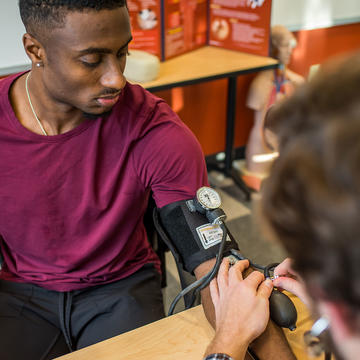 Health Professions Advising
Saint Joseph's turned my passion and excitement for food into an academic and professional opportunity. Being a student in such a prestigious and focused program made me stick out throughout the recruitment and interview process as well."
[As a health services major], I had the opportunity to be a member of the University's Chapter of Alpha Epsilon Delta, a Pre-Professional Honors Society, where I participated in Dinner with a Doc, the Health Professions Expo and student teaching at West Catholic High School."
My health studies classes helped me understand a different aspect of health care. Not only did I receive the scientific and anatomical education I needed, but I also learned about health disparities, healthcare ethics and the psychosocial aspects of health conditions. Those courses are the ones that I truly believe will help me become a more well-rounded health professional."