Permanent Collection
The product of decades of generous gifts and acquisitions, Saint Joseph's University's permanent collection comprises approximately 2,500 artworks produced over a nearly 3,000-year period in North and South America, Europe, Africa and Asia. Especially well represented are works produced in Latin America from the 17th through the 20th centuries. The Maguire Art Museum is thrilled to be introducing the collection to new audiences in our museum and online. By doing so we hope to contribute to important discussions about art history and museum practices, including questions about provenance, collecting, and authenticity. The Maguire Art Museum team welcomes information and inquiries about our collection.
Colonial Latin American and Hispano-Philippine Art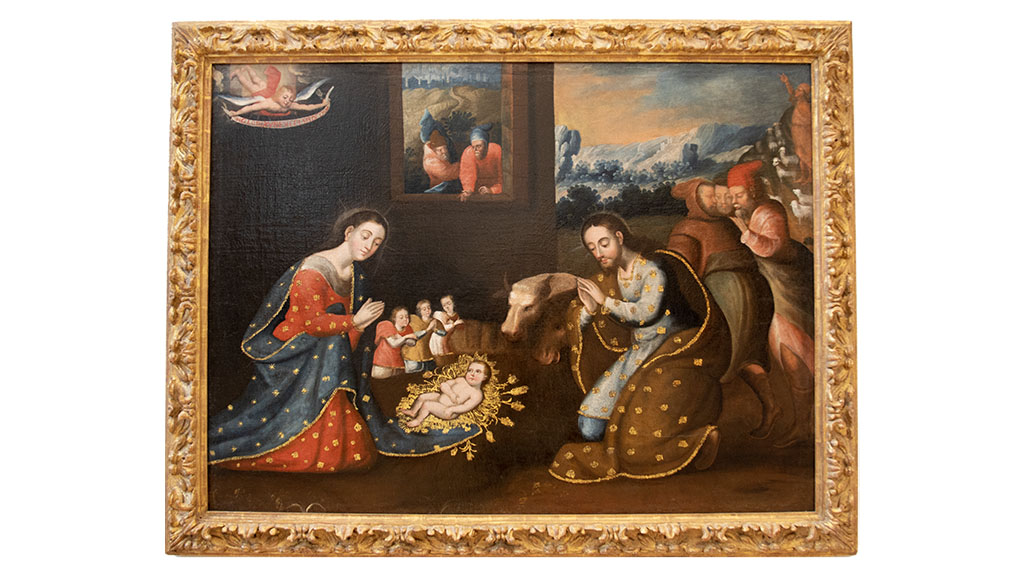 Saint Joseph's University is home to one of the largest collections of Colonial Latin American art in the region. It comprises paintings, sculptures, textiles, and decorative artworks produced in Colonial Mexico, the Andean region, and the Philippines from the 17th to the early 19th centuries. Many pieces are religious in function and range from large lunettes that once adorned church walls to intimate, small-scale compositions intended for private devotion. 
These works are emblematic of the religious narratives, figures and themes popular in Spanish America and the Philippines during the colonial period. They also speak to the cultural negotiation that took shape in Spanish America during colonization and the vital role of images in this process. The Spanish asserted political control through religious and visual means. Christian missionaries relied on images as critical tools of evangelization that could overcome language barriers. During this period, regional schools and styles developed across the Americas. Saint Joseph's University boasts a large number of paintings by the Cuzco school, a group of artists from the Cusco region in Peru known for their religious art, Indigenous symbolism, bright colors and use of brocateado, (gold leaf) to embellish their artwork.
View Colonial Latin American and Hispano-Philippine Art Collection
Retablos and Ex Votos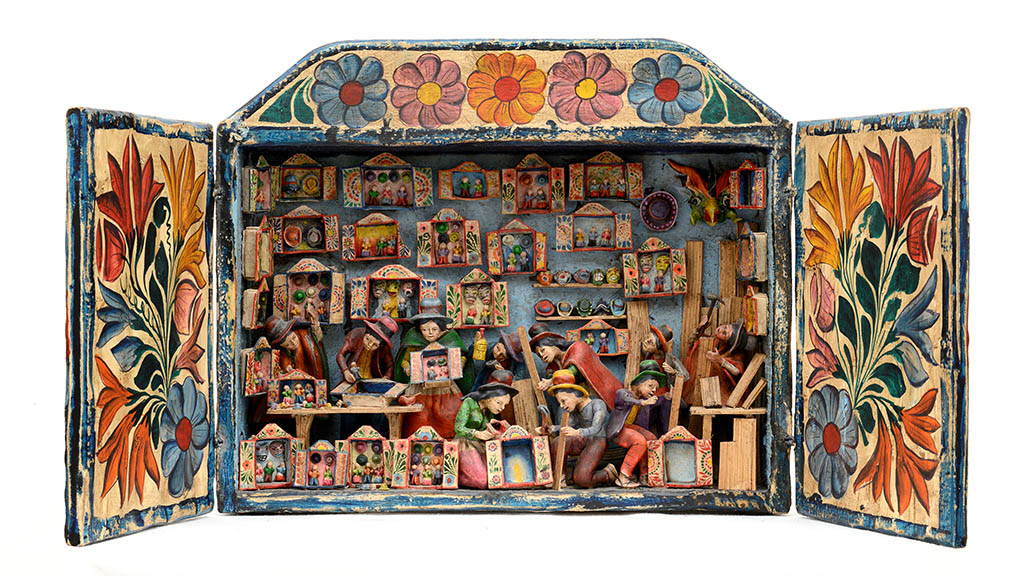 The collection of Mexican and South American retablos, ex votos, santos and milagros at Saint Joseph's University is one of the finest on the East Coast. These small, often colorful private devotional images and sculptures venerating The Holy Family and the saints were especially popular in Spanish America during the late 18th and early 19th centuries. They were produced largely by anonymous artists who used locally available materials such as silver, tin and wood. The continued importance of retablos and other votive art forms in Latin America as a way for the faithful to communicate with the divine is evidenced by 20th and 21st-century examples on view.
African Art
The African art collection at Saint Joseph's University features works of art produced in various cultural contexts across the African continent. Especially well represented is Christian art from Ethiopia, including illuminated manuscripts, paintings, crosses, and small devotional objects. The museum also has a variety of masks, figural pieces, accouterments and textiles created by cultures in present-day Nigeria, Liberia, Sierra Leone, the Ivory Coast, Ghana, Mali, Angola, Gabon, Cameroon, Democratic Republic of the Congo, and Tanzania. The variety calls attention to major themes, mediums and art forms in African Art, while also speaking to pressing contemporary and historical issues such as authenticity, slavery, colonialism and provenance.
Asian Art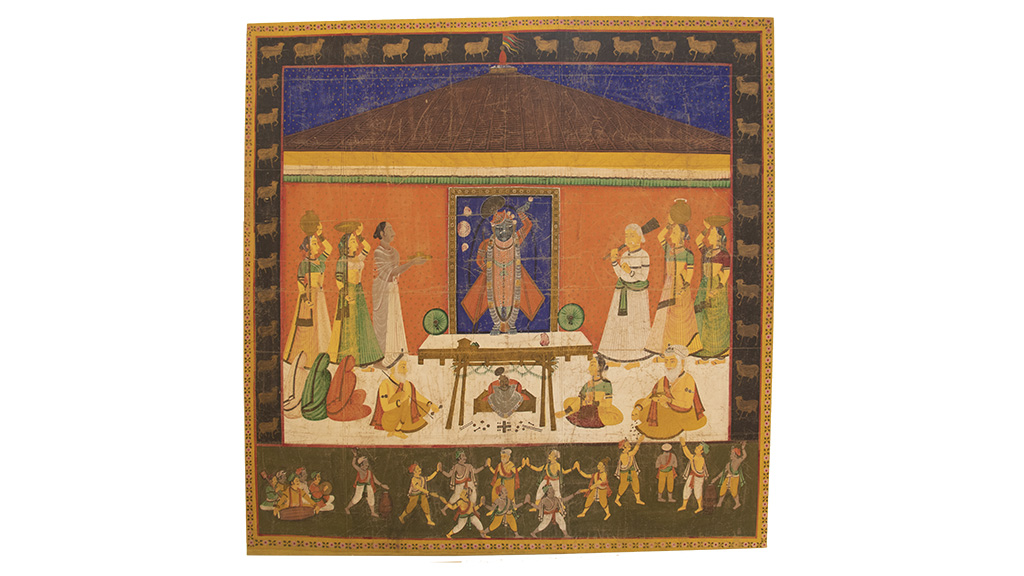 Saint Joseph's University boasts a diverse collection of paintings, prints and sculptures from various parts of Asia. Highlights include Edo period and 20th-century Japanese woodblock prints, a Qing dynasty ancestor portrait scroll, Buddhist thangka paintings, Indonesian shadow puppets, Mughal court paintings, 19th-century portrait miniatures produced in South Asia and a Pushtimarg pichvai from Rajasthan in India.
20th Century European and American Art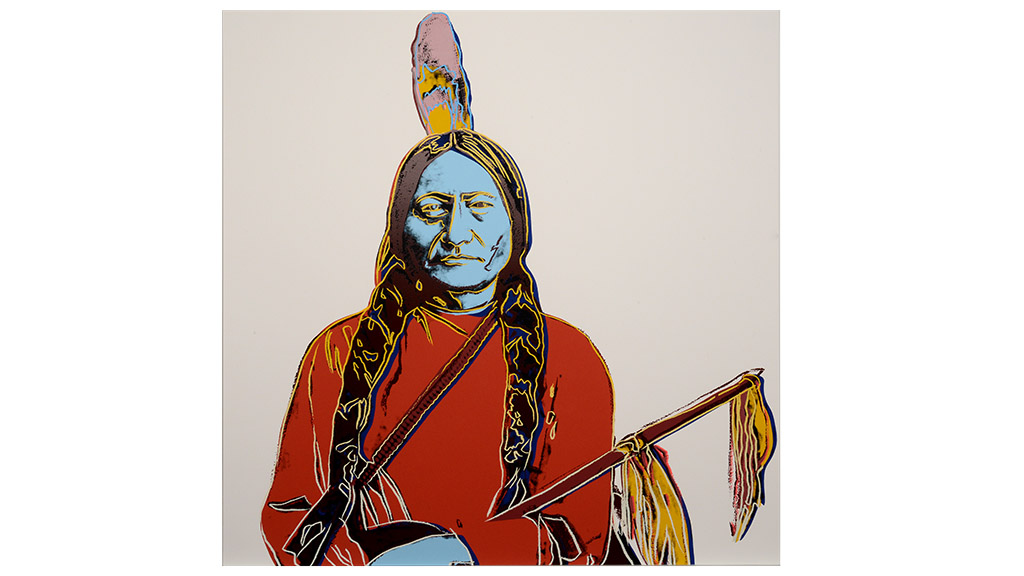 Saint Joseph's 20th-century European and American art collection comprises internationally recognized artists such as Christo and Jeanne Claude, Romare Bearden, Salvador Dali, Roberto Matta, Joseph Stella, Andy Warhol and Niki de Saint Phalle, as well as important Philadelphia artists such as Paul Keene and Andrew Turner. Considered together, these varied pieces present many of the tensions in modern art: abstraction and figuration; mythology, imagination and history; conceptual and religious themes.
View 20th Century European and American Art Collection at Saint Joseph's University
Stained Glass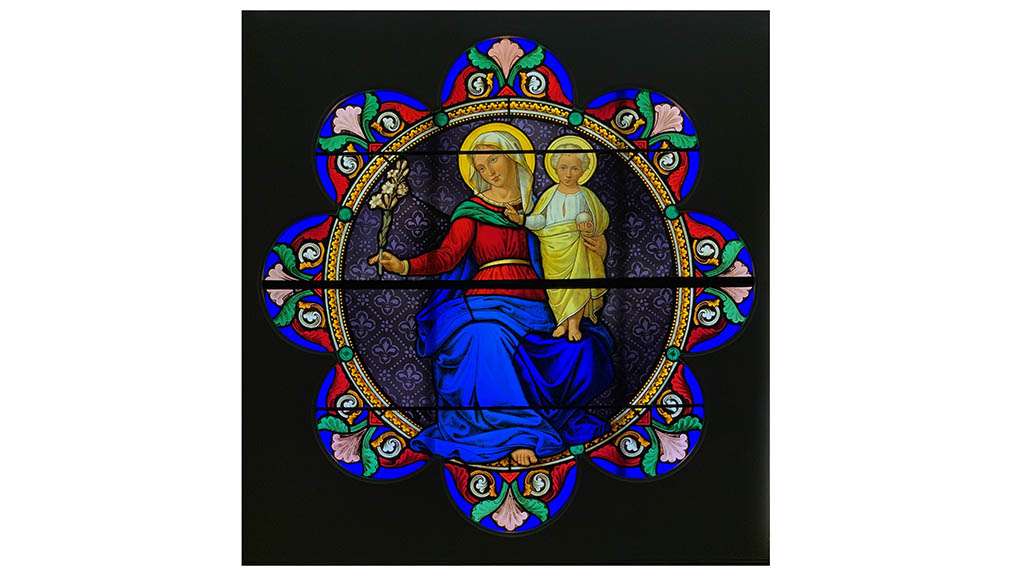 The stained glass collection at Saint Joseph's University has more than 100 windows from the United States and Europe. Several important stained glass studios of the 19th and 20th centuries are featured in this gallery, including George Morgan & Bros. of New York, Franz Mayer & Co. of Munich, Germany, and Louis Koch of Beauvais, France. The stained glass collection includes both secular and religious scenes. Many of the windows come from decommissioned churches in the Philadelphia area. The Maguire Art Museum's innovative installation of these works offers the opportunity to explore various methods of stained glass display and promotes close examination of texture, composition and methods of stained glass construction and painting.
The Metropolitan Museum of Art Cast Collection at Saint Joseph's University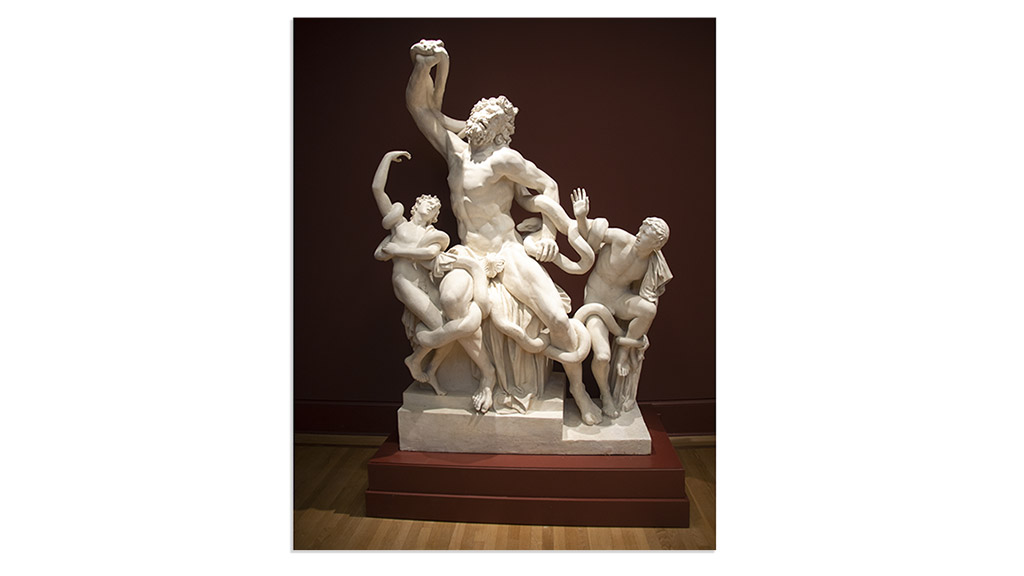 Casts provide an invaluable opportunity for viewers to experience the scale, artistry and beauty of artworks located in museums, monuments and other well-known cultural sites across the globe. They are also historic art objects themselves, with many examples dating to the 19th century, when cast production reached its height. The collection comprises full-size plaster and bronze casts gifted or on loan from the Metropolitan Museum of Art. Among the casts are several examples by the Italian Renaissance artist Michelangelo, sculptures from the Parthenon in Athens, Greece, the famous Laocoön at the Vatican, and medieval sculptural reliefs from France, Germany, and Italy.
Saint Joseph's History Through Art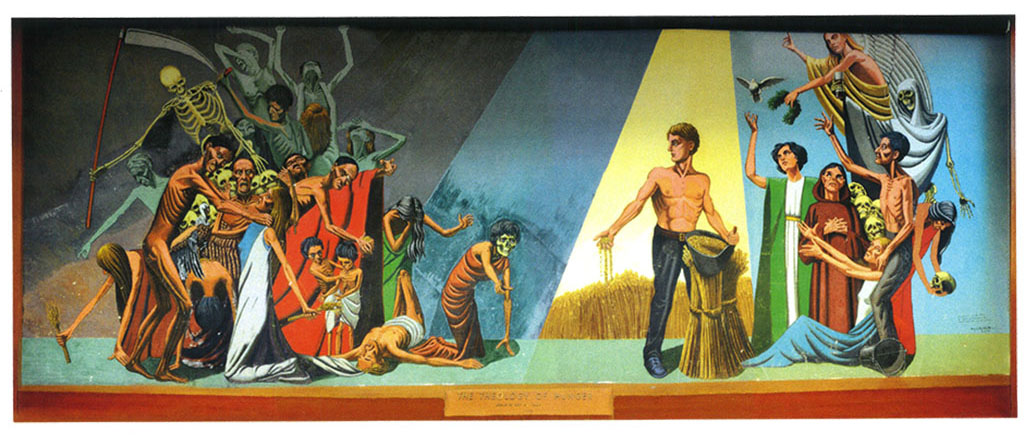 This collection conveys the richness and depth of Saint Joseph's University's institutional history. It also illustrates how artworks are linked to understandings of the university and its aspirations. They animate the consequential roles that the founders, faculty, students and alumni play in shaping the university and influencing the larger world around them.
Jesuit Novitiate at Wernersville Collection
Nicholas and Genevieve Brady collected these extraordinary works to inspire Jesuit novices during their years of study at the Novitiate of St. Isaac Jogues in Wernersville, PA. Wernersville has been very meaningful to generations of Jesuits.
Rare Illustrated Books and Works on Paper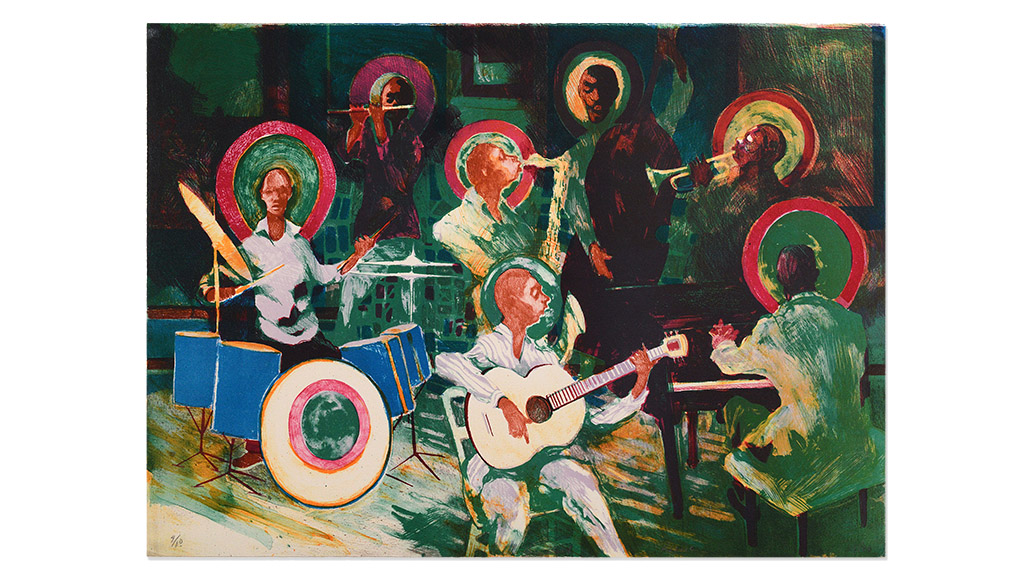 Saint Joseph's University owns many illustrated rare books, folios, drawings and prints produced from the 15th through 20th centuries in Europe, America and Asia. The varied prints at the university demonstrate a wide variety of regional and artistic styles as well as different printing techniques, such as woodblock printing, engraving, etching and lithography. Especially well represented are books produced by or about the Jesuits and their various cultural and artistic projects. The collection also features a "Noble Fragment," a leaf from the 15th-century Gutenberg Bible, as well as the 20th-century illustrated volume of botanical drypoint engravings by the American artist Jim Dine.