Maguire Academy of Insurance and Risk Management
With the support of private donations and public grants, our centers and institutes enhance the student experience, support society-changing faculty research, establish unique real world connections, and express our Jesuit identity.
The Maguire Academy of Insurance and Risk Management (MAIRM) was founded by James J. Maguire '58 to promote and support the concept of risk management and insurance education.
Explore the Maguire Academy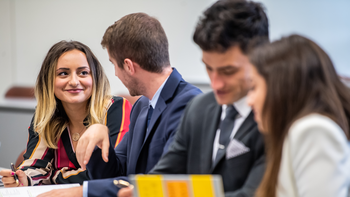 Learn about MAIRM's mission, meet the Board of Governors and learn about recent news and upcoming events.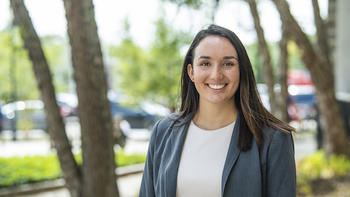 MAIRM students have access to top of the line resources and professional networks that strengthen their skill sets and ensure success upon graduation.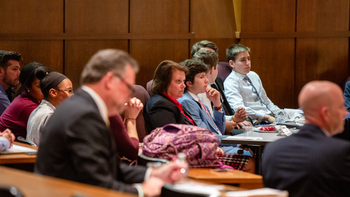 The Maguire Academy offers certifications and continuing education for professionals who are currently part of the RMI industry.
My experience in St. Joe's RMI program gave me the knowledge, skills and credibility to be able to land a job where I am the first college hire in a highly specialized Nuclear Energy Insurance Company. In just the first month at my new job, I quickly realized how complex the organization and the products are, but as overwhelming as it was, I also felt incredibly prepared. The Saint Joes RMI program gave me so much knowledge that I am able to keep up with seasoned underwriters and I have no doubt that the skills I have learned will only work to propel my growth in the future!"
After choosing my major my sophomore year, I began to recognize all of the wonderful opportunities Saint Joseph's University and the finance department created for me. Not only are the professors within the finance department extremely helpful and supportive, but they have assisted me in my classes first hand and have given me a broader knowledge within the world of finance. I secured an internship with Comcast Spectacor as an Accounting and Finance Intern for the Philadelphia Flyers sports team. Through this internship, I gained valuable experience and knowledge within the global world of finance. I began applying all that I have learned within my finance classes to real world situations for a widely known popular sports team."
The RMI curriculum has provided me with exceptional technical skills through rigorous practical application. The industry-focused curriculum has allowed me to present case studies to industry executives both in the United States and internationally, allowing me to develop confidence and presentation skills. I have also been able to experience firsthand the operations of the Bermudan reinsurance market and attend countless industry conferences. I graduated from the program with an extensive global network of insurance professionals, including the leaders of the insurance industry's largest organizations. As I begin my career as an Actuarial Associate at PricewaterhouseCoopers, I feel that the RMI curriculum has strongly prepared me to handle the pace and demands of consulting."