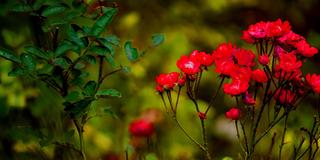 The Barnes Arboretum at Saint Joseph's University
In 2018, Saint Joseph's University and the Barnes Foundation launched an educational partnership expanding opportunities for students and the surrounding community to engage in horticulture education and the arts.
The Arboretum will open
to the public on January 25, 2021.
From May to October, visitors are invited to explore the grounds and learn about the rare plants and breathtaking blooms that thrive there. Free guided tours can be arranged by calling 610-660-2802 or 610-660-2801. With a smartphone, visitors can stream a 42-stop audio tour at arbtour.barnesfoundation.org.
The 12-acre Arboretum is astonishingly diverse for its size, with more than 2,500 varieties of woody and herbaceous plants — many rare. The peony and lilac collections date back to the early 1900s and are important genetic resources for conservation and study. A herbarium started in 1968 by John Fogg, a longtime instructor at the Arboretum school and director after Mrs. Barnes, contains more than 10,000 specimens that supplement teaching and research.
The Arboretum is open to the public on weekends, 11 a.m. to 4 p.m., from May 4 to October 27. Parking is free.
Our Programs
The three-year Horticulture Certificate Program offers a comprehensive approach to the science and methods of horticulture and design. Coursework emphasizes aesthetics and the practical application of knowledge. The Arboretum and its greenhouse serve as the program's laboratories. Additionally, we offer a number of hands-on workshops for amateur gardeners and horticulture enthusiasts.
 Updated Hours and Tour Information
The Barnes Arboretum at Saint Joseph's University opened on Saturday, July 18, to small, physically distanced groups. It will remain open through October on Saturdays and Sundays from 11 a.m. to 4 p.m.
All guests (and staff) are asked to wear masks and maintain six feet of physical distancing while on grounds.
Directional arrows mark one-way circulation through our formal gardens, on our woodland trails, and where paths are too narrow to allow six-foot distance.
All Barnes Arboretum buildings (including the Greenhouse and restrooms) are closed to the public until further notice.
Cold bottled water and other beverages are available for purchase in vending machines outside of the service building.
Guests are encouraged to consider our online audio tour (arbtour.barnesfoundation.org/) as in-person tours are not yet being offered.
Arboretum map-guides are available at the Welcome Center. An SJU public safety gate attendant is on duty both weekend days, stationed in the Barnes Arboretum Welcome Center. The gate attendant will maintain a count of guests on site and can answer general questions. Please remember distancing when speaking with our gate attendant. 
Join Our Mailing List
Stay connected with the Barnes. Receive special announcements and get updates on events or classes offered at the Barnes Arboretum.