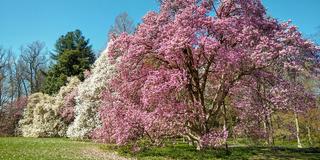 The Barnes Arboretum at Saint Joseph's University
In 2018, Saint Joseph's University and the Barnes Foundation launched an educational partnership expanding opportunities for students and the surrounding community to engage in horticulture education and the arts.
 Visitor Information
The Barnes Arboretum at Saint Joseph's University is currently open Monday - Friday 830 AM - 530 PM except when the University is closed. 
Beginning on May 1, 2021 and running through October 31, 2021 the arboretum will also open on Saturdays and Sundays from 11 AM to 4 PM. 
Notice: On May 22, 2021 visitors to the arboretum will not be able to park in the lot at 50 Lapsley Ln due to Saint Joseph's University Commencement Exercises. The arboretum will be open 11- 4 but parking on campus will be restricted. More information can be found here. Further, the arboretum will be closed on Monday May 31, 2021 due to the University being closed for Memorial Day.
All visitors and staff are required to wear masks and maintain six feet of physical distancing while on grounds.
Cold bottled water and other beverages are available for purchase in vending machines outside of the service building.
Arboretum map-guides are available at the Welcome Center.
Arboretum Etiquette
The Barnes Arboretum at Saint Joseph's University is a space that is designated for quiet reflection, personal decompression, and to enjoy the beauty of nature. With this in mind, please considerate of others by:
Respecting the Garden
Please do not climb our trees. 

Refrain from entering garden beds.

Please do not collect any material from the garden

Please do not litter, trash receptacles are provided near the service building and welcome center.

Please do not bring pets on the grounds with the exception of service animals.

Please refrain from sporting activities without prior approval.
Photography
​​​​​​​We encourage our guests to take photos for personal use and post them on social media. The arboretum can be found on Instagram @barnesarboretumsju
No professional photography without permission. Please contact us at (610) 660-2802 for more information.
Our Programs
The three-year Horticulture Certificate Program offers a comprehensive approach to the science and methods of horticulture and design. Coursework emphasizes aesthetics and the practical application of knowledge. The Arboretum and its greenhouse serve as the program's laboratories. Additionally, we offer a number of hands-on workshops for amateur gardeners and horticulture enthusiasts.
Newly added classes on cyanotyping coming up in July 2021! Click below for details.
Join Our Mailing List
Stay connected with the Barnes. Receive special announcements and get updates on events or classes offered at the Barnes Arboretum.