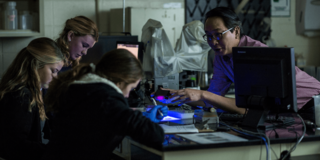 GeoKids LINKS
GeoKids LINKS is a collaboration involving Saint Joseph's University, the Wagner Free Institute of Science and the School District of Philadelphia. This program places graduate and advanced undergraduate fellows into Philadelphia 1st through 5th grade classrooms as a part of their training in science. Fellows work with the teachers and education experts from the Wagner Free Institute to implement hands-on science learning activities.
Support GeoKids
The initial funding for GeoKids LINKS came from grants from the National Science Foundation Graduate Teaching Fellows in K-12 and the Howard Hughes Medical Institute. In recent years, the program has been able to continue thanks to the contribution of generous supporters.
If you would like to show your support for science outreach and help graduate and undergraduate fellows bring hands-on science into the classrooms, please go to the link below. The link will take you directly to the Saint Joseph's donation page, with the GeoKids LINKS designation already entered. It will be available between now and March 19 (Saint Joseph's Day). Scroll down to Designation Selection, and choose GeoKids Graduate Students Fellowship.
Three Across Two Mode Cards
I was able to combine my love of science with that of service and community. It's opened my eyes to the social injustices within scientific literacy — not just in our community but in society as a whole. My driving factor became 'how can I make a difference in this world? What can I do as one person to help someone else?"

Madison Honer '19, '21 (M.S.)

Graduate Fellow