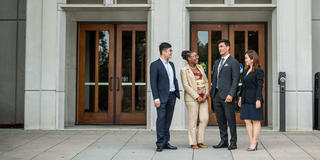 Department of Management
In connection with the Ignatian vision of intellectual excellence informed by conscience, the Department of Management's mission is to develop leaders who have a broad, value-oriented perspective and integrate many dimensions of organizations – behavioral, cultural, economic, environmental, ethical, historical, international, legal and structural – in making balanced and responsible decisions that affect their organizations, stakeholders and themselves.
The Department of Management in the Erivan K. Haub School of Business prepares students to continue in life as creative, highly skilled and intellectually curious learners who exhibit rigorous moral and stakeholder-based discernment in their actions and decision-making.
In fulfilling that mission, the management faculty is committed to listening and advising students towards achieving their career goals and objectives. We are dedicated to sharing our knowledge and expertise and are always willing to provide students with academic or career-related advice.
Explore Our Department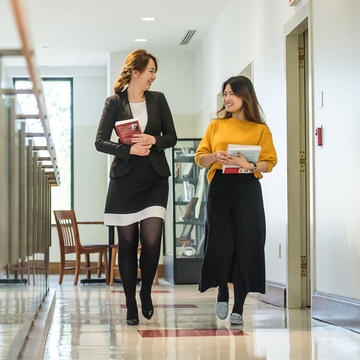 Management Degree Programs
Management Degree Programs
The department offers undergraduate, graduate and adult learner programs in business administration, human resources, leadership and more.
Our Faculty
Management faculty stem from diverse backgrounds in consulting, law, entrepreneurship and more and are dedicated to sharing their knowledge and experience with students.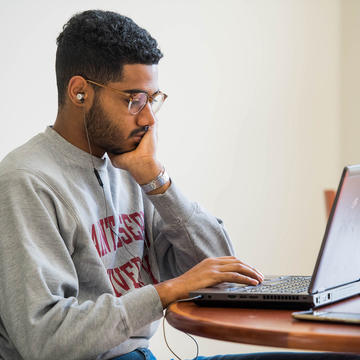 Internships & Co-Ops
We encourage students to take advantage of academic or non-academic internships, whether paid or unpaid, as well as Saint Joseph's co-op program.
The professors within the management department are a great resource for networking and job opportunities. I have received great career advice from them and have found that they are more than willing to help with resume critique and interview preparation."
My international business major gave me raw skills that I could confidently market in interviews and now in the professional world. I have a much greater understanding of the various elements that go into the operation of every type of business, from the smallest of firms to the 'giants' in the business world."
I constantly strive to become better at what I do. Learning from other people at St. Joe's — thought leaders, academic experts and fellow professionals — [as I studied organization development and leadership] pushed me to become a better internal consultant and coach."