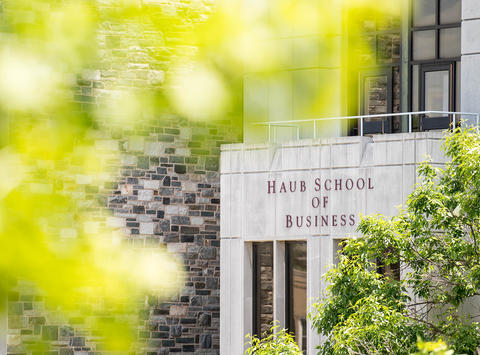 The Erivan K. Haub School of Business prepares students for the future of business with fully customizable programs.
Future-Focused
Curriculum
We're committed to helping our students thrive in a world where technology-driven mindsets and models will change the nature of business. With our top-ranked business programs, we're preparing graduates for an era where data analytics, artificial intelligence, digital supply chains, just-in-time learning and other new realities will present unprecedented challenges and opportunities. This unique approach doesn't go unnoticed, either. The Haub School of Business was recently named to Princeton Review's Best Business Schools and was ranked as a Tier One business school by CEO Magazine.
Find Your
Business

Program
The Haub School's top-ranked programs provide the skills and knowledge for success. Industry-relevant and innovative, we offer undergraduate majors and minors, certificates and graduate degrees with stackable program options and degree completion for adult learners.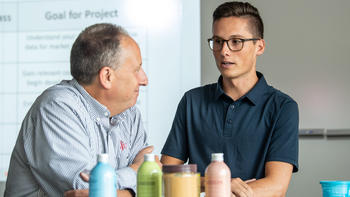 Explore 30+ majors and minors, including our top-ranked programs in accounting, business analytics, insurance and marketing.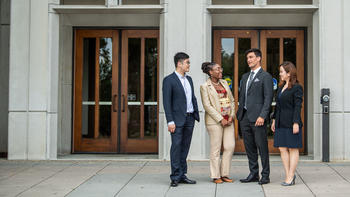 Increase your salary potential and stand out in the job market with one of our graduate degrees, including our customizable MBA.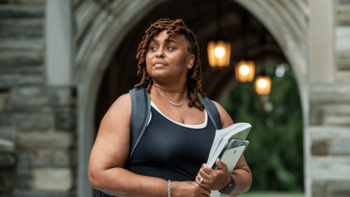 See industry-relevant programs designed to help you complete a business degree or certification at your own pace.
Undergraduate and graduate students in Haub's chapter of the national business honors fraternity, Beta Gamma Sigma. Haub consistently has one of the strongest performing chapters worldwide.
of the Haub School Undergraduate Class of 2022 was employed, pursuing graduate study or in volunteer/military service within six months of graduation.
Average starting salary for grads of Haub's undergraduate programs, with some receiving offers upwards of $72,000 with a signing bonus.
Of business co-op students report that their experience helped them to be selected for more competitive job postings.
The combination of rigorous academic preparation, specialized industry skills and a focus on the common good continues to set the Saint Joseph's business education apart."

Joseph A. DiAngelo, Ed.D. '70

Dean, Erivan K. Haub School of Business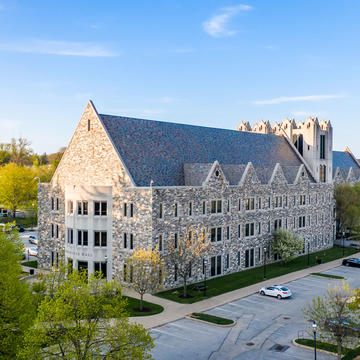 What Haub School
of Business Offers
Top-Ranked Programs
Accredited by AACSB in business and accounting, Haub School is in an elite category of the best business schools throughout the world. Our undergraduate majors and graduate programs consistently rank in the top tier by U.S. News & World Report, Princeton Review and other respected rankings organizations.
Values-Based and Industry-Relevant
Jesuit values are the guiding star of our decisions and actions. We aim to inspire leaders with the knowledge, vision and courage to navigate unprecedented social and economic disruptions, while maintaining an enduring passion for creating practical value, social benefit and sustainable success.
The Philadelphia Advantage
Our business school is tightly woven into the fabric of Philadelphia, home to more than a dozen Fortune 500 companies, major sports teams, global corporate headquarters and non-profit organizations. Connections to these business and cultural centers provide unlimited learning experiences for our students outside the classroom.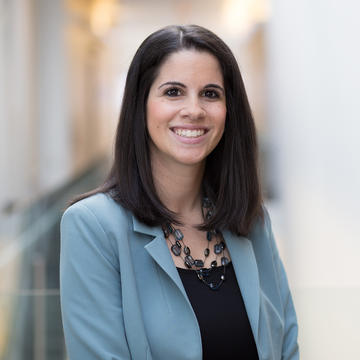 A Customizable
MBA
Saint Joseph's Haub School of Business is leading the way with an innovative, customizable MBA — the only one of its kind in Philadelphia.
The program is focused on the future and prepares leaders to thrive in a world where business models are changing, creating unprecedented challenges and opportunities. It's also been recognized in U.S. News & World Report's 2022 rankings for graduate programs.
With just 36-credits, this unique, stackable certificate model is flexible, affordable and designed for working professionals, with a fully online option recognized by U.S. News and Fortune Education. Students may choose to earn just one individual certificate or stack two of them onto the core module to earn the complete MBA degree.
Of our graduates reported their degree helped improve their advancement potential.
2022 Graduate Business Alumni Survey
Of our graduates say their degree helped improve their salary potential and gain greater professional recognition.
2022 Graduate Business Alumni Survey
Of our graduates say their degree helped them gain strategic business acumen.
2022 Graduate Business Alumni Survey
We believe the real world is a great teacher. Our relationships with major local and national corporations and organizations allow students to get valuable hands-on experience in their chosen field before graduation.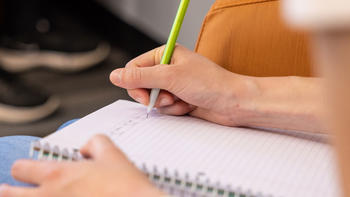 Get a full year of full-time work experience while you're in school — and still graduate in four years. Check out how our business co-op model is different than others.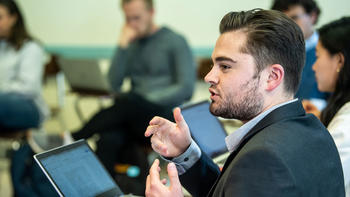 Browse internship opportunities that align with your professional goals and interests. We'll connect you to the industry or company you're passionate about.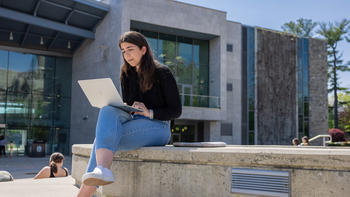 These hands-on courses offered by the Faith-Justice Institute allow you to make a difference in the community while you earn credits — like teaching middle schoolers about financial health — many of which you can even apply toward your major.
Our faculty are industry experts with advanced degrees in their fields of interest. They bring academic theory and industry knowledge to the classroom, with a dedication to the holistic development of our students.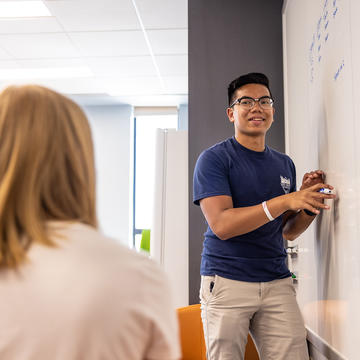 Haub
Innovation Lab
Start-Ups Start Here
The Haub Innovation Lab, our on-campus incubator, is HQ for all things AR, VR and IA at Saint Joseph's. Join other budding entrepreneurs as they tinker with technology, collaborate in workshops, compete in mock pitch meetings and meet with mentors from the business community.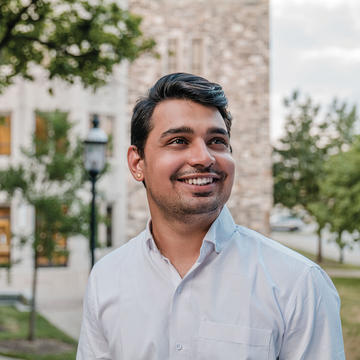 Committed to Business

with Social Impact
SJU Kiva Lending Team
Our members partner with Kiva, a micro-finance, online lending platform that expands financial access to help underserved communities thrive.

Net Impact Student Group
Net Impact students conduct a statistical and financial analysis of the efficacy of the health clinics in neighborhoods that are home to undocumented immigrants.

Rock to Remember
Students in Entertainment Marketing host an annual benefit concert each year, with proceeds benefiting a regional nonprofit organization.

The SDG Dashboard is a collaborative data analytics platform designed to assist higher education institutions in reporting and sharing best practice impacts on the United Nations' Sustainable Development Goals (SDGs) and accelerate the transformation of higher education into a force for good. The SDG Dashboard initiative is sponsored by the Haub School of Business.
Related Centers & Institutes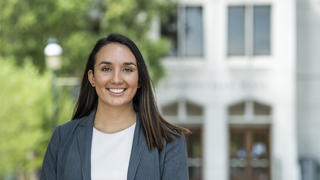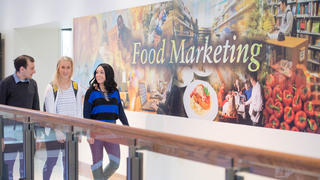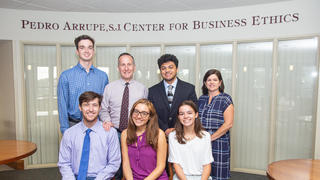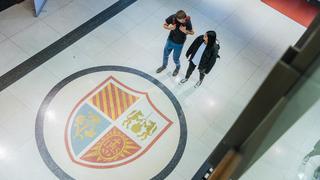 Trying to Resist Those Valentine's Day Sweets? Indulgent Scents May Trigger Stronger Restraint to Unhealthy Foods
Research from Associate Professor of Food Marketing Ernest Baskin, PhD, finds prolonged exposure to "indulgent food scents" may help you stick to diet goals.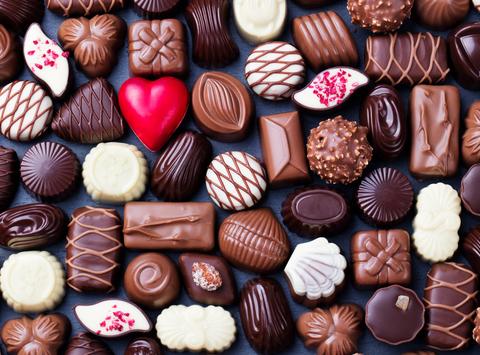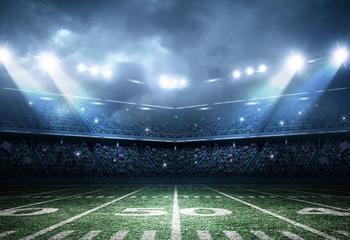 Fast forward 35 years from the first Black Super Bowl quarterback, and two Black athletes made NFL history in an unforgettable quarterback matchup. But was Sunday's roster a sign of change, or does the NFL still have work to do?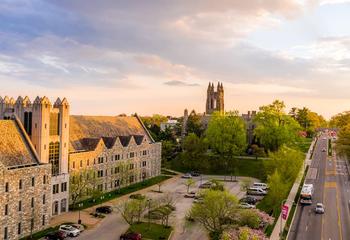 Saint Joseph's inaugural North East Sales Tournament (NEST) made its debut in the University's new Sales Excellence Center, featuring Perfect Pitch and Role Play competitions. Not only do students have the opportunity to hone their sales skills at these types of events, but they also frequently walk away with interviews lined up and full-time job offers.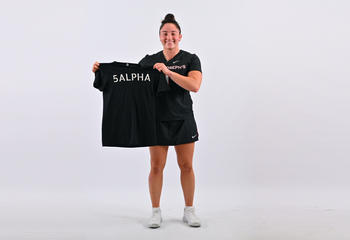 Carina Chieffalo '25 founded 5ALPHA with the motto "Do it better," which she embodies as a student-athlete and a cadet in the Army ROTC.