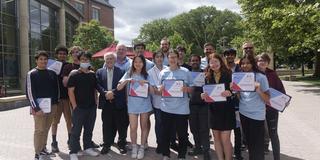 High School Physics Research Camp
Presented by Department of Physics, Saint Joseph's University
June 19–24, 2023
Saint Joseph's University
University City Campus
600 S. 43rd St., Philadelphia, PA 19104
Completing physics research is the absolute best way to prepare high school students for further study in physics. However, starting a research program at the high school level can be challenging. 
SJU is presenting a week-long physics research camp this summer to help both students and teachers to learn the basics of physics research together: 
Students and teachers will complete original research in an actual SJU physics lab. 
Students will defend their research in a mini dissertation type format. 
Teachers will leave with concrete steps to start a program of their own. 
This camp is FREE! ALL costs, including housing and meals, are covered, thanks also to the Meggers grant from American Institute of Physics. Additional money to defray travel costs may also be available. Teachers will receive an additional compensation of $500. 
To learn more, please contact, Elia Eschenazi, PhD, program coordinator.
Applications Forms
High School Physics Research Camp Application - Student
High School Physics Research Camp Application - Teacher