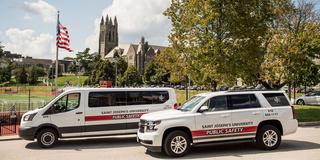 Office of Public Safety & Security
The safety and security of all who live, work and visit Saint Joseph's University are of paramount concern to the entire University community. The primary focus of the Office of Public Safety and Security (OPSS) is to provide the highest, reasonable level of security on our 100+ acre campus. Our school community as a whole share the responsibility of creating a safe and secure campus. During the school year, crime prevention and security awareness initiatives are implemented. This shared responsibility is a key factor to having a safe learning environment and, for that reason, members of the University are encouraged to accurately and promptly report all crimes to the Office of Public Safety and Security and local law enforcement agency.
Who We Are
The Office of Public Safety and Security is concerned primarily with maintaining the highest level of security possible on the University's campus and within the University's facilities. The University's security officers are not police officers and they do not carry firearms; any criminal investigations are conducted by the Philadelphia Police Department or the Lower Merion Police Department which are responsible for coverage at Saint Joseph's University.
The office reports to the Vice President for Student Life, and consists of a Director; Assistant Director Operations; Public Safety Investigator; Customer Service Manager; Public Safety Captains; Public Safety Lieutenants; Public Safety Officers; Public Safety Bicycle Officers; Residence Hall and Athletic Center Desk Attendants, contracted through Allied Universal Security Services; and Parking Gate Attendants. Philadelphia police officers are hired for patrol services through the Philadelphia Police Department and shuttle bus service is contracted through Easton Coach and Transnet transportation service.
Because the safety and security of the University is the shared responsibility of all who live, work and study on the campus, members of the University community are encouraged and expected to use common sense where personal safety is concerned and to report any suspicious or criminal activities to the Office of Public Safety and Security at 610-660-1111. Emergency phones are located throughout the campus both inside and outside of campus buildings. Dialing is not required on these phones. When the receiver is lifted or the button is pushed the phone automatically calls Public Safety.
Public Safety & Security Administrators
Where We're Located
The Office of Public Safety and Security on Hawk HIll is located in Barbelin Hall, Room 13. The Public Safety & Security Service Center on Hawk Hill is located inside Campion Student Center, Room #229, and offers a convenient, accessible, one-stop location to obtain information and secure parking, transportation, access and ID card services.
The Office of Public Safety and Security on the University City campus is located in Alumni Hall and the ID and Parking Office on University City Campus can be found in Wilson hall. 
In the event of an emergency,
dial 911