Haub School of Business
Hall of Fame Award 2021
We invite you to honor Timothy J. Maguire '88
May 18, 2021
Virtual Awards Ceremony
6:30 pm EDT
For 30 years, the Erivan K. Haub School of Business at Saint Joseph's University has honored corporate citizens for their excellence in business management, entrepreneurship and ingenuity. These award recipients are extraordinary performers in their field who have not only achieved success in business, but have also had a positive and tangible impact on those they have led. Moreover, this select group of honorees embodies the integrity, steadfastness and self-reflection that the Haub School instills in our students.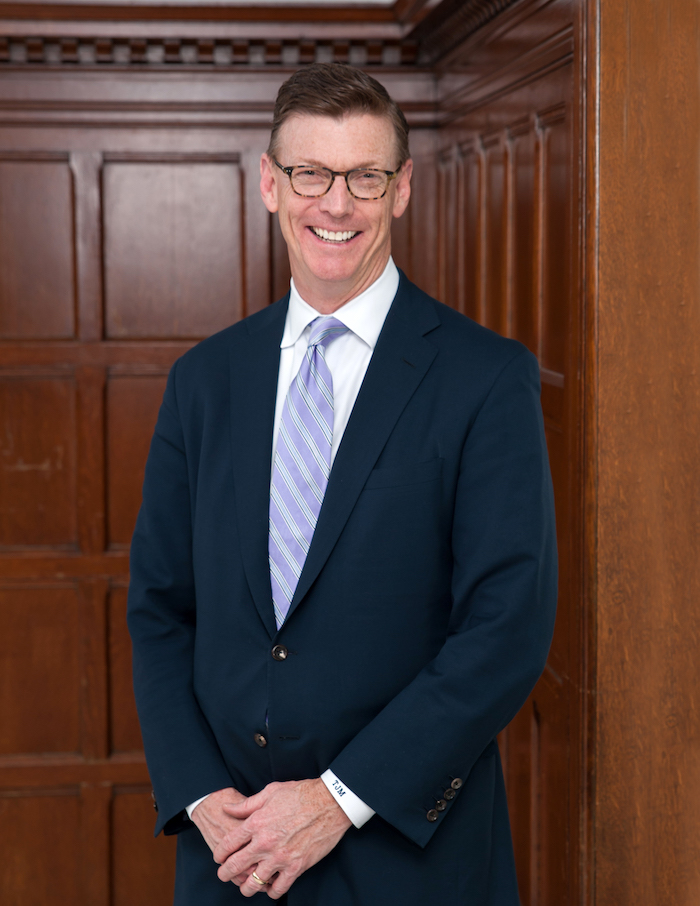 Timothy J. Maguire '88
A visionary leader and highly accomplished professional in the financial services industry, Timothy J. Maguire '88 is Chairman of Karr Barth Associates. Passionate about helping others achieve greatness and mentoring the next generation of leaders, Maguire manages more than 350 financial professionals, maintains a growing client practice and seeks to recruit the best talent. Karr Barth serves over 120,000 households and businesses throughout the tri-state area with assets under management topping $12B, as well as $29B of life insurance in force.
With a financial career that spans more than 30 years, Maguire is recognized as a corporate leader and serves on both company and industry-wide boards. The Saint Joseph's University graduate focuses on encouraging and inspiring others to live a life of significance and has remained connected to his alma mater as chairman of the Haub School of Business Board of Visitors. He is also actively engaged as a Board Member of CHOP Oncology, Villa Maria Academy, Finseca and ALD Connect. He received the prestigious 'Father of the Year Award' from the American Diabetes Association, which recognizes men who have made their families a priority, while balancing demanding careers and being outstanding community leaders.
Maguire resides in Wayne, Pa. with his Hawkmate, Colleen '88, and their four children, Shannon '18, Bridget, Grace and Sean.
 
Past Award Recipients
2019
Adele Cirone Oliva '87
Partner/Co-Founder, 1315 Capital Management LLC

2018
Albert G. Pastino '64
Partner, Laud Collier Capital LLC

2017
Christopher D. Furman '81
President and Chief Executive Officer, Ventura Foods

2016
Mark A. Casale '86
Chairman, CEO and President, Essent Group LTD.

2015
Mike Jackson '71
Chairman, President and CEO, AutoNation

2014
A. Bruce Crawley '67
President and Principal Owner, Millennium3Management

2013
Joseph J. McLaughlin, Jr. '81
Chairman and CEO, The Haverford Trust Company

2012
James J. Maguire, Jr. '84
Chairman and CEO, Philadelphia Insurance Company

2011
Gerianne Tringali DiPiano, MBA '92
President and CEO, FemmePharma Global Healthcare, Inc.

2010
The Erivan K. Haub Family
Helga Haub
Erivan K. Haub+
Karl-Erivan W. Haub+
Georg R. O. Haub
Christian W.E. Haub

Note: Recipients are listed with titles held at time award was received; + Deceased

2009
Thomas P. Nerney, MBA '96
Chairman, President and CEO, United States Liability Insurance Group

2008
Daniel J. Hilferty III '78
President and CEO, The AmeriHealth Mercy Family of Companies

2007
Robert D. Falese, Jr. '69
President, Commercial and Investment Banking Commerce Bancorp

2006
Joseph J. Oakes, III '64
President, Acorn Financial Services

2005
Anthony A. Nichols, Sr. '67
Chairman Emeritus, Brandywine Realty Trust

2004
James J. Maguire '58
Chairman & Founder, Philadelphia Consolidated Holding Corporation

2003
Nicholas S. Rashford, S.J.
President, Saint Joseph's University

2002
Brian C. Duperreault '69
Chairman & CEO, ACE Limited

2001
Michael J. Hagan '85
President / CEO & Co-Founder, VerticalNet

2001
Michael P. McNulty '85
Senior Vice President & Co-Founder, VerticalNet

2000
David M. Brennan '67+
President, Brennan Financial Services

2000
Michael J. Emmi
President, Systems & Computer Technology Corporation

Note: Recipients are listed with titles held at time award was received; + Deceased

1999
James E. Ksansnak '62
Vice Chairman, ARAMARK Corporation

1997
Thomas E. Bullock '68
President & CEO, Ocean Spray Cranberries, Inc.

1996
John R. Belfi '56+
Retired Partner, Arthur Andersen & Co.

1996
William F. Leahy+
Executive Lecturer, Haub School of Business Saint Joseph's University

1995
Joel M. Ziff '56+
Retired Partner, Arthur Andersen & Co.

1995
Brian M. McAdams '66
Chairman, Stratvis Private Investments

1994
Thomas J. McParland '56
Retired Partner, KPMG Peat Marwick

1993
Francis J. Erbrick '61
Senior Vice President, United Parcel Service

1992
John P. Gallagher, Jr. '63+
President, Gallagher Tire, Inc.

1991
Edward F. McCauley '61
Partner, Deloitte & Touche

1990
Henry A. Quinn '56+
President, H.A. Quinn

Note: Recipients are listed with titles held at time award was received; + Deceased
BENEFACTOR OPPORTUNITIES
Net proceeds benefit Haub's Programs for Excellence Endowment Fund

*Full amount is tax-deductible if celebratory gift packages are declined upon registration.
$48,850 is tax-deductible*

Name or company logo included in hard copy invitation

Name or company logo included in email communications to attendees

Recognition on social media channels

Name or company logo prominently featured during the virtual event

Name or company logo featured on the event website

Link to virtual event to share with sponsor invitees

Celebratory gift package shipped to 10 individuals (contains alcohol)

$24,425 is tax-deductible*

Recognition on social media channels

Name or company logo featured during the virtual event

Name or company logo featured on the event website

Link to virtual event to share with sponsor invitees

Celebratory gift package shipped to 5 individuals (contains alcohol)

$9,770 is tax-deductible*

Name or company logo featured during the virtual event

Name or company logo featured on the event website

Link to virtual event to share with sponsor invitees

Celebratory gift package shipped to 2 individuals (contains alcohol)

$5,000 is tax-deductible

Name or company logo featured on the event website

Link to virtual event to share with sponsor invitees

$3,000 is tax-deductible

Name or company logo featured on the event website

Full amount is tax-deductible

Full amount is tax-deductible