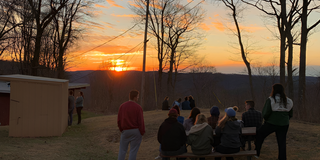 The Appalachian Experience (APEX)
The Appalachian Experience is a Spring Break immersion program that is committed to serving with and for others while learning about the culture and concerns of the people of the Appalachian region. Participants will meet together several times throughout the year for preparation, education, and team-building, all of which lead toward the spring break immersion experience in which they seek to learn, serve, and grow in relationship with the people they encounter.
Mission Statement
The Appalachian Experience (APEX) is dedicated to immersing in the region of Appalachia and encountering the communities who call Appalachia home. APEX invites students to build community both on campus and with the people of the Appalachian Region through an encounter of kinship and service, and to continue living in solidarity upon return.
APEX is guided by the mission of Saint Joseph's University and the Catholic Jesuit tradition. Our primary areas of focus are on the Ignatian values of:
Kinship/Solidarity - recognizing the common bond of humanity we share with all people and the responsibility we have to work for the good of all
Cura Personalis - exemplifying a commitment to caring for the whole person
Reflection - inviting us to pause and consider the world around us and our place within it, furthering the faith, spirituality, and inner life of all participants
Service Rooted in Justice and Love - committing ourselves to always be mindful of those who suffer injustice and to live in a way that supports the well-being of all people
Education - Committing to education and action concerning the issues of poverty and injustice in the region
Our Pillars:
Community
Kinship/Solidarity
Encounter
Education
Justice
Reflection/Spirituality
Appalachian Experience Sites
Documentary
In this short documentary, director Jeffrey Wallin '10 and producer Matt Fullmer '17 (MBA) spend time with SJU volunteers and the people of the Appalachian region to learn what makes the program so special.
From Jeff Cap Productions on Vimeo.
FAQs
Typically most days will include engaging in some form of service. At some sites, this may entail physical work such as house building, painting, mulching, or laying concrete, while other sites may have different and varied needs. After each day of service, there will be time for community-building, reflection, and relaxation. In addition, there is generally one cultural day dedicated to learning about the area you are visiting.

The total cost for the program is $600, which includes food, lodging, transportation, supplies, and program fees. When submitting the application, there is a $100 deposit required, which is non-refundable. A second payment of $500 is due in late November. Participants are encouraged to fundraise for this additional payment and information on fundraising will be provided at the first meeting.

Each set of site leaders will be sending out a packing list to each participant. Typically, it is one suitcase/duffel bag and a small carry-on bag. Some items include: Jeans, boots, work-shirts, hats, gloves, and clothes to wear after each day.

Students come to the program with many different experiences of faith and at many different points along their personal journeys. All are welcomed and embraced right where they are. The only expectation in this regard is that each participant be open to the full APEX experience, which includes reflection and prayer, and be respectful and receptive to the experience of others. The program is based in Campus Ministry and is rooted in the Catholic, Jesuit values of service, solidarity and the call to seek and discover God present in all things, people and places.

Yes. Before the trip, we collect each participant's insurance information. In addition, each Leader and Adult Facilitator will have all the information regarding the closest hospital, police station, and all Saint Joseph's University contacts. If your son or daughter gets hurt, they will be taken care of immediately.